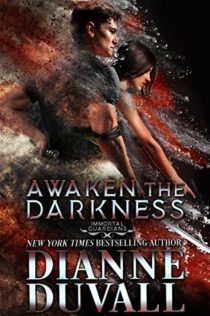 Awaken the Darkness (Immortal Guardians #8)
by
Dianne Duvall

Series:
Immortal Guardians #8
Published by
Self-Published
on July 10th 2018
Genres:
Paranormal/Urban Fantasy
Pages:
414
Format:
Paperback



I received this book for free from in exchange for an honest review. This does not affect my opinion of the book or the content of my review.
This post contains affiliate links you can use to purchase the book. If you buy the book using that link, I will receive a small commission from the sale.
He awakens encapsulated in dirt with no knowledge of how he came to be there. Riddled with injuries, he can remember neither his past nor who he is. Nor can he remember what he is. But surely no mortal man could survive being buried deep beneath the earth. All he knows with certainty is that the soothing voice and presence of the woman moving around above enables him to endure the agony of his wounds. And he will do whatever it takes to be with her.

When Susan first sees the old two-story house for sale, such warmth and longing fill her that—against all reason—she makes an offer. It will take years of hard work and money she frankly doesn't have to fix up the place. So she can't explain why she bought it. She also can't explain what compels her to spend hours one night, digging in the basement until she unearths a man. A man who still lives and breathes despite having been buried alive. A man whose intense brown eyes glow amber with pain, declaring him far more than ordinary. Susan knows she should keep her distance. He has no memory and possesses gifts that would make most fear him. But as the two work together to unravel the mystery of his past, she finds herself drawn in by his teasing nature and tender touch. So much so that she loses her heart to him even as they find themselves hunted by unknown enemies who are ruthless in their quest to capture them.
---
Dianne Duvall's Immortal Guardians is my favorite series hands down. Every character is beloved. Every story is intense, funny, romantic and exciting. If you haven't read the Immortal Guardians, you are truly missing out!
If you read the IG series, you are among those of us who have been fretting and stressing out for some time now about what fate befell Stanislov during the battle with the mercenaries. We lost one Immortal Guardian and that loss was already devastating. The thought of losing Stanislav as well…well, I know that you too have stayed up nights worrying.
"We feared you hadn't survived but couldn't give up hoping…" 
That line sums it up for all of us. We have come up with crazy theories and impossible explanations of what could have happened to our missing friend, but what could cause Stan to disappear from even Seth's transcendent senses?
Once you start Awaken the Darkness, you will finally know what happened to him and the suffering that Stan has endured for the last two and a half years that he has been missing. But Stan was found again by a gifted one named Susan Meyer.  Susan is a telepath who heard Stanislav's pleas for help.
Susan doesn't know anything about gifted ones or Immortal Guardians, but then again…neither does Stan.   Stan has been rescued but he doesn't know his own name.   There is no question that Stan isn't like everyone else, his glowing eyes attest to that, but he has no idea why.
Growing up as a telepath, Susan understands different, but she always believed she was alone with her peculiar abilities.  She is also aware that she should be very afraid of a man with glowing eyes, an ability to manipulate her feelings, and who has no idea who he is, but she can't bring herself to abandon him when he is so lost and alone.
Romance blooms between them but as long as Stan can't remember his past, he has no idea if he is married or in a relationship with another woman.  He can't bring himself to be unfaithful to an unknown wife so Stan has to battle his own hormones as well as memory loss.
Danger is coming for them and it won't wait until Stan is ready for battle.  Stan doesn't know who to trust or who to turn to.  He just knows that he will protect Susan with every special ability that he has.
This is the eighth book in the series, which also has two novellas, and each story is a treat.  These stories grab your attention from the start and have action from beginning to end, and plenty of humor to still keep it light.  The romance is sweet and just as enthralling as fighting vampires with swords.   All of the characters are beloved with no special favorites (*cough* Bastian *cough, cough* Zach.  Okay, I love those black sheep).
If you haven't tried the Immortal Guardians, what are you waiting for?  You are truly missing out on a remarkable series.
---
Favorite Scene:
"Stan? Are you okay?"
Eyes closed, he nodded. "It was just a quick pain. It's already fading."
"Did you remember something?"
"Just the same battle. Men firing automatic weapons. Explosions. Nothing more."
She hugged him, running her hands up and down his back. "It's okay," she soothed.
"No, it isn't," he whispered, embracing her. "I can't move forward until I know what's behind me." He sighed. "And I can't protect you. Not without knowing–"
"You protected me very well," she protested, looking up at him.
He shook his head. "You know this isn't over, Susan. I need to remember who I am, who I can trust, so I can take you someplace truly safe."
She felt a rhythmic movement and glanced down. He was turning his battered cell phone over and over in his hand. She hadn't realized until then that he had kept it with him, his only link–broken though it might be–to his past.
She stepped back. "I have an idea."
He cast her a questioning look.
"I want to try something. But you have to do exactly what I say, okay?"
"Okay."
The ease and speed with which he answered, his willingness to put his trust in her, sent a rush of emotion through her. "I'm going to ask you a question," she said, tamping it down. "I don't want you think before you answer it. I don't want you to growl in frustration. I don't want you to do anything but respond instantly. Okay?"
Tilting his head to one side, he studied her. "Okay."
Susan crossed to her purse and retrieved her cell phone. Returning to stand in front of him, she held it out to him. "I mean it," she reiterated as he tucked his broken phone back into a pocket and took hers. "Don't think. Just respond."
"All right."
"Those men at the house were just the tip of the iceberg. More are on the way." She saw no way Henry's friends could possibly locate them but continued nonethless. "They've tracked us here. They're surrounding the motel right now and are armed with automatic weapons. They want to capture you. And if they think like Henry did when he first started clomping up the stairs to look for me, they will rape and kill me without a second thought. We don't have a hope in hell of getting out of here alive on our own. What number do you call to secure my safety?"
His thumb speed over the surface of the cell phone, dialing a number.
Her eyes flew wide.
His did, too.
"Holy crap," she blurted. "It worked!" Grabbing the phone, she raised it to her ear.
"Hello?" a male voice answered.
(Who do you think he called?)
Related Posts