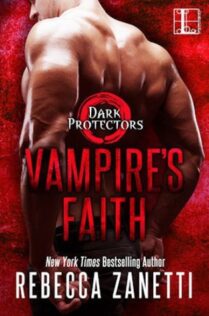 Vampire's Faith (Dark Protectors, #8)
by
Rebecca Zanetti

Series:
Dark Protectors #8
Published by
Kensington
on June 19th 2018
Genres:
Paranormal/Urban Fantasy
Pages:
290
Format:
eBook



I received this book for free from in exchange for an honest review. This does not affect my opinion of the book or the content of my review.
This post contains affiliate links you can use to purchase the book. If you buy the book using that link, I will receive a small commission from the sale.
The Dark Protectors are Back! Vampire King Ronan Kayrs wasn't supposed to survive the savage sacrifice he willingly endured to rid the world of the ultimate evil. He wasn't supposed to emerge in this time and place, and he sure as hell wasn't supposed to finally touch the woman who's haunted his dreams for centuries. Yet here he is, in an era where vampires are hidden, the enemy has grown stronger, and his mate has no idea of the power she holds.

Dr. Faith Cooper is flummoxed by irrefutable proof that not only do vampires exist . . . they're hot blooded, able to walk in sunlight, and shockingly sexy. Faith has always depended on science, but the restlessness she feels around this predatory male defies reason. Especially when it grows into a hunger only he can satisfy—that is if they can survive the evil hunting them both.
---
Rebecca Zanetti tortures me again. I don't think I am going to be able to rest until I get all the books in this series.  Please type faster.  I must have them now!
In this continuation of the Dark Protector series, the DP world expands as we learn about the secret brotherhood of The Seven and the ultra militant Kurjan religious cult known as the Cyst and Ulric their leader who the Brotherhood has kept imprisoned in an alternate dimensional bubble. The outer bubble which Ronan Kayrs was protecting has shattered after a thousand years, putting him into a coma for a few months until he is found by the humans under some rubble. Dr. Faith Cooper, is Enhanced, and has the ability to connect with coma patients and help lead them back to consciousness. Ronan doesn't need her help, but Faith's sister, Grace, is still locked in her own mind after a brutal home invasion attack.
Faith is very confused. She has Ronan explaining to her about her being an Enhanced human and mating and vampires and the dangers that the Kurjans and the Cyst present. Faith also has the Kurjan leader, Dayne, showing up after giving Faith's comatose sister a jolt of Kurjan blood, and making her responsive. Dayne is promising that the Kurjans have more advanced medical technology than the vampires and can help her if only she turns Ronan "The Butcher" Kayrs over to the Kurjans. Since Ronan has been out of touch for the last thousand years, she isn't sure if what Dayne is telling her is true and maybe things have changed since Ronan was last involved in vampire/Kurjan politics. Faith isn't sure who to believe, but she wants a cure for her sister badly.
I will have to admit that I was as confused as Faith since we know from the prior stories that the Kurjans have been playing around with science and DNA. They have been trying to cure their aversion to the sun as well as creating that little virus to reverse the vampires's mating bond. There were moments when I was with Faith on the maybe the Kurjans can help question. In the end of Marked, Dage and Dayne, the Vampire and Kurjan leaders, sort of put the war aside in a you stay on your side and I'll stay on my side way, so maybe Faith isn't wrong that life has changed in 1,000 years and maybe we can work together.
All that remains of The Seven is Ronan, Ivar, Benny, Adare and Quade, who is still in the inner bubble containing Ulric. They need two more members to complete their circle of seven and they approach Logan Kyllwood and Garrett Kayrs, but the blood initiation/trial kills more members than it welcomes and since it is secret group, they can't even tell their families that they are risking their lives just trying to join.
We also learn that little Hope Kayrs-Kyllwood has even more pressure on her than Janie. Hope is the first female vampire born. She is has the mark of a prophet. And now we learn that there was a prophesy of the first female vampire and she would be important to the destruction of Ulric. Pressure, pressure, pressure.  That's a lot of pressure for a seven year old.  There is also the question that in the end (if they become part of The Seven) will Logan and Garrett allow Hope to risk herself or will her uncles risk everything, even their membership in the Seven, to protect her.
Overall, I feel like I am back to that moment when I first read Fated (Book 1 of the Dark Protectors series) where little Janie created a dream world and met young Zane there. I couldn't wait to get my hands on each next book but more importantly, I couldn't wait to see what happened when Jaine and Zane grew up.
Now it is Janie and Zane's daughter, Hope, meeting the young Kurjan leader's son, Drake, and I am even more excited because nobody is going to be happy about Hope bringing home her Kurjan boyfriend.
In the prior story arc, Zane wasn't the only one who stepped into Janie's dream world. A Kurjan named Kalin also visited Janie. Kalin felt as strongly about Janie as Zane did and I would have wondered who she would end up with if somewhere along the storyline Kalin didn't become a serial killer murdering human women. That kind of takes him out of the running for paranormal romance hunk. Hopefully, young Drake won't get that same desire for slaughter as he hits puberty that Kalin did.
So once again I will sit impatiently waiting for the next book, which is Logan's, to see what happens and how long it will be before we get to the other characters and until we can finally get to Hope's story. And I am certain that Rebecca will drop that one sentence in each story that makes you stop cold and go "Wait! WHAT??? Damn it, when is the next book?"
---
Favorite Scene:
Ivar shook his head, anger burning in his gaze. "Timing was too important, as I've learned. We will find Omar. I give you my word."
"Agreed," Ronan said, studying this Viking descendant he'd never met. One who'd also lost a biological brother in addition to shield brothers. Igor had been a good warrior. Ronan took his shot of alcohol. The time to grieve would have to come later. "To fallen brothers. All of them."
Ivar lifted his chin, sharing the pain in his eyes. Grief filled the air around them. "Our brothers."
They drank again.
Faith tipped back her drink, watching quietly. Beneath the table, she took Ronan's free hand, her soft touch settling him. Easing his pain just enough that he could breathe again. "I'm sorry about your brother," she said. "And yours." She nodded at Ivar.
Ivar smiled. "Thank you."
Jacer dead. The idea was unthinkable. "My line has died out here?" Ronan asked quietly. There were no Kayrs members protecting the world?
"No," Benny said. "There's a shit-ton of you assholes running around." Then he grinned the smart-ass smile Ronan remembered well. "Jacer had two kids who died in  the last war. But one of his sons, Hunter, had five boys before moving to the great beyond. The oldest, Dage, is King of the Realm now."
Five boys? Hope leaped into Ronan's chest. He had family. Thank God. Jacer would live on in his descendents.
Benny's eyes twinkled. "They live on a lake in Idaho."
Ronan straightened. He didn't care where Idaho might be. "Are they good warriors?"
"Of course," Benny said, pouring more shots. "Was there ever a doubt about that?"
Excellent point.
Related Posts