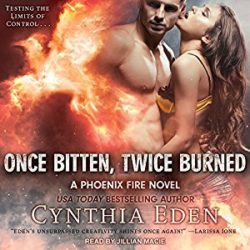 Once Bitten, Twice Burned (Phoenix Fire, #2)
by
Cynthia Eden

Series:
Phoenix Fire #2
Published by
Brava
on April 29th 2014
Genres:
Paranormal/Urban Fantasy
Pages:
337
Format:
Audiobook
Narrator:
Jillian Macie
Length:
12 hrs 27 min



I received this book for free from in exchange for an honest review. This does not affect my opinion of the book or the content of my review.
This post contains affiliate links you can use to purchase the book. If you buy the book using that link, I will receive a small commission from the sale.
Ryder Duncan keeps his secrets. With a twisted scientist starving him in a 10 X 12 cell, it's not easy to conceal the abilities that set him apart from other vampires, or his plans for escape. But survival - and revenge - are worth waiting for. Until the so-called doctor tempts his appetites with something special: a woman, with a soft Southern accent and a scent like flowers. Sabine.

Sabine Acadia didn't volunteer to be dinner. She was kidnapped and tossed into the cage of a monster. A monster with fierce green eyes, a body that speaks of ruthless power--but a touch gentle as a caress. Ryder knows things about her, secrets Sabine needs to learn fast. Because while they might soon escape this prison, she's fighting an urge to set all her desires free...
---
This started out as an exciting story but went too long and my interest start to wane after awhile
This book suffered with the same problem I had with John Grisham's novels,  when the antagonist is always one step behind the hero it gets to be too much. I know that the purpose is too keep the excitement and tension high but personally I start to roll my eyes and say "come on already."
Sabine thinks she is an ordinary human-next-door when she is picked up by Genesis and tossed into the prison cell of a starving vampire.  Try as he might, once he starts feeding, Ryder simply can't stop in time. Something in his hindbrain was telling him to stop but by the time he does, it is too late to stop Sabine from taking her final breaths and Ryder rushes to feed her his blood, but was he too late?
He isn't sure what to think as Sabine bursts into flames. Genesis knew Sabine was a phoenix and this is her first death. They are hoping they can make Sabine as powerful as Subject 13 (Cain from Book 1). They are also hoping they can get Sabine to shed phoenix tears which are supposed to be able to heal anything.
This story also has the flaw of escape/recapture/torture, escape/recapture/torture, rinse, repeat.  Yes, again the idea is to build tensions and excitement, but even I get the feeling of why bother?  I would have just closed the cell door myself and asked if I could get dinner before the torture started again.
We do end  on an interesting note so I have picked up a copy of the next book in the series.  Overall I have just become jaded with the whole humans capturing paranormals, who are stronger and more powerful, under the guise of fixing them or ridding the planet of them but really we want to be one too trope. That was a little wordy.
We also got a story of Ryder's evil brother who he had to kill centuries ago but the only reason to bring it up would be that he really isn't dead and he would turn out to be the guy behind who was responsible for Ryder ending up in the hands of Genesis. You might think that is a spoiler and that I should have marked it as such, but this out of left field story of an evil brother who was dead and buried screamed obvious evil plot point or there is no reason to go into it. They weren't sharing stories over a camp fire.
This could have been much shorter and then we would have had excitement without beating it to death.
Related Posts