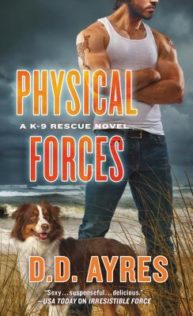 Physical Forces (K-9 Rescue #6)
by
D.D. Ayres

Series:
K-9 Rescue #6
Published by
St. Martin's Paperbacks
on May 30th 2017
Genres:
Action
,
Blue Collar
Pages:
320
Format:
eBook



I received this book for free from in exchange for an honest review. This does not affect my opinion of the book or the content of my review.
This post contains affiliate links you can use to purchase the book. If you buy the book using that link, I will receive a small commission from the sale.
LOVE TO THE RESCUE

Macayla Burkett is no ordinary private eye. She's a pet detective, dedicated to tracking down missing dogs and cats. When two famous racing greyhounds disappear and turn up dead, Macayla finds herself in the midst of a much more serious case. And when the thieves target her and threaten her life, she realizes she's in grave danger—until a ridiculously handsome stranger enters the picture …

Oliver Kelly may look like a male stripper, but his muscles aren't just for show. The gorgeous Australian is co-owner of a K-9 Search and Rescue service dedicated to saving those in danger. When he and his K-9 partner, an Australian shepherd named Jackeroo, rescue the fiery detective from trouble, the sparks begin to fly. And when they join forces to stop a widespread case of animal theft, it unleashes a torrent of passion that's impossible to tame…
---


I had high hopes after reading Book 5 in the series but there was nothing interesting about it to really recommend this one.
I only read Explosive Forces, Book 5, of the series so I don't know all the characters. I am presuming that we have seen Oliver Kelly before, at least in Rival Forces, Book 4, which featured his partner in the Search and Rescue business. Maybe if I had met Oliver in a prior book, I would have been more excited for this story.
As it is, I had to look up the character names in order to write this review since they were so unmemorable. Oliver is a big name in canine search and rescue but we don't get to see him do too much with his dog in this story. Oliver is forced to take his partner's place and give a speech at a SARs convention in Florida. Oliver doesn't want to do it. He is afraid of public speaking (isn't everyone?). We also learn (cue dramatic music) that Oliver is dyslexic and never learned to read so he can't make notes for himself.
Macayla, who is barely making ends meet as an animal private investigator, which means she finds lost pets. Her big success as a P.I. comes from searching for days where the animal was last seen and asking people if they have seen the animal until she tracks down the frightened and hungry pets.
Several people tell her that they heard on the street that she is actually kidnapping the dogs and then returning them for a fee on top of the ransom she is demanding. It takes the police arresting her after she returns a dog she tracked down which had actually been stolen from the owner. Of course the police buy the story and grill her like she's the next Lex Luther, criminal mastermind, even with no evidence but some rumors.
Oliver presumes that Mac is a homeless woman dumpers diving for food, when she is actually trying to coax a small dog out from under said dumpster. Mac mistakes Oliver for being in town as one of the dancers in the Thunder from Down Under male review.   By the end, the man who never had a second date wants her to move to Hawaii with him and work in his business, and everyone is so happy that he has any thought about a woman for more than five minutes. Ah, true love!
This definitely had a happy for now ending to it.  Unfortunately, I found nothing very interesting to the story. The only interesting character was the dog and he didn't come into it often for a SAR dog. The story was readable, so I didn't toss it, but I couldn't wait to finish it, and not in a good way.
Related Posts