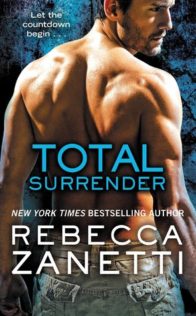 Total Surrender (Sin Brothers, #4)
by
Rebecca Zanetti

Series:
Sin Brothers #4
Published by
Forever
on March 31st 2015
Genres:
Action
,
Military
Pages:
384
Format:
eBook



I received this book for free from in exchange for an honest review. This does not affect my opinion of the book or the content of my review.
This post contains affiliate links you can use to purchase the book. If you buy the book using that link, I will receive a small commission from the sale.
---
[box style="rounded" border="full"]The final (?) story of the Sin Brothers series was certainly exciting. It was full of chase scenes, fights, gun fire and daring escapes. I'm sorry to see the end of these devoted brothers. The ending will be satisfying yet leaves a little wiggle room if Rebecca decides to toss in a follow up novel or novella to tie up some loose ends. [/box]
This was definitely the most exciting of the four stories going from one chase and escape to the next. My family wanted dinner and I only lifted my head long enough to shout "Order something. I'm in the middle of a chase."
During the prior story, we learned that the youngest Dean brother, Jory, was still alive, and was being held by the Commander. In Total Surrender we find that as soon as Jory wakes from a two year coma, he immediately begins rebuilding his strength and preparing to escape so that he can save his brothers. All the brothers were implanted with a computer chip which will detonate and sever their spines if a code isn't input within a certain period of time. Since the brothers escaped the Commander's compound five years ago, the final deadline to reset the chips is almost upon them. They have not been able to figure out the algorithm on their own. They need to get into the compound to find their brother and to find a computer to reset the chips so they can be removed.
Jory's chip was damaged when he was shot so he knows there is no hope for him. In an attempt to keep one of his favorite experiments, the Commander sends in a computer hacker to try to reach the damaged chip so it can be reset before the deadline. Of course, the computer hacker is smart, beautiful and intriguing.  She is also the Commander's daughter.
Piper only found her father recently when she was being arrested for hacking into his company's database. So the Commander "saves" her and gives Piper what she has always wanted, a chance to know her father.   Piper has always fantasized that her father was a hero soldier.   Although we know what a bastard her father is, Piper believes every word he tells her which leaves us frustrated by her ignorance.
Not only does Jory need to escape so that he can get to his brothers, there is another organization which wants to break into the compound. PROTECT wants to stop the commander and kill his abominations. The Dean brothers need to stay under the radar of both PROTECT and the Commander while breaking in the compound themselves to reset the chips.
There is so much action and running around and Jory spends a lot of time trying to convince Piper that it is the Commander who is the real danger that her 180 turn around supporting Jory and their falling in love seemed very jerky. It eventually smooths out, but there is still the little girl in Piper who wants the Commander to be the hero and to show the brothers that he is not as evil as they think. What does happen is that we get a further look into how evil the Commander truly is in his goal to create the perfect, obedient soldier.
THOUGHTS:
This was a great series and I will miss the Dean brothers.  Although we are given plenty of closure, there are still some open threads which could equate to another novel or novella, so we can keep our fingers crossed.
Romancewise, Nate and Audrey's story was my favorite. This one gave us more action and a satisfying series end.
Although I know the chips were an important plot point giving the brothers a deadline and a reason to put themselves into a situation where they would be forced to face the Commander again, it really didn't make much sense to implant a ticking time bomb in the spine of your expensive soldiers that your created and trained for decades. Like Jory's, the chips could have been damaged at any time while the brothers were completing a mission or they could have been set off by accident. Also, when we finally see them, they were a little bit complex for a chip which was tiny enough to be implanted and removed from the spine without causing accidental spinal damage, yet which was large enough to sever the spine if set off.
I would also love to chat with Rebecca Zanetti about her continued use of MacGxyver countdowns. These stories are already intense and exciting. We would be just as happy to have a solution and don't need the clock ticking down to zero. (And that was not a spoiler. This is a romance, not a horror story. No one's spine is going to explode after they found love.)
The Sin Brothers is an exciting series with wonderfully devoted brothers.  Both the story and the characters will keep you entertained and coming back for more.
Received an ARC from the publisher in exchange for an honest review.
---
Favorite Scene:
Helicopter blades whipped through the early morning. An unfamiliar Blackhawk dropped onto the ground, slowly going quiet.
He prepared himself to spring. His muscles tensed, vibrating with the urge to run and rip off the door of the helicopter.
The pilot's door opened, and a figure stepped into the storm.
Emotion hit him like a bat to the gut. "Mattie," he croaked. Then he was running. Hard and fast across uneven ground, through the pelting rain, straight for his oldest brother.
They impacted with the sound of muscle hitting muscle. Matt caught him in a hug that was hard, fierce, and definitely home.
Tears and rain ran down his face, and he truly didn't give a shit.
He leaned back and took a shuddering breath. "Matt."
Matt nodded, emotion swirling in his eyes. Fierce and strong, he'd gotten even bigger in the last two years, danger all but cascading off him like steam. "You okay?"
So much more than the mere words lived in the question. "Yeah." Jory's shoulders settled. "I'm good. You?"
"I am now." Matt grabbed his arms and looked deep.
Jory nodded. The only thing Matt had ever asked of him was to stay alive, and he'd done it. "Yeah. I'm really okay now."
Matt nodded, his chest visibly settling. "We left you all alone. I broke my promise."
Ah. Their mantra from childhood. Never alone. "No, you didn't. You trained me to survive, and I did. You made sure I was never alone, and here I am. Definitely not alone."
Something eased in Matt's eyes. Something haunted now cleared.
A side door slammed open. Rough hands whipped him away from Matt, and Nate had him tight, holding on. He laughed and clapped him on the shoulder. "It's you. It's really you," Nate said on an exhale, joy in the sound.
Jory smiled as he could actually feel tension drain from Nate. The middle brother had split his time between ensuring Matt stayed sane and trying to keep the younger brothers safe. Having a brother lost somewhere would've tortured him. "I'm fine, Nate. I missed you."
"Missed you more, brother," Nate croaked. He smiled at Matt, relief curving his lips.
"My turn." Shane Dean yanked him close, hitting his back hard enough to bruise. "God. I knew you were alive. I knew it."
As the youngest brothers, Jory and Shane had shared everything. He'd worried about Shane, who was often angry. Jory nodded and stepped back. "You okay?"
Shane wiped his eyes. "Yeah. Now." He shook his head, his muscles visibly vibrating. "So many times everything got dark, and I thought we'd lost you. So fucking painful."
Jory's eyes filled again, and he hugged Shane one more time. "It's all good. We're together."
Shane leaned back and chuckled right into the rain. "Good? It's a fucking miracle. Thank God."
Related Posts