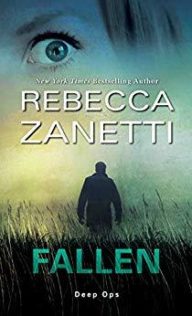 Fallen (Deep Ops, #2)
by
Rebecca Zanetti

Series:
Deep Ops #2
Published by
Zebra
on September 24, 2019
Genres:
Crime Drama
Pages:
368
Format:
eBook



I received this book for free from in exchange for an honest review. This does not affect my opinion of the book or the content of my review.
This post contains affiliate links you can use to purchase the book. If you buy the book using that link, I will receive a small commission from the sale.

Too quiet.
A talented hacker who got caught, Brigid Banaghan is now forced to work with a secret Deep Ops unit. But she won't reveal any more to these renegade Feds than she has to. Especially not to Raider Tanaka, her control freak of a bodyguard and handler. It's enough that his body is tensed for action and his heated gaze is always on her . . .


Too sharp.
Raider knows there's more to his new assignment than he's been told. Why send a deadly agent of his experience to guard a computer genius—even a gorgeous, unpredictable, undisciplined one? But when Brigid's estranged father is named in an investigation into Boston's organized crime, Raider's mind switches onto high alert, just like his senses . . .


Too close.
To clear her father's name, Brigid needs Raider's help. The Unit's idea that she bring a straight-laced Fed in as her "fiancé" won't fly, though—not unless Raider can release his inner bad boy and become the rebel Brigid can't resist . . .
---
I really like the characters in this series and all their flaws. It is fast becoming my favorite Rebecca Zanetti series.
While I really enjoy the Dark Protector and the Scorpius Syndrome series by Rebecca, I am loving this mismatched group of wounded warriors so much. Each character in the series has been tossed into the HDD as a last ditch effort to either get rid of them or hopefully they just leave on their own. The various members have come from different backgrounds, policy, FBI, etc., and are all suffering some type of PTSD or other trauma from the work they did before. Angus Force saw something…some last spark in all of them and brought them together. I love that they are imperfect and flawed. Even the dog has a drinking problem. I love this group. They are all so quirky dealing with their individual issues and I am not sure who I like the most, but I am looking forward to Angus and Nari's story because there is no question they will have a story.
In this story, Raider is looking for payback against the NY mob for killing his partner and he is using computer tech, Brigid Banaghan, who's father was once part of the crew, as a way to get inside. Raider wants justice for his partner but before he gets his chance, they find out the mob has now branched into human trafficking and there and little girls whose lives are on the line. They first need to find out where the girls are being shipped to so that they can intervene.
The mobsters in this story were a bit intense and slightly crazy, such as being disappointed when Raider came through and they didn't get an opportunity to cut off Brigid's finger, so the danger level was intense whenever they were undercover.
I love the series. I love all the characters, including Raider and Brigid. My only problem with Fallen is that something about Raider and Brigid didn't gel for me, or maybe there was so much story dedicated to the mission and the action, that Raider and Brigid's romance didn't get enough time. They knew each other for awhile, so it wasn't insta-love but it just didn't get enough balance to make them a couple.
I am not certain whose story is next but I can't wait to see what happens.
---
Favorite Scene:
"Come on. Let's have a treat, and I'll make you some lean hamburger for dinner." The pooch didn't like dog food.
He sneezed and followed her into the kitchen, where he froze. His ears went back, the fur on his neck stood up, and he growled.
She paused, looking around the small space. "What–"
Roscoe bunched his hind legs and leaped high into the air.
"Roscoe!" She tried to grab him, but he was too fast.
He landed on the counter, skidded sideways, and shoved his tongue into one of the two empty wine bottles. His yip was one of joy.
"No." She hurried to him and tried to take the bottle.
He growled, shaking his head. He whined, sounding pained.
Oh God. His tongue was stuck in the bottle. How the heck had he done that? "It's okay, baby." She patted his head as he flopped down across the stovetop, his eyes wide and his tongue in the bottle.
Was the glass rough inside? She didn't think so. Gently, she stroked his large head. "I need you to stay calm." If he freaked out, he'd break the bottle and might cut his tongue.
He whined louder.
"Honey, it's an empty bottle," she soothed, leaning forward to better see. She tilted it up. Yep. His tongue was in there but good. The neck was smaller than most wine bottles. "This was a homemade bottle from a neighbor down the way, and it wasn't even that full-bodies." She kept her voice calm as she reached for a jug of olive oil from the nearest cupboard. "We have to work on this drinking problem you have."
His nose wrinkled, his eyes widened, and he sneezed. The bottle shot across the kitchen and hit the wall, dropping to the counter and rolling to the floor, where it shattered. He looked over the side of the counter, and she could swear he sighed.
She surveyed the mess. "Oh, Roscoe," she murmured.
He whimpered and turned his head away, facing the dials for the burners. Her heart softened.
"It's okay, sweetie. We all like wine sometimes."
Related Posts