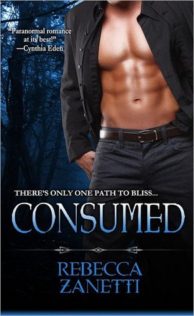 Consumed (Dark Protectors, #4)
by
Rebecca Zanetti

Series:
Dark Protectors #4
Published by
Kensington
on July 5th 2012
Genres:
Paranormal/Urban Fantasy
Pages:
336
Format:
eBook



I received this book for free from in exchange for an honest review. This does not affect my opinion of the book or the content of my review.
This post contains affiliate links you can use to purchase the book. If you buy the book using that link, I will receive a small commission from the sale.
---
Sometimes you mate for life…Katie Smith is the best of her class, part of an elite hunting force trained to eliminate werewolves from the hills of Western Virginia. She's good at it because she has the kind of focus and drive that won't back down no matter how steep the odds. Call it southern sass. Whatever it is, there's no denying her willingness to risk everything for the only man she's ever cared about–a man on the verge of losing his very humanity. . .
Sometimes You Mate To Stay Alive…For the past ten years Jordan Pride has dedicated his life to protecting his people from a deadly shifter virus. But in a rare moment of distraction, Jordan's guard drops just long enough for his fate to take an irreversible twist. Unless the woman he loves surrenders everything to him, again and again, under a full moon rising.
---
I gave you a whole week before I posted. If you are still planning on picking this book up, stop right here!!! Don't read any further!! This book contains so much OMG moments and I don't want you to ruin it by reading my review. Come back when you're done – we'll talk!! If you haven't started this series, go get a copy of Fated and get started, we'll wait for you… 😉
It has been 10 years since Katie was first infected with Virus-27 and she and her team are working hard in New Orleans locating infected shifters who have turned into werewolves. Although she misses Jordan Pride, she was now a shifter who couldn't shift and her lifelong dreams of a happy ending as Jordan's mate came crashing down that day she was infected with Kurjan's virus. Even though she never turned into a werewolf, the pride's Alpha can't have an infected mate who can't shift and who could possibly pass on the virus to their children. It was just too painful for Katie to stay with Jordan and know she could never have him and she needed to leave.
Although the Realm has managed to keep the female shifters from turning into werewolves, infected male shifters only have until the next full moon before they are lost to the virus. The Kurjans are clever and they laid a trap and they have now infected the shifter leader. Jordan only has until the full moon to set up the new leader and the bring Katie home where she will be safe in Realm headquarters.
When Jordan offered to mate Katie when she was first infected in the hope that the mating ritual might reverse the virus, Katie refused. She would not be his mate out of what she thoughts was some twisted sense of pity. Now that Jordan is infected, this is Katie's last chance to have a night with the man who has held her heart all her life, and when they believe a mating might give Jordan a last chance to survive the change, Katie will do anything to convince Jordan to now mate with her. But Jordan isn't the only one who wants to mate our Katie, she senses the werewolf stalking her and can feel his anger and determination to have her as his own.
I have been waiting for Jordan and Katie's story since I read Fated last year and was soooo happy with this story! It was incredible: action-packed, exciting, intriguing, sexy, sweet… *FREAKIN' AWESOME!*
I was a little freaked at first that we jump ahead 10 years from Hunted in a "what did I miss??" way. I wanted a quick head count and status update on all my favorite characters after 10 years of war and the virus. Kane and Grace working on this virus 24/7 for 10 years and still nothing??? REALLY!! Although I am torn between excitement and depression that a 10 year jump brings us that much closer to Janie's story which will be EPIC (not too much pressure, right?).
Although this is Katie and Jordon's story, we do progress a little bit on Janie's storyline. Janie is approaching her 16th birthday and Zane has disappeared from her dreams for about five years now. 🙁 Zane is now a soldier (but for who?) and Janie is finally able to connect with him one night when he passes out and can't block her anymore. Kalin is now leading the Kurjan army with his army of pet werewolves.
This was an incredible story, but of course, Rebecca finds the time to torture us by dropping just enough tidbits about Kane, Jase, Janie, Zane, Kalin, etc. to leave us panting for more. WANT, WANT, WANT!!! She's so lucky I can't go to the RWA12 in CA or I just would just stalk her the whole weekend!!!
I can't wait for more!!!!
Received ARC from netgalley.com, courtesy of Kensington Books. Thank you!!
---
Favorite Scene:
Her scent hit him as he snapped on the light. Dark spices and wild orchids, all woman. Smoothing his battered face into nonchalant lines, he pivoted away from the living area to the utilitarian kitchen and shut the door.
Katie sat on the oak table, swinging a leg. "I'm here to seduce you."
Amusement and something warmer settled in his chest. For seduction she'd worn ripped jeans, battered tennis shoes, and a frayed T-shirt so old the logo had faded beyond recognition. Her multicolored blond hair was up in a ponytail. No makeup adorned her pretty face.
The truth slammed him so hard he took a step back. The woman was fucking perfect.
Saying a monumental thanks that cats were stubborn, he forced himself to chuckle. "I appreciate the warning."
A clock next to the small fridge ticked away seconds.
Katie glanced past the living room to the open door of his bedroom. A soft blush wandered up over her sharp cheekbones. "I'm not kidding."
"I know," he said softly. "And I truly appreciate the adult way we're discussing this." When it came to mating, discussion had no place. He'd shielded her too much from the ways of their people if she didn't know that. "I take it you heard Kane's cure didn't work?"
"Yes." The blush receded, leaving Katie pale. "The only chance you have is mating a shifter, and although I'm only half that, I'm offering."
He'd saved her as a cub, and the woman took loyalty seriously. "You don't owe me."
"I know." Fire flashed in her tawny eyes. "I'm not proposing to sacrifice myself here. We're both infected with the virus…mating might cure us both."
"Or kill us both." Irritation swirled down his spine at the rational talking going on. "I'm almost a werewolf—I could turn you into one as well."
Her stubborn chin lifted. "I'm willing to take the chance."
The irritation slid to anger. "What exactly do you think happens in a mating, Kate?"
The blush returned, red and bright. "Jesus, Jordan. I know what happens."
"No, you don't." Amazement filled him at her naiveté. "I don't just give you a good fuck and bite your neck, sweetheart."
The blush intensified, along with her scent. Intrigue and lust deepening those amazing eyes. "You think you're that good?"
Ah. Challenging him. Smart woman. "Yes." He shoved the beast inside down. Way down. "I've seen the aftermath of a mating. The female is often lucky if she still has a shoulder." Dark and brutal, even in human form, the males became all animal during a claiming. The woman should know that.
"I've seen the aftermath of a mating, too." She shoved off the table. Toward him. "I can handle it."
No mention of love, No mention of forever or even happiness. That more than the calm discussion shot fury through his veins. "No, you can't. Even when you were…healthy…it was too much of a danger. If I decided to mate you, you'd no longer be Katie, the little girl I protected. My adult friend. The werewolf hunter. None of those people would you be in that moment."
She tilted her head to the side. "What would I be?"
Low, guttural, the snarl came from down deep. "Mine."
Related Posts