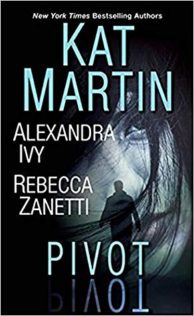 Pivot
by
Kat Martin
,
Alexandra Ivy
,
Rebecca Zanetti

Published by
Zebra
on March 31, 2020
Genres:
Action
,
Contemporary
Pages:
368
Format:
eBook

I received this book for free from in exchange for an honest review. This does not affect my opinion of the book or the content of my review.
This post contains affiliate links you can use to purchase the book. If you buy the book using that link, I will receive a small commission from the sale.
As girls, they bonded over broken homes and growing up in foster care. As women, they're fighting for their lives, and loves, once more . . . MERIWhen Meriwether Jones takes her young daughter and runs from trouble in L.A., that trouble follows. By the time Meri reaches Spokane, she's out of gas, money, and ideas. Luckily, ex-cop Ian Brodie hires her to help him with his father's farmhouse, and they seem like the answer to each other's prayers. But Meri is keeping a dangerous secret—and Ian is in danger of losing his heart . . . MELANIEThat secret explodes when Melanie Cassidy spots two men trying to kidnap a young boy she tutors and responds by ramming them with her car. The last thing she expects is for the man she once loved, Detective Gray Hawkins, to appear and rescue them both. Now she has no choice but to trust him as they investigate the truth about a conspiracy of dirty, drug trafficking cops—and the truth about their relationship . . . MICHELLEAfter a rough youth, Michelle Peach was finally content in Portland—until two men broke into her home, threatened her, and sent her mentally unstable mom on a blackmail spree that Michelle has to stop. The last person Michelle wants to see is her ex, Evan Boldon, a former marine turned sheriff. But Evan misses the woman who walked away instead of letting him help years ago. This time he's not asking permission; he's going to put a stop to the trouble stalking Michelle and her friends—and win her heart for good.
---
Great authors and wonderful writing  Each story could stand alone but combined works even better.
Pivot is three novellas by Kat Martin, Rebecca Zanetti and Alexandra Ivy. They are all part of one of the author's own series but I never felt lost with the characters since I was only familiar with the Rebecca Zanetti series, Deep Ops.
I liked that the authors used not only heroes and heroines who were connected but the antagonists were also connected throughout the three individual stories. The women all had different backgrounds but they grew up in foster homes which brought in trust and abandonment issues and abusive parents.
In Kat Martin's tale, Meri Jones and her three-year-old daughter are on the run from Lily's father. Joey has an issue with drugs. Meri inherited money from her foster mother which Joey believes is much greater than it was. He thinks Meri is holding out on him and he wants his fair share or he'll take Lily. When Meri runs low on gas, she happens to meet Ian Brodie who is looking for someone to help clean up his father's house which is in disrepair. Ian can tell the Meri is desperate for work and is obviously running from something. He takes her in and together they bring the house back to its former glory while Meri's little girl breathes new life into Ian's father. This was my first Kat Martin story and it was very enjoyable. It was also the only insta-love story of the three but we get by this with a general reference to the many days and evening that Ian and Meri work together to accomplish their goal of fixing the house. Meri's kid is adorable and I enjoyed her playing off against the grumpy old dad and instead of being intimidated by him, she just ignores his bluster until he comes very used to this cute little kid.
Rebecca Zanetti's story, features Michelle Peach, a friend of Meri's, who was beaten up and harassed by Joey and his cohort for information on Meri's whereabouts. She calls out to her friend Raider for help and he sends Evan Bolden Michelle's ex-love and former marine to protect her. Michelle had a problem with Evan's need for excitement and danger but she would never have walked way from him so Evan pushed her away. He realized his mistake almost immediately but now he realizes that action and excitement also includes too much blood and death. All he wants now is to settle down and convince Michelle that all he needs in is life is her.
The final story involved Detective Grey Hawkins who is trying to uncover police corruption in Seattle. He has been getting his information from Joey's cohort, Bart Kowalski. Now Bart's little boy is being threatened by the same people Grey is trying to uncover. He rushes to get to Donny first but he has run to see his teacher at the Youth Center. His favorite teacher turns out to be Melanie Cassidy, Grey's old love, who he walked away from a few years ago. He also realized his mistake shortly thereafter. Grey is a friend of Ian Brodie, and call his friend Ian for some help to hide the little boy while Grey and Melanie track down the dirty cops and the men they sent after a little boy
These were really good stories and although they would be considered part of each author's individual series, I never left left out on any of them. Each story would have worked fine as a stand alone but I liked how they overlapped the characters in the different stories giving the anthology a cohesiveness.
---
Favorite Scene:
From Shaken by Rebecca Zanetti:
"Thanks for dinner."
"Sure." His smile froze and he turned his head slowly, scanning the trees by the river.
"What?" She couldn't see anything but darkness and trees, but her heartbeat quickened in response to his expression. She set down the glass.
He grasped his steak knife, twisted it around in front of his chest, and stood, facing the trees. "Get inside. Now."
"Gun beats knife." A gigantic man, tight with muscle and wearing a leather jacket, strode out of the trees with a gun in his hand and a dog at his side. He had short hair, a faded scar from his temple to his jaw, and topaz brown eyes.
The German shepherd kept his gaze on Evan's knife and moved with strength and purpose, the fur on his back standing up as if he was just waiting for the command to strike.
Evan gestured her behind him. "Start backing up, and I'll cover you," he hissed.
The dog barked once.
Michelle stood, her lungs seizing, and moved backwards toward the sliding glass door.
Then a white kitten popped his head out of the man's jacket pocket, one damaged ear flicking back and forth as his pretty eyes blinked sleepily.
Michelle composed herself. The man had a kitten in his pocket?
The guy sighed. "Kat, dude. You totally take the fierce out of my entrance." He tucked the gun in the back of his waist and leaned to the side to better see Michelle beyond Evan. "You Michelle?"
She nodded, a lump in her throat.
"You okay? Not harmed?" he asked.
Energy vibrated off Evan, and his stance didn't relax. "Who the hell are you?"
The guy's eyebrows rose in surprise. "Oh, sorry.  Forgot that part.  I'm Clarence Wolfe.  Call me Wolfe.  Not Clarence.  Don't like that."  He stroked the dog's head.  "This is Roscoe, and Kat is in my pocket.  Not because I make him but because that's where he likes to be."  Wolfe looked down at the kitten. "Of course, there are goldfish in there, so that might be why."  He looked up.  "Crackers not bait."
Evan's muscles bunched. "Inside, Michelle. Now."
"Wait a minute. Wolfe from Raider's unit?" she asked, stepping to the side.  Raider had mentioned the man but not the nuttiness.
"That's me," Wolfe said cheerfully.  "Raider sent me to your place and I saw the damaged door, so I hustled up here to make sure Evan was okay.  I was hoping you'd be here, too.   I can't take Raider off his case, so I haven't called him yet.  If you weren't here, I was gonna, though."
Evan relaxed slightly.  "Call off your dog."
Wolf's expression cleared.  "Oh yeah.   Roscoe, at ease."
The dog sat and cocked his head.  Man, he was beautiful, his markings perfect.  His gaze scanned the deck and then stopped on the table.
"No!"  Wolfe grabbed for him but Roscoe was too fast.  He leaped over the edge of the deck, right over a a rose bush, and landed on Michelle's vacant seat.  In less than a second, he jumped onto the table and stuck his whole snout in her wineglass, sucking down the liquid loudly before turning and finishing Evan's.   Then  Roscoe licked his lips and eyed the stead remaining on her plate.  With a doggy shrug, he gulped the entire thing.
Evan turned and gaped at the dog.  "Seriously?"
Wolfe sighed and strode forward.  "He has a drinking problem and is way too fast.  I should've check out the table before releasing him."   He walked up the steps.  "Bad, Roscoe."  
Michelle could swear the dog rolled his eyes.
Wolfe clapped Evan on the back, and the sound echoed back to the trees.  "So.  Which room is mine?"
Related Posts