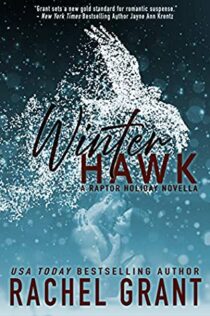 Winter Hawk (Evidence, #9)
by
Rachel Grant

Published by
Janus Publishing
on December 6, 2019
Genres:
Action
Pages:
189
Format:
eBook
Source:
Amazon



This post contains affiliate links you can use to purchase the book. If you buy the book using that link, I will receive a small commission from the sale.
Raptor operative Nate Sifuentes isn't thrilled to find himself back on the job on the first day of his winter vacation, but he can't say no when his brother asks a favor. At least he'll earn an easy Christmas bonus—after all, driving a fired military contractor home after she's been escorted off base by military police can't be that hard.
In a matter of minutes, Leah Ellis has lost everything, and now she's stranded in the nation's capital on the first night of Hanukkah without money, phone, or bed. All she has is a mysterious driver who might be after her technical knowledge of the US military's drone operations.
The former Green Beret's protective instincts—and skills—kick in when he discovers the alluring AI engineer is being hunted. On the run, they escape the winter cold by generating their own heat, but will they find answers in time to stop a terror attack on Christmas Day?
---
A mixed holiday-themed thriller.
This popped up with one of the many emails I receive for discounted books as Amazon was running a $0.99 special. It caught my attention because the heroine is Jewish and celebrates Hanukkah and the hero celebrates Christmas. While neither is really religious, it was unusual enough to see the blending of celebrations to catch my attention. Added to it the action/thriller genre and I plunked down my dollar to take a look.
Leah Ellis is a computer programmer who is an integral part of programming this year's hottest toy, the Peacemaker drone. It is Leah who is behind the coding, especially the AI aspect included in the drone's programming. Hathaway-Hollis (aka HH) has a lot invested in this launch going smoothly, especially since the company's biggest campaign is their Christmas day Peacemaker event where for 40 minutes on Christmas Day, all the drones will "dance" together using Leah's complex programming. Several events are planned including renting out the park in D.C. so everyone who received a drone for Christmas can bring it down and launch them in the air together.
Leah's success with the drones was so impressive, the army subcontracted Leah from HH to see if she can program military drones to work together as smoothly as they toy versions. Leah missed only one deadline with the military because she had to go back and correct the Peacemaker's coding since one of her subordinates tried to fix Leah's work and almost ruined the Christmas Day event.  Her supervisor at the military project told her that her missed deadline was not a problem since he would be with his family until after Christmas anyway.  He told her she could have the next few days to catch up.   Well, he must have changed his mind as the MPs are marching directly towards her and that could only mean one thing, Leah was about to be tossed off the base.  Leah was being fired, not only from the military contract, but from her position with HH after everything she had done to make sure that their biggest project would go off without a hitch.
Angry though Leah was, she was more frightened since the army confiscated her phone, her car and her company provided residence until they could search it to make sure she didn't steal government secrets, but in doing so, she is also can't get to her identification or her credit cards which were left inside her residence. Leah has to face the fact that she is now unemployed with no vehicle, no identification, to money, no friends in D.C. and no place to go to wait this out. Added to that, it is almost Christmas and everything is shutting down for the next few days. She doesn't know where to turn and the real question is did someone plan  to leave Leah stranded and vulnerable?  While the army might have confiscated everything Leah has and restricted her access, they can't delete the information in her head. There are a lot of people who would like to know more about the project Leah was working on.
When a car pulls up with a gorgeous driver, a man who is definitely more than just a chauffer, Leah can't decide if she is being rescued or stepping right into her own kidnapping.
Nate Sifuentes normally works for Raptor, a security firm based out of Washington DC. Since Raptor has closed down until the new year, Nate agrees to help out his brother's car service company by picking up a last minute firing at the military base. It isn't long into his pick up that Nate's training kick in and lets him know that he is being followed  and that there might be more to this pick  up than just dropping on the lady at home. Nate once lost a friend because he didn't trust his instincts and help when he was asked.   Knowing that leaving Leah on her own might be a death sentence,  Nate calls in a few Raptors to help keep Leah safe until they can figure out who is after her and why.
This is book 9 of a series, but I had no problem following along without reading the other books. This had a holiday theme which mixed Leah's Hanukkah traditions and Nate's Christmas celebrations which added interest to the storyline.    This book was less than 200 pages but I was engrossed in the mystery of who was trying to get to Leah and did it have to do with the military contracts or her work on the hottest toy of the season, and why? Since this was a novella, we did have more of an insta-attraction between Leah and Nate, probably enhanced by the fact that both had been celebrate for a period of time which is all disclosed in the story. It worked with this story since we have the long dry spells, add in working with someone attractive and add in running for your life, and we can easily see why Leah and Nate were jumping into the first read bed that comes along.
I would definitely recommend this if you are looking for a quick holiday-themed read with a little excitement to grab your attention.  Go ahead and plunk down your dollar and give this a try. You might find yourself also grabbing Book 1, Concrete Evidence, and Book 4, Night Owl, of the Evidence series and Book 2,  Catalyst, of the Flashpoint series are currently free on Amazon.   I also grabbed a copy of Book 1, Dangerous Ground, of the Fiona Carver series which is on sale for $1.99 and sounded very interesting.
---
Favorite Scene:
That was it? They'd been followed and she didn't even give a damn?
Did he give a damn?
He could drive off right now and collect an easy grand for his brother. He didn't even need to pass Go.
But something about this didn't sit right with him.
He wrenched open his door and slipped out, catching her before she could walk away. "Wait. You left your box. And I don't even know your name."
She smiled and leaned into him, pressing her hand to his chest where his coat was open. "You work for Raptor and haven't tracked down my name yet?"
"Sloppy. I know."
"I'll tell you mine if you tell me yours." Her voice was a husky whisper as she played with the button on his shirt.
He placed a hand over her thick coat, on the small of her back, enjoying this game. She'd gone from attractive and stunning to blazing hot. "Nate. Nate Sifuentes."
"You aren't even going to make me work for it?"
"No. Are you?"
"I think…yes." She rose on her toes and brushed her lips over his. "Thanks for the ride, Nate Sifuentes."
His mind had blanked out at the feel of her in his arms, but the brush of her lips trigger a different reaction.
She slipped from his arms as darkness gathered. The sun was getting ready to set, telling him he'd wasted more time than he'd planned in getting Josh and Chase on board.
"Are you sure this is where you want to go?" he asked as she walked away. "My brother said you can have me for two hours."
She turned and walked backwards. "Two whole hours? We could cover a lot of ground in that time." Her gaze raked him from head to toe. "What's the going rate for two hours with a mercenary?" She glanced at the paper in her hand. "But my ticket is for tonight only. Bummer."
She turned and swayed her hips as the walked into the shadows.
Damn. Well, if nothing else, the job had been interesting. He turned to climb back in the vehicle, when he heard Chase's voice in his headset. "Fifty bucks says she swiped his wallet."
"No way," Josh said. "Nate's a professional. He'd never ben taken in by a woman like that."
Nate patted his pocket and felt the blood drain from his face.
Motherfucker.
Related Posts