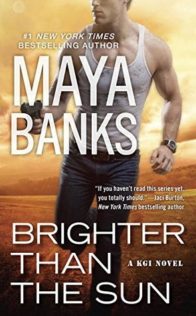 Brighter than the Sun (KGI, #11)
by
Maya Banks

Series:
KGI #10
Published by
Jove Books
on March 7th 2017
Genres:
Action
,
Military
Pages:
324
Format:
eBook



I received this book for free from in exchange for an honest review. This does not affect my opinion of the book or the content of my review.
This post contains affiliate links you can use to purchase the book. If you buy the book using that link, I will receive a small commission from the sale.
As the last unattached member of the Kelly clan, Joe is more than ready to risk life and limb on any mission he's assigned to, but when it comes to love, he'll keep his distance. He's content to watch his brothers become thoroughly domesticated.

Zoe's had nothing but heartbreak in her life, and she's determined to start over with a completely new identity, thanks to her college friend, Rusty Kelly. But it's the gorgeous smile and tender words of Joe Kelly that begin to weaken her resolve to never risk her heart again. And Joe will have to put everything on the line to save Zoe, when secrets of her past resurface—and threaten to tear them apart…
---





I hate insta-love, especially when the characters are running from insta-love failure and should know better. Even the action can't make up for the bad taste this one leaves.
I hate insta-love.   Insta-love feels like it is forced down your throat like yucky medicine.
In Brighter than the Sun, Rusty (adopted sister of the Kelly boys) has brought home an old college friend to stay with her at the Kelly base camp. What she hasn't told everyone is that Zoe Kildaire is a fake person that Rusty has used her I.T. skills and listening to her big brothers to create. Stella Cambridge is on the run from both her father, a mafia kingpin, and her boyfriend, who thought he would earn a place in her father's organization by screwing her. Once the boyfriend finds out that Stella's father doesn't care about her, he decides that killing her might just send the message he wants instead.
Rusty hasn't told anyone Stella/Zoe's story, but when you have a group like the Kellys who spend all their time rescuing people from bad situations, they can see pain and fear radiating off her. Zoe's pain catches the attention of the only single brother left, Joe Kelly. Not only can he see her pain but she is soooo beautiful. Zoe is that beautiful that doesn't realize how beautiful she is because she didn't get love from her daddy and her mom abandoned her, and she must have taken all of the mirrors from the house when she left. So we were forced to listen to Joe's constant flabbergast that Zoe is beautiful.  When she smiles, she beautiful.  No, when she laughs, she is even more beautiful.  In fact, everything is beautiful, the day, their lovemaking, Joe. It's all beautiful.
And a little side note, Rusty and Zoe dye her hair from red to blond but when Joe and Zoe finally have sex, Joe doesn't make any comment about the color difference, especially since he was still trying to figure everything out. Hmmm.  You think it would have been something he commented on.
The big issue here with insta-love is that Zoe is there because she is running for a man she didn't realize was using her.   Zoe is only there for one day before she has to meet all of the Kellys and their wives and kids and the other team members, and their families, who are all at the camp for training.  Joe sees how overwhelmed and frightened Zoe is and it upsets him. Really, who wouldn't be upset being in a crowd of about 50 or so family and friends and knowing only 1 person. You didn't need to be running from danger, you just have to be an introvert.  Hell, this is me every holiday with my in-laws.  Joe offers to take the nervous and beautiful Zoe out the next day to show her around his favorite haunts so he can make her less nervous and get all her secrets out of her.  He is taking her alone–not Zoe and Rusty so that Zoe can get used to him.  They go alone!
Come on think about it, a family that live together like this on a compound, with guns and military training. Throw in a little banjo music and suddenly you have a cult or doomsday preppers.
So Zoe, who is running from a boyfriend who wanted to kill her and obviously has issues with selecting men, agrees to go on a non-date alone with Joe, who she only just met. Joe staunchly defends his action as only being friendly to Rusty's friend and for no one to make any issue of it, but two days later, they are in love. IN LOVE?? Super attracted, I get. In lust, understandable.  FOREVER AND EVER IN LOVE? No!  It felt so awkward.
Even though it needed to be rushed since we had to get the KGI saving the day portion of the story, it could have been extended out in vague narratives of how Joe would show up at his mom's house to eat dinner every day for the last month since Zoe arrived.  Watching movies together or just sitting and relaxing, but for a period of time. Something that would have given them a real chance to get to know each other or at least Zoe would have a real chance to relax and trust Joe with her story.
I have been not thrilled with the three of the last four KGI stories but I would hold out for Rusty and Sean's story. We get a bit of a set up here, and although I could almost guess where we are going, I would still read it. Except it appears that Rusty will not be the subject of the next story. Maya Banks has indicated she will only be doing five more KGI stories, and I might just skip it altogether until we get to Rusty's story. At least we know it won't be insta-love since these two have been dancing around each other for years.
Related Posts