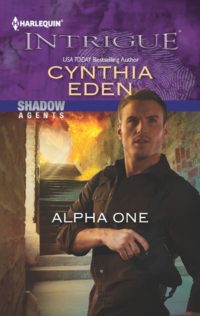 Alpha One (Shadow Agents, #1)
by
Cynthia Eden

Series:
Shadow Agents #1
Published by
Harlequin
on January 2nd 2013
Genres:
Action
,
Military
Pages:
224
Format:
eBook



I received this book for free from in exchange for an honest review. This does not affect my opinion of the book or the content of my review.
This post contains affiliate links you can use to purchase the book. If you buy the book using that link, I will receive a small commission from the sale.
---
"Julie's missing. You have to get her back."The minute he got the message, undercover agent Logan Quinn sprang into action. Getting Juliana James out of Mexico alive was the Elite Ops covert agent's only priority. But once the senator's daughter was safely back in their Mississippi hometown, Logan had a new mission: to get another chance with the woman he couldn't lose again.

Juliana had never forgotten the day, ten years ago, when Logan left her heart in pieces. Now he was back in her life, sworn to protect her from the ruthless weapons dealer who wanted her dead. As passion blindsided her—and she was once again thrust into danger—Julie realized how much she'd risk for one more day in Logan's arms.
---
Shadow Agents of the EOD, Elite Operations Division, an elite team from different branches of the armed forces who don't exist on paper, but have been brought together to do the job others can't, including hostage recovery. The EOD have spilled blood on many missions, both their enemies and their own, but this time it's personal.
In Alpha One, Juliana James has distanced herself from her father, Senator Aaron James, more and more over the years. Her father was once a good man, fighting for everything that was right, but since her mother's death, his only interest has been money and power and he no longer cares who he hurts to get them. This time around, it is Juliana who is paying the price for his dirty dealings. She has been kidnapped by Diego Guerreros, better known as El Diablo, a very dangerous arms dealer who will not hesitate to cut up Juliana and send her back to her father in pieces for stealing from him.
The Senator has called in the EOD to bring his daughter safely home. He knows that Logan Quinn with do everything he can to keep his daughter safe because it was the Senator himself who separated the two lovers ten years before and he knows Logan has just as much interest in keeping Juliana safe. EOD sweeps in and Juliana is safe from Guerreros's knife, then she finds out the team leader is Logan—her Logan and the cut to her heart is deeper then those made by her kidnappers. Juliana was only twenty when she waited at the bus stop for the man who never showed, and the pain of his betrayal far exceeds any torture Guerreros had planned.
Now she's back in the U.S. and she's safe from Guerreros and safe from her feelings from Logan—right? She couldn't be more wrong. Her father told the EOD that Juliana has proof of all of his involvements with Diego Guerreros and all his clients and that she would turn all that over to the government after she was saved from her kidnappers. Unfortunately for Juliana, she doesn't know anything about her father's dealings. Maybe the EOD believes her, but Guerreros isn't planning on taking any chances. Logan and his team know that Guerreros won't stop until Juliana's dead so they need to lead him into a trap with the only bait they have—Juliana.
Juliana isn't complete certain that Guerreros and his men are the biggest danger to her. Sure the EOD may save her life, but will she be able to survive watching Logan walk away from her again when this is all over?
THOUGHTS:
This was an action packed story. There are some great subcharacters that you will find interesting who I presume will be the feature of the next few books. Logan and Juliana were likable characters and their story was heartbreaking and sweet.
I guess my only real problem is that after just finishing her The Wolf Within, which is a paranormal unit of the FBI, I did find this story was lacking…just lacking werewolves and vampires?…maybe that was it.
If you like you action sans hairy beasts, this was definitely a quick read and enjoyable story. You just can't miss with a Cynthia Eden book.
Received ARC from netgalley.com, courtesy of the publisher.
---
Favorite Scene:
"He was going to tell you. He told me to leave, or he'd—"
"And that made you just walk away? His threat?" She wasn't buying that line. Time to try another one.
But he gave a hard shake of his head. "No, I left because he was right. You deserved more than me. My father was right too, you know…In a lot of ways, I am just like him." He lifted his hands, stared at his fingers. "I was made to kill."
"Maybe you were made to protect." She was tired of this bull. "You don't have to be like him. Be your own person! You didn't have to leave me alone—"
"You looked at me like I was a hero. I never wanted you to look at me…the way you are right now."
She stepped back. "You should have told me from the beginning." Everything could have been different between them. No secrets. No lies. "You just left me!"
Juliana took another fast step away from him.
"I came back."
Her eyes narrowed.
"Six month," he said, jerking a rough hand through his hair. "I'd joined the navy. Tried to forget you. I couldn't."
"You didn't come back for me." The lies were too much. Why couldn't he ever tell her the truth?
"You weren't alone."
Juliana blinked.
"You called him Thomas. He was blond, rich, driving a Porsche and holding you too close."
"How do you know about him?" Thomas had been her friend; then after Logan left, he'd been more. She'd just wanted to forget for a while. To feel wanted, loved by someone else.
"You were sleeping with him."
There was anger, jealousy—rage—vibrating in his voice now. She almost wished for the emotionless mask. "I couldn't breathe without thinking of you, but you'd moved on. Gotten someone better."
She and Thomas had broken up after a few months. He'd been a good guy, solid, dependable, but he hadn't been…
Logan.
Related Posts