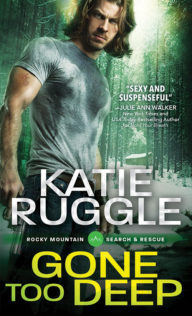 Gone Too Deep (Search and Rescue, #3)
by
Katie Ruggle

Series:
Search & Rescue #3
Published by
Sourcebooks Casablanca
on August 2nd 2016
Genres:
Action
,
Small Town
Pages:
448
Format:
eBook



I received this book for free from in exchange for an honest review. This does not affect my opinion of the book or the content of my review.
This post contains affiliate links you can use to purchase the book. If you buy the book using that link, I will receive a small commission from the sale.
---



[box style="rounded" border="full"]Another book on camping to give me nightmares, but if I had to take a hike into the mountains and snuggle up for warmth, I would want my own George to keep me company.[/box]
This book features a strong, silent hottie who is also sweet and innocent and who protected his lady from the dangers of nature both four legged and two. Ahhh! I definitely I have a new book boyfriend. But I am going to have to move my BB to a new location since Simpson, Colorado seems to be covered with snow 11 1/2 months of the year and has more than it's share of meth dealers, arsonists, stalkers and murderers.
Eleanor Price receives a frantic and confusion phone call from her father, who she hasn't spoken to in years. Her father was traumatized in the war and suffers from PTSD. He has always had trouble separating reality from his imagination. He calls to tell her he is danger from the person who killed his friend, that he loves her and he is going to go hide at her grandfather's cabin. Ellie isn't sure she believes his rantings about murder, but she doesn't want her delusional father traipsing through the woods, trying to find a cabin.  He is confused and could easily get lost in the mountains.   So Ellie drops everything and takes off to Simpson.
Ellie knows nothing about hiking in the snow covered mountains so she needs to find a guide. The best guide in the area is George Holloway, a big mountain of a man who rarely speaks to anyone in Town unless it has to do specifically with Search and Rescue. George has no desire to drag a city girl around the mountains no matter how pretty she is, but when he realizes she is desperate enough to ask another guide, one who isn't so trustworthy with young, beautiful women, he gives in.
Ellie has to learn quickly how to survive away from civilization in the cold snow and thankfully, she has George guiding her. He might not say much, but she has never felt safer especially when dangers arrive both on four feet and two.
But worse than peeing in the woods, freezing your butt off and eating MREs, is returning to civilization and telling all your friends about your adventures. Now everyone wants a George of their own.
THOUGHTS:
I loved George and Ellie.  They are my favorites from this series.
There is a continuing storyline, so you really should read these stories in order. We do get a Holy Sh*t!! WTF? moment on the last page where we learn the name of the murder. Dun — dun — duuuuunnn. And it doesn't turn out to be the jerk-off cop I wanted it to be. Damn it! Apparently, he is just an ass.
Just an aside, that other Search and Rescue guide takes creepy to a whole new level. The woman who runs the only hotel in town has no problem giving him a key to the rooms being rented by single, young women because *wink, wink* who wouldn't invite him to join them. Since he hasn't learned what "No" means nor does he consider anything wrong with having sex with women who say "No, thank you. Go away," you can understand the level of creepy when this guy helps himself to Ellie's room key to find out when they are having sex. While no proof of what he has done has been brought to light, most of the SAR guys have an idea about him and that is why George wouldn't let Ellie go alone with Creeper into the mountains. Ewww! He gives me the willies.
I am definitely enjoying this series and have an ARC of the next book. I am looking forward to seeing what happens next.
---
Favorite Scene:
George opened his mouth, but whatever he was going to say was interrupted by the jingle of the doorbell. He turned toward the sound, tucking her behind him in the same movement. Ellie peeked around his arm to see who'd entered the store.
"Ho-ly mountain man," Chelsea said slowly, checking out George from his boots to the top of his head. "You are George, and you look like the guy on the paper towels. I see why El sent Dylan packing so fast."
His head swiveled around until he was glaring at Ellie.
"What? Oh, Dylan?" She waved her hand. "We've gone on one date–a half date, really, since my dad called that night."
George's scowl lightened, but not by much.
Giving his ridiculously large biceps a reassuring pat, she said, "He's short."
"Not really," Chelsea contradicted, looking amused.
Ignoring her, Ellie continued, "And he has little chicken arms." Her arm-patting turned to petting.
"Triathlete."
"And his face is all" –Ellie wrinkled her nose–"naked."
George had been looking less and less upset as she'd listed Dylan's imperfections, and he grinned at the last one.
"Holy moly," Chelsea breathed, no longer appearing like she was about to laugh. "I want one. I want a George. Are there more like him in the mountain? Because we can close the store, fly to Colorado, and go George-shopping, only for me this time."
By the end of the monologue, Ellie had moved in front of George, creating a human wall between him and a hungry-looking Chelsea. "Down, Chels. And no. There are no George clones in the mountains. I didn't run across any, at least. Although"–she thought back to her first night in Simpson–"There does seem to be an excessive number of hot firemen. Oh, and the sheriff's pretty fine, too. Plus you know…handcuffs."
Chelsea made a whimpering sound.
Related Posts