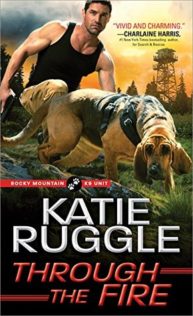 Through the Fire (Rocky Mountain K9 Unit, #4)
by
Katie Ruggle

Series:
Rocky Mountain K9 Unit #4
Published by
Sourcebooks Casablanca
on August 28th 2018
Genres:
Crime Drama
,
Firefighters
,
Police
,
Small Town
Pages:
352
Format:
eBook



I received this book for free from in exchange for an honest review. This does not affect my opinion of the book or the content of my review.
This post contains affiliate links you can use to purchase the book. If you buy the book using that link, I will receive a small commission from the sale.
Kit Jernigan despairs of ever fitting in with her new tight-knit K9 unit. They've been through too much to open their arms to a stranger―and as mysterious fires begin raging across Monroe, she can't convince them to trust her long enough to catch the woman she knows is responsible.Wesley March, local fire spotter, knows Kit is right, and he's willing to help her prove it. But the more time they spend together, the closer they get...and the more danger they're in. A member of the K9 unit's inner circle is determined to get revenge―no matter who gets burned in the process. This time, it's personal.

Rocky Mountain K-9 Unit Series: Run to Ground (Book 1)On the Chase (Book 2)Survive the Night (Book 3)Through the Fire (Book 4)
---
Through the Fire is the conclusion of another great series by Katie Ruggle.
I love those shy, sweet mountain men that Katie Ruggle keeps putting in her stories. In this last novel of the Rocky Mountain K9 Unit, we meet Wesley March who spends most of his time alone up in his tower, like a big, bearded Rapunzel, where he watches over the town to alert the fire department about forest fires.
Wesley is smart, and when he isn't watching for fires or taking amazing nature photos, he invests gadgets and whatzits. The only things that Wes isn't very good with is people. But Wes is smart enough to know this about himself and usually discusses any issues with his sister to determine where he might have gone wrong.
Lately he had to make a special trip to the bat cave. No, not that kind of bat cave, but the one with real bats. That is the only place on the mountain to get reception and he needs his sister's help. He has met a new resident to their quaint little town of Monroe, Colorado, Officer Kit Jernigan. The newest addition to the K9 unit is, in a word, mezmerizing, and overwhelming. Okay, two words. So a trip to the bat cave was necessary so that Wes could check in with his sister since he thinks…well, he thinks she was flirting with him. But he isn't really certain of it.
And if she is, then Wes is going to have to work up the nerve to actually ask her out because he has never met anyone like Kit before. She seems to understand him and she doesn't seem to mind when he can't think up something to talk about.
Wes doesn't mind being alone in his mountain tower but if he could maybe spend that time alone, with Kit, that would be amazing.
There is absolutely nothing more adorable than a big, mountain of a man who is geeky, shy and who blushes. Kit and Wes sparkle from the get-go and the only thing frustrating is that there was so much story plot and excitement, that we didn't get enough of the quiet and sweet Kit/Wes moments.
In this final installment, we get to tie up all the loose ends and a new arrival is trying to tie them up permanently. There is so much going on it will be hard to find a place to stop for the night so this might be one you save for a weekend book binge.
I have really enjoyed both of the Katie Ruggle's series and her very interesting characters, although I think it is time to write a story somewhere there isn't so much snow. Ugh, who can live like that? I have a copy of the next book which will be out this fall and which is the beginning of a new series which will involve more…mountains and snow. What's wrong with a beach rescue?
I am looking forward to seeing what the next series brings.
---
Favorite Scene:
"So, tell me everything."
He opened his mouth and then closed it again not sure of where to start or where Leila's version of "everything" entailed. "Why don't you ask questions, and I'll answer them."
"Okay. How many dates have you been on?"
"One and a quarter official dates."
"A quarter?"
"There was a fire and a possible but unlikely kidnapping."
Silence filled the line for several moments, and Wes waited patiently for the next question.
"Were you involved in either the fire or the kidnapping?" she finally asked.
"No. I–" He broke off when the back door opened and Kit poked her head out.
When she saw him, she smiled and stepped onto the porch. "You okay? I was worried that you might've turned into a human-shaped ice sculpture."
"I'm fine, but you don't have a coat or boots on. Go back inside before you freeze." Despite his scolding words, he found himself smiling back at her.
"Is that her?" Leila demanded. "Is she right there? Let me talk to her! No, take a picture, and send it to me, and then let me talk to her. Oh, we can just Facetime!"
"She can't stay outside to talk to you. She'd freeze. Inside it's too loud. We'll hike up to bat cave soon and maybe you can talk to her then."
"Fine. At least take a picture!"
Lowering the phone, Wes said, "Leila would like a picture of you
"Leila?" Kit repeated.
"My sister."
"Oh." Kit gave him a wicked gin. "Fine, but you need to be in it, too. Let's take a selfie together."
Grumbling slightly, since he hated having his picture taken, he joined her on the porch, pulling up the camera mode on his phone. "If it's two of us, is it still a selfie?"
"An us-ie, then." She grabbed his wrist to move the phone where she wanted, and he crouched down so that both of their faces were in the shot. "Smile! Okay, one more." He centered the picture again before tapping the photo button. At the last second, Kit turned and pressed a kiss on his cheek. The phone made the clicking sound of the picture being taken, but Wes was frozen, unable to process the fact that Kit had just kissed him.
Kit had just kissed him.
"Brrr!" She gave an exaggerated shiver. "Tell your sister hi from me, but I'm going back inside. It's freezing out here." She rushed back inside, leaving him alone on the porch, his arm holding the phone still outstretched.
"Wes!" Leila's voice jerked him out of his reverie for the second time that night. He shook off his daze and hurried to send her the first picture of the two of them, Kit smiling and him looking grumpy has he did in all photos. The second photo wasn't for Leila. That was for him to look at later that night, when he had time to replay the moment in his head.
"Oh, Wes!" His name was just a gasp, and then there were muffled sounds. Wes frowned.
"Leila? You okay?" It sounded like she was crying.
"I'm perfect!" It came out as a wail. "You and her, and she's so beautiful, and you took a selfie with her, and it's so amazing and wonderful and I love her already and I'm going to hang up now so I can send this to Mom so she can cry, too!"
"Wait, Leila…what?" It was too late. She'd already ended the call. Wes wondered if his mother would be calling him later and crying. The thought made him uncomfortable.
Related Posts