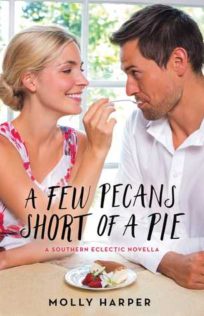 A Few Pecans Short of a Pie (Southern Eclectic #2.5)
by
Molly Harper

Series:
Southern Eclectic #2.5
Published by
Gallery Books
on February 4, 2019
Genres:
Contemporary
,
Small Town
Pages:
110
Format:
eBook



This post contains affiliate links you can use to purchase the book. If you buy the book using that link, I will receive a small commission from the sale.
Sexy school principal Kyle faces the biggest challenge of his career: getting his (pregnant) event planner girlfriend Margot down the aisle before the baby arrives!

Readers first fell in love with big city event planner Margot in the first Southern Eclectic novel, Sweet Tea and Sympathy, as she discovered a long-lost branch of her family—the McCreadys, of McCready's Bait Shop & Funeral Home. To Margot's surprise, she's taken a liking to life in small-town Georgia...helped along by a romance with the hot elementary school principal.

The two of them have been taking it slow—or they were until Margot gets pregnant! Kyle wants to make an honest woman of her, but Margot's still trying to proceed with caution. After all, she was the best event planner in Chicago before she ever came to Lake Sackett—her wedding has to be perfect, and perfect includes not having the baby halfway down the aisle.

With her trademark witty prose and warmhearted storytelling, Molly Harper's newest glimpse of the McCready family will be perfect for fans of Christina Lauren and Amy E. Reichert.
---
Molly Harper — always fun reading.
This short pre-Gimme Some Sugar novella once again features Cousin Margot, the big city event planner, and her love, school Principal Kyle. Margot needs to plan the most important event ever — her own wedding and she needs to do it before her unplanned baby makes a debut.
Margot knows everything about planning the perfect wedding but between morning sickness and baby brain, she can't make any decisions about her own wedding. Kyle, the smart man he is, is just happy to get married and has stepped back to allow Margot to create the wedding of her dreams.
But in true small town form, everyone in Lake Sackett knows just how to help Margot, and it wouldn't help themselves earn points in the local social circles, starting with everyone wanting Margot to borrow their wedding dress.
She doesn't mind doing a taste testing of wedding cakes with Duffy's friend Lucy, especially since she has been so kind as to send over all those pecan pies which is the only thing Margot can keep down.
It is just that everything else shouldn't be so difficult for her…she's an event planner for goodness sake. But when it is the most important day to you, how can you be sure you will get it right.
This was a fill-in novella before Gimme Some Sugar and we do have some time-crossing with both novels since Lucy is establishing her business, and it will take us time to get there in Gimme Some Sugar.
It was a cute story except I was quite annoyed that Kyle's former mother-in-law was suddenly so against their getting married.  I thought she was okay with Kyle dating as we finished their story and it bugged me that suddenly she seemed to be very angry that he would marry his pregnant girlfriend after being widowed for so many years.
It is always fun to spend time with the McCready's and in the head of Molly Harper.
---
Favorite Scene:
He kissed her deeply and took his time doing it. Between Margot's unpredictable pregnancy symptoms, his work schedule, and the fact that they have two children living with them, it had been a while since they'd been able to enjoy long, slow kisses. She stroked her fingertips down the sharp lines of his jaw, his neck, while he took advantage of her exquisitely sensitive breasts to tease the nipples into points so tight they nearly hurt.
She pulled at his shirt, happy that at least one of them got to hold on to their pre-baby body, and tossed it over the back of the couch. She felt him growing hard against her thigh, and was at last grateful for one of the side effects of pregnancy–a ridiculous libido.
Beyond the warm bay rum spice of Kyle's scent, she picked up another, sweeter aroma and inhaled deeply as he worked her enormous panties down her thighs. When she couldn't find it on his skin, she lifted her head from the couch cushion and sniffed.
"What's that smell?" she asked.
Kyle hopped to his feet and ran for the nearest wastebasket, hauling it back to her–no small feat with his pants around his ankles. "Here."
"What are you doing?" she said, propping herself up on her elbows.
"You said 'What's that smell?' Usually that means you're about to get sick."
"No, there's a sweet smell in here," she said, sitting up and sniffing again. "It's nice. Did you buy a new scented candle or something?"
"Not since the 'too heavily scented pumpkin spice' tragedy over Thanksgiving, no," Kyle told her, climbing back onto the couch next to her so he could return to kissing her neck.
Still sniffing, Margot glanced over at the kitchen counter, where she could see a purple-and-white bakery box sitting near the fruit bowl. "What's that?"
Kyle lifted his head and peered over the back of the couch. "Oh, Duffy dropped it off for you. It's from his friend Lucy. And this is the most convoluted message I have ever relayed, but he said that Marianne said you would know what that means."
Margot leaped off the couch so fast she knocked Kyle to the floor. "Yipe!"
With her shirt half-buttoned, Margot scrambled across the house to the box. She broke the seal, a lavender-and-white sticker that read gimme some sugar. Inside was a much larger version of the little pecan tart Marianne had given her–bigger, crustier, more perfect. The golden custard was leaking a bit at the edges, perfuming the air with warm notes of vanilla and cinnamon. And it was hers. All hers. Margot had to wipe her chin, because she was actually drooling.
"Hey, honey, um, we have the house to ourselves and we kind of got something going here," Kyle said, motioning toward the couch.
"Pie first, sex later," Margot told him. She didn't even bother to get a fork, she just scooped an enormous chunk of pie out of the pan and shoveled it into her mouth. She groaned indecently, bracing herself against the counter as her knees gave way at the pure, buttery sweetness of the filling.
"I don't know how I feel about ranking second to a pie," Kyle told her as he poured her a glass of milk and joined her at the counter.
Margot washed down her mouthful of pie with half the glass of milk. "I will engage in unspeakable acts of lewdness if you give me ten minutes alone with this pie."
Kyle's eyes went wide. "Why do you have to be alo– Unspeakable acts of lewdness? What does that mean? Because I like to think we've gotten pretty lewd a few times already."
"Acts so lewd, we cannot speak their names," Margot whispered against his lips.
He nodded. "I'll be upstairs. Waiting."
"Or, I could just bring the pie upstairs with me."
Kyle snatched the pie off the counter and ran up the stairs to the bedroom. Margot followed as quickly as her belly would allow.
Related Posts