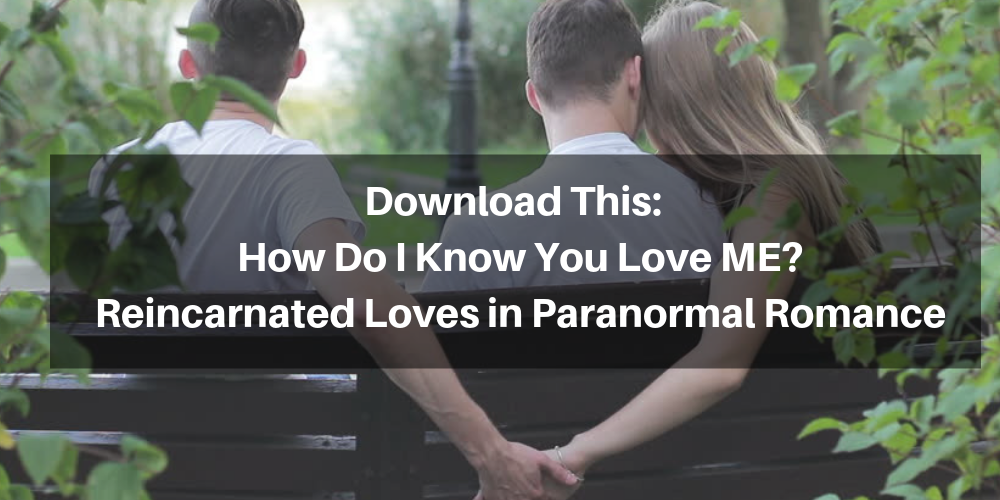 In paranormal romances, plotlines can truly be anything that the author can imagine, but there is one storyline that has to leave us wondering if the heroine is the one the hero truly loves.  Unlike a contemporary romance, in a paranormal romance our hero can have a lifetime which spans centuries.   What if his greatest love is killed and centuries later he finds her again, but this time her spirit is now in you.  As it if is not hard enough to fight for the hero's love from another woman, what if that other woman is you?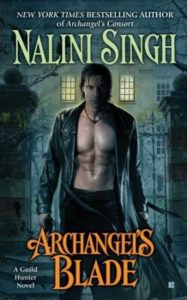 Nalini Singh's Guild Hunter series including a dark, dangerous and very broody vampire name Dmitri.  Dmitri is over 1,000 years old and had lost his beloved wife centuries ago when he was still mortal.  Dmitri's contempt for mortal women has grown over the centuries while they fawn all over him and allow themselves to be used for food and sex.  When he meets a Guild Hunter by the name of Honor, he feels her fear and loathing of him.  While they hunt a vampire serial killer together, they learn to respect each other, and although feelings begin to bloom between them, we eventually learn that Honor is the reincarnated soul of his wife, Ingrede.  We hear over and over again how Dmitri told his wife that he would love her until he turned to dust.  Does this statement preclude Dmitri from ever having feelings for another woman?  Although Archangel's Blade starts out as a great story of two broken people finding a second chance, it gets twisted into a story of only one true love for each person until the end of time and the only way to ever have love again is by reincarnation.  We are left wondering if the deep connection is between our hero and heroine–or the hero and that missing piece of his soul that is now residing in Honor.  Then where does that leave Honor in this love triangle?
Sherrilyn Kenyon has also used this story plot in Night Embrace when Celtic Chieftan, Talon, lost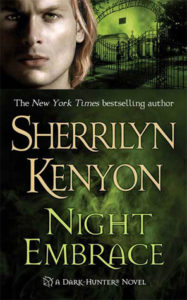 his beloved wife and his own life due to his cousin's greed and betrayal which leads to his becoming a Dark Hunter.   Now in present day New Orleans where Talon fights the soul-sucking daimons, Talon is saved by a very unique and free-spirited artist named, Sunshine.  Although she is not Talon's usual type, he is inexplicably drawn to her time and again. With the help of his spirit guide Talon eventually comes to realize that Sunshine was his wife in a past life.  Through dreams, Sunshine also comes to realize that her strong feelings for Talon might be partly based on their former relationship.  Talon seems to have a harder time separating the woman she is now from the woman he used to love, and it takes him a great deal of the story to come to the conclusion that his feelings for Sunshine are as strong as his feelings for the woman who was his wife.  Here Sunshine confronts Talon and questions whether he is confusing his feelings for his deceased wife with whatever he thinks he feels for Sunshine.  Talon, of course, assures Sunshine that his feelings for her are stronger.  What else is he going to say, "Can you grow your hair long, dye it blond and call me 'honeybear'—Oh, no. No reason."
A similar and slightly more complicated variation of this plot is used in the Jacquelyn Frank series, The World of Nightwalkers.  She introduces us to new Nightwalkers called Bodywalkers.  They are spirits of ancient Egyptians whose mummified bodies tie them to the mortal world.  The God Ra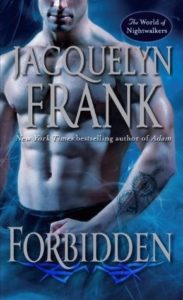 has barred them from heaven because of their greedy grasp for immortal life, and the only way they can return from limbo to the mortal world is to convince a strong individual who is near death to share their body with the soul of the Bodywalker.  In the  first story Forbidden, Ram, better known as Ramses II, who now shares the body of his "original" Vincent, has gone to the small town of Saugerties, NY, where they have heard the tale of the miraculous survival of The Bridge Girl, and they believe that this Docia Waverly is now the original to their Queen, Hatshepsut.  Upon meeting Docia, Ram starts feeling a strange connection to her, a connection which he has never felt before to his Queen.  He tries to fight his feelings for her because indulging in those feeling would be a betrayal to his King.  Ram states over and over again his confusion since he has never had those feelings for his Queen before.  What Ram seems to be missing in his confusion, which seems quite reasonable to the reader, is the difference could simply be the woman, Docia, who is now sharing her body with the Queen.  Maybe his new feelings are for her rather than the Queen.  Maybe his original Vincent is the reason he is feeling a spark toward the Queen or even to Docia.  When you essentially have four distinct individuals Blending together into two bodies, how do you really know who is in love with who?
Maybe you find the idea of being reincarnated so that two souls would always find each other again and again is the ultimate in romantic fantasy, but since no two people are ever exactly alike, it does bring up an issue of who is it that they actually love?   How can you know if you are the third wheel in your own HEA?
Originally published on October 29, 2012 at HeroesandHeartbreakers.com