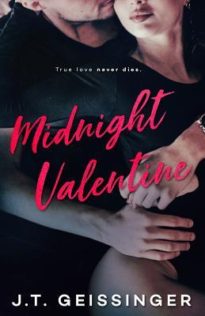 Midnight Valentine
by
J.T. Geissinger

Published by
J.T. Geissinger, Inc.
on February 5, 2018
Genres:
Contemporary
Pages:
326
Format:
eBook



This post contains affiliate links you can use to purchase the book. If you buy the book using that link, I will receive a small commission from the sale.
A hauntingly powerful love story in the tradition of The Notebook and The Time Traveler's Wife. "How can you remember someone you've never met?" Megan and Cassidy were childhood sweethearts who thought they'd be together forever, but fate had other plans. Soon after they were married, Cass's life was tragically cut short. Still grieving her soul mate five years later, Megan moves to the small town of Seaside, Oregon, hoping to rebuild her life. Her first night there, she meets the town recluse, Theo. Withdrawn, guarded, and mysteriously silent since a terrible accident left him scarred, Theo takes an instant and inexplicable dislike to Megan. But as their paths cross again and again, Megan becomes convinced there's more to Theo than meets the eye. When she discovers the reason for his silence, his nightmares, and especially his pointed dislike, Megan becomes convinced of something far more astonishing. Is a second chance at a once-in-a-lifetime love possible, or is a broken heart the cruelest kind of liar?
---
This wasn't what I was expecting but it certainly held my interest.
Five years after her husband's death in a car accident, Megan is still depressed and trying to move on…maybe moving on is too optimistic a word.   She won't date.  She wears her wedding ring.  Megan is existing in a holding pattern, almost waiting for her husband to come back to her. Megan and Cass talked about moving from Phoenix to Oregon and buying this bed and breakfast called the Buttercup. They had plans to fix it up slowly and once it was ready to open it up for business. Five years later, it is still unsold, and Megan decides to buy the Buttercup and make their dreams a reality. Again, still living in a reality where she and Cass succeed together.
When Megan arrives in town, she bumps into Theo Valentine who, thankfully, isn't part of the local welcome wagon. Megan gets her first impression as he glares at her angrily from across the room before he storms out. All hopes of avoiding the local grouch are foiled when it turns out he is the best contractor in town. She still tries to avoid him by finding contractors outside of the area, but sudden troubles keep everyone else from being available.
An electrical fire forces the issue, when Theo appears out of no where in the middle of the night to keep the fire from burning down the Buttercup.  The next day he has his crew at the door to replace the old electrical wiring.  Megan isn't the only one who has plans for improvements on the Buttercup.  Theo shows up with color drawing  of everything that Megan and Cass talked about.
There is more to the grouchy Theo than meets the eye, and Megan wants to peel back the layers, if only he would stay still long enough.  Every time she tries to talk to him, Theo glares and runs away.  The only thing she knows is that Theo too was in a terrible accident and he cannot (or doesn't want to) talk.  As the story unfolds, we learn Megan and Theo have more of a connection than either realizes.  But Megan is quick to decide that Theo and her husband have too much in common to just be coincidence.  Megan is certain that somehow Cass has come back to her in the body of Theo.  So the big question is whether she is right or whether her grief has truly pushed her over edge of sanity and she won't stop until she takes Theo with her.
The story certainly held my attention because I needed to know what the heck was going on with Theo.  He was a big riddle and I needed to stick around until it was solved.
There are some spoilers to discuss:
View Spoiler »
Megan has been going to therapy since Cass died but she refuses to actually work with the various doctors.  Megan believes strongly that Cass will come back to her.   No surprise that Megan begins to note things about Theo that she equates to her husband, such as giving her sweet peas and sitting beside her at a table instead of across.  When Megan first meets Theo, he confesses to her about ghosts and hearing voices in his head.  Megan begins to believe that Theo is hosting her dead husband's spirit.  So Megan keeps pursuing Theo trying to force confrontations with him so that he will admit things.

Theo is attracted to Megan but she keeps trying to make him talk about his accident or things that he wants to forget so more often than not, Theo runs away from Megan.  But since he also wants to be with her, Theo takes off suddenly and signs himself in to a mental facility to finally get the  help he has been avoiding since his accident.  Doctors put Theo on medication which stop the voices in his head, and Megan loses her mind, that Theo and his medication is killing her last connection to her husband and she confronts him or should I say, goes psycho on him. « Hide Spoiler
Super-duper spoilers:
View Spoiler »
We finally hear Theo talk.  He hasn't spoken since the accident.  He said he doesn't sound the same since his vocal cords were damaged in the fire, but when he final makes the attempt to talk to Megan, she screams with joy because she is certain the voice coming out of Theo's mouth is that of her husband Cass.   She starts screaming facts at him of things only her husband would know, spooking Theo until he takes off running and gets into another accident.

Now I posted yesterday my Reincarnation article because I simply have an issue with the "my reincarnated love" interest plots.  For the exact reason which is stated by Theo when Megan starts squealing for joy over hearing her husband's voice.

"This is why you want me? Because you think I'm him?"

I agree with Theo.  He was falling for her and doing everything to be a better, saner man for Megan, only to find out she wants to be with him because she thinks he is her dead husband.  Wow, that must hurt!  

A lot is revealed at the end and has a supernatural twisty feel to it, but this type of story just isn't my cup of tea.

I would much rather have had a story of two people who learn to live again because of the love and support of this new person then watching Megan chase Theo because she is certain he is her dead husband.  Would you ever trust someone like that when they say, "I love you too." « Hide Spoiler
---
Favorite Scene:
Theo and Megan run into each other at a local restaurant and Theo invites her to join him.
Being the well-mannered extrovert that he is, Theo ignores me. He pulls out his cell phone from the inside pocket of his leather coat and begins to compose a text.
"Hey."
He glances at me, a lock of hair falling into his eyes.
I look pointedly at his phone. "That's rude."
He hits Send, sets his phone down on the table, folds his hands on the tabletop, and stares at me. Then my cell phone chimes with an incoming text.
I fish my phone out of the back pocket of my jeans and look at the screen, already knowing who it is.
You have to stop stalking me like this.
I flash him an exasperated look, only to find him doing something with his mouth that looks like it could turn into a smile if it only knew how.
"I've seen you smile before, Theo. Go ahead. It won't kill you."
He covers his mouth with his hand to hide the fact that he's smiling so big, he's actually showing teeth. That feels like a victory, like I've just scored the winning touchdown in the Super Bowl.
I type him a response.
Excuse me, King Crabby Poo, but YOU are stalking ME."
His phone chimes, he reads the text from me, then composes his response, his thumbs moving so fast, they're a blur.
You're not excused. Why is your nose so red? Snort coke much?
"Okay, Sunshine, it's on." I mutter, then type.
Charming. That's called walking-in-cold-wind nose.
However, if I knew I'd be bumping into you, I'd definitely
have turned to drugs to help me through the trauma.
He snorts.
Please. Being in my presence is like soaking up golden rays of
sunshine. Just look how jealous everyone is of you right now.
I hazard a glance around, and sure enough, almost everyone is looking at us. Some more obviously than others, but the general level of interest could be compared to that of an audience awaiting the opening act at a circus to begin.
So of course I have to smile widely and wave.
Eyeballs scatter like marbles. Beside me, Theo makes a low noise deep in his throat that sounds like something close to a chuckle.
I want him to make that sound again.
"I suppose the good citizens of Seaside are all shocked to see you out of your coffin during the daytime, Dracula. Oh, wait, there's one guy over there who isn't staring at us. Must be a tourist."
I turn to find Theo gazing at me, his eyes bright with laughter. This close, I can see that they're not black like they appear from even only a few feet farther away, they're a deep, rich brown, velvet dark as espresso, just as warm and inviting. But also filled with that indecipherable longing like a secret message waiting to be decoded. Waiting for someone to look close enough to see.
My heart skips a beat. I haven't looked this deeply into a man's eyes since my husband died.
Related Posts