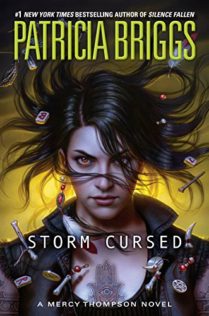 Storm Cursed (Mercy Thompson, #11)
by
Patricia Briggs

Series:
Mercy Thompson #11
Published by
Ace Books
on May 5, 2019
Genres:
Paranormal/Urban Fantasy
Pages:
368
Format:
eBook



I received this book for free from in exchange for an honest review. This does not affect my opinion of the book or the content of my review.
This post contains affiliate links you can use to purchase the book. If you buy the book using that link, I will receive a small commission from the sale.
In this new instalment in the No. 1 New York Times bestselling series, Mercy Thompson must face a deadly enemy to defend all she loves . . . My name is Mercedes Athena Thompson Hauptman, and I am a car mechanic.

And a coyote shapeshifter . . . And the mate of the Alpha of the Columbia Basin werewolf pack.

Even so, none of that would have gotten me into trouble if, a few months ago, I hadn't stood upon a bridge and taken responsibility for the safety of the citizens who lived in our territory. It seemed like the thing to do at the time. It should have only involved hunting down killer goblins, zombie goats, and an occasional troll. Instead, our home was viewed as neutral ground, a place where humans would feel safe to come and treat with the fae.

The reality is that nothing and no one is safe. As generals and politicians face off with the Gray Lords of the fae, a storm is coming and her name is Death.

But we are pack, and we have given our word. We will die to keep it.
---
Patricia Briggs always brings great story telling to her Mercy Thompson series.
Storm Cursed begins not too long after the events of Silence Fallen. Elizavetta has not yet returned from Europe and another coven of witches is moving in on her territory. This is all happening just as Mercy, Adam and the pack are being brought in to help set up the negotiations between the Fae and the U.S. Government.
As a reminder, in Fire Touched not only have the Fae realized their mistake in retreating to their reservations. As a group that it not too happy with their own kind, dragging them together into tight quarters isn't working out for them very well and they want to return to their old lives among the humans, they just can't afford to lose face or power to the Government.
That was also the story where Mercy declared, in front of TV cameras, that the Tri-Cities and everyone who lived in it were under the protection of the Columbia Basin Pack. It is one of the reasons both the Fae and the Government want to have their negotiations in Adam's territory.
Also in Fire Touched, Mercy's garage burned down and the new garage has finally been completed. I was very excited to see Zee and Tad back in the garage with Mercy. I really like Zee.
Back to the witches, this is same faction of witches which we also saw in the last Alpha & Omega book, Burn Bright. They are creating zombies just outside of the pack's territory. Whether this is a test to see if the pack will come out to take care of things or to get them away from Elizevetta's coven, or simply a power play against the Pack that would declare its city a safe harbor, is a good question.
No question that between the zombies which keep popping up and trying the placate the Government bigwigs and the Fae Gray Lords, and trying to get back to work at the garage, Mercy (and the pack) are too busy to realize that there is more to the zombie-making witches then simply trying to keep the talks from happening. By the time they realize that these witches are making a power play against Elizavetta, they have already been sucking a great deal of magical power out of Elizavetta's witches.
We also hear constantly that as Coyote's daughter, chaos always finds Mercy but in book after book (except for the last one were Mercy is abducted), it is Mercy who seems to come to the wolf-pack's rescue.  Just saying.
Witches, zombies, fae, werewolves and the government — there is a lot going on here to keep the excitement level high, we also get to spend time with some of our favorite characters, such as Zee and Stefan. I loved that Mercy is forced to seek help from the one person she avoids most in the Tri-Cities and how the happenings of this story will definitely effect future stories. I can't wait to see what happens in the next one.
I love both the Mercy Thompson and the Alpha & Omega series and simply can't get enough of either of them.
---
Favorite Scene:
I finished the Jetta and pulled a sputtering Rabbit into the garage.  It died about four feet from where I needed it to be.
"You need help with that?" asked Zee as I got out of the car.
"Nope," I said.
"Gut," said Zee shortly. "The boy and I are busy."
I laughed and pushed the Rabbit until it was rolling, then hopped in to hit the brakes before it traveled too far. Pushing cars wasn't a new thing for me. I propped up the hood and contemplated the engine compartment. It was surprisingly pristine given the age of the car and left me feeling a little nostalgic for my Rabbit.
My cell phone rang as I pulled the cover off the air filter. The filter material, which should have been whitish but more often in the Tri-Cities was brownish with dust, was an astonishingly bright orange.
Staring at the orange air filter, I answered my cell without checking ID.
"This is Tory Abbot," said Senator Campbell's assistant, who smelled like the zombie-making witch. Darn it, "zombie witch" was easier and it flowed off the tongue better–even if it left the impression that the witch was a zombie. So "zombie witch" it was.
"What can I do for you?"
"I have some documents for you to take to the fae. We need a complete list of which fae will be there–names, attributes, and all of that."
I pulled the phone away from my face and gave it an incredulous look. "Paperwork for the Gray Lords to fill out," I said slowly. "Huh. That's an interesting proposition. But they won't do it."
"They will if they want a meeting," he said. "I'll drop them by your…place of business this afternoon." He said the last as if he just noticed that my place of business was a garage and not, say, a lawyer's office.
"You can if you want to," I told him. "But I won't pass them on."
"I'm afraid this is non-negotiable," he said.
"Okay," I said. "I'll tell them that the meeting is off. And I'll tell them why. You can explain to the president and the secretary of state why this meeting that they were so hot to have was cancelled by your grandstanding. But maybe they will agree with you. That without some pieces of paper–that your side would have filled with lies if you were the fae–this meeting should not be held. Even though it is the first step on a process that might keep our country from being at war with the fae. You can start, maybe, by informing Senator Campbell."
A short silence fell. I think he was waiting for me to continue my rant.
"Ms. Hauptman," Abbot began, "I know that you are overset by the bombing. Maybe you should pass on your duties to someone more experienced and less obstructionist."
"Okay," I said. "Give me the name of someone the fae won't object to."
"Adam Hauptman," he said.
"Someone made sure that Adam already had a job for this meeting," I said. "He won't renege on an agreement he had already made." I decided I wasn't really interested in helping him with his hunt for my replacement. "And if you think I am an obstructionist, you should try him. Gook luck with your search."
I hit the red button and went back to the mystery of the Rabbi's air filter. Experimentally, I brought it to my nose because it looked like someone had dusted the whole filter with cheese powder from a macaroni and cheese box. But it didn't have a smell.
I took an air hose and used it to blow off the filter, half expecting orange powder to fill the air–but nothing happened. The substance looked powdery, but it clung to the filter as if it were glue.
I poked at it with my finger. I was still wearing gloves when I worked, though Adam's ex-wife was back in Eugene and not around to make little pointed remarks about the grease I couldn't get out from under my nails. I hated the way my hands sweated in them. But that was made up for by the way my skin was less dry and cracked because I wasn't using as much caustic soap on them to get the grease off. Christy had done me a favor.
There was no orange residue on my gloves.
"Hey, Zee?" I asked, holding up the filter.
"Was," he said, perched on the edge of an engine compartment with a limberness that belied his elderly appearance. "I am busy," he added.
"I have a bright orange air filter," I singsonged. "Don't you want to give it a look?"
There was the buzz of hard rubber on cement and Tad slid out from under Zee's car, a flashlight in his hand. "Orange?" he said.
"Bah," said Zee. "You've distracted the boy, Mercy."
"What is orange and keeps air from flowing–and why would someone dump that all over an air filter?" I asked.
Tad took the air filter and stared at it. He looked at the Rabbit.
"What was supposed to be wrong with the car?" he asked.
I looked at the repair sheet I'd written down while I'd been in exile on the front desk. "Sputters and dies," I said.
"I guess I know why," Tad said. And then he dropped the filter like it was a hot potato and jumped back.
"Dad?" he said in a semipanicked voice, holding up his hands. The skin on his fingers, where he'd touched the air filter, was blistering and cracking. As I watched, the tips of his fingers blackened.
Related Posts