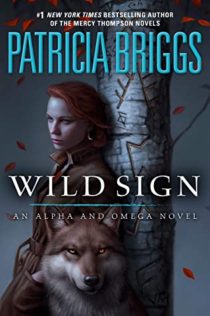 Wild Sign (Alpha & Omega, #6)
by
Patricia Briggs

Published by
Ace Books
on March 16, 2021
Genres:
Paranormal/Urban Fantasy
Pages:
336
Format:
eBook



I received this book for free from in exchange for an honest review. This does not affect my opinion of the book or the content of my review.
This post contains affiliate links you can use to purchase the book. If you buy the book using that link, I will receive a small commission from the sale.
Mated werewolves Charles Cornick and Anna Latham must discover what could make an entire community disappear — before it's too late — in this thrilling entry in the #1 New York Times bestselling Alpha and Omega series.
In the wilds of the Northern California mountains, all the inhabitants of a small town have gone missing. It's as if the people picked up and left everything they owned behind. Fearing something supernatural might be going on, the FBI taps a source they've consulted in the past: the werewolves Charles Cornick and Anna Latham. But Charles and Anna soon find a deserted town is the least of the mysteries they face.
Death sings in the forest, and when it calls, Charles and Anna must answer. Something has awakened in the heart of the California mountains, something old and dangerous — and it has met werewolves before.
---
Anna and Charles are one of my favorite paranormal couples. This story was amazing and so tension filled. Wild Signs will also usher in some changes to the series.
In Wild Signs, the FBI come knocking on Charles and Anna's door. Literally. Not Charles and Anna Smith's but Charles and Anna Cornick's door in Aspen Creek, Montana. Special Agents Leslie Fisher and Craig Goldstein are back and they are hoping that they can persuade the werewolves to form a partnership with the U.S. Government. They know they blew it with the fae and they aren't willing to trust vampires. They are hoping to form a mutual aid alliance with the packs. They came to Charles and Anna rather than Adam Hauptman because Agent Goldstein is convinced that Anna is the elusive Marrok who leads the wolves since they noticed that several occasions the werewolves, including Charles, do whatever she asks. Even when Bran walks in with his sheepish smile and looking like a meek college kid and Anna tells them flat out that Bran is "He Who Rules the Wolves," they don't seem to believe her. I always wondered what would happen if the government knew about the Marrok since you know there will be people who fear his control over all the wolves and those who want to control the man who controls all the wolves. Will this mistake put a target on Anna's back. Even Anna notes, "she contemplated the two FBI agents and wondered what this visit was about to change in their world."
The FBI come to Charles and Anna for help with a missing settlement. About 40 people set up a little town in the middle of the forest which is partially federal land but mostly belonging to a company called Aspen Creek Inc. and before that it belonged to Leah Fenwood Cornick. While Bran isn't willing to trust the government just yet, if at all, he does send Charles, Anna and Tag to investigate.  Before they leave he tells them the story of when he first found and mated Leah which is far from a happy boy-meets-girl story.   Bran came across Leah and Sherwood Post, both half dead, escaping from something which killed Leah's entire settlement about 200 years ago.  Sherwood thought he killed it but he wasn't 100 percent certain whether it was dead or just wounded.
They find the abandoned settlement and end up with more questions then when they started. There are some hints that they were preparing to abandon the camp but also clear indication that they left everything behind. So did they walk away willing or not? Are they alive or not? It seems that this settlement isn't just an average bunch of people wanting to get away from the stress of modern technology since there is there is the lingering magic of white witches in many of the tents and buildings. Were these witches up to something or were they the target of the entity that Sherwood and Leah faced or were they simply attacked by a coven of black witches?
And when they find a little amphitheater with neglected and abandoned instruments, Anna picks up an instrument and plays a song only to become the new focus of an entity she calls "The Singer in the Woods."  Charles has to solve this mystery of what happened to the people of "Wild Signs," what this Singer is and more importantly, how to kill it because it doesn't want to let Anna go.
This was a great story. I was so stressed out about this Singer's hold on Anna and what happened to the witches. We also get a lot more information about Bran and Leah. We know from Mercy's books that Leah was never a fan of Mercy and treated her harshly when she was growing up in the Marrok's pack. We also knew that she was never friendly towards Charles or Samuel. But in the last few books, we see a little more into the person behind this cold, unfriendly woman and in Wild Signs we learn what brought her to that point.   I think we will see changes in their relationship in future stories.
One thing I really liked in this story is that Brother Wolf has taken to heart the fact that Bran never learned to speak Blue Jay Woman's language so they never really communicated verbally before she died giving birth to Charles and how Bran lamented the stories they didn't get to share.   Brother Wolf wants to be part of the relationship with their mate Anna. In this story, Brother Wolf has become quite the Chatty Cathy with Anna.  Where he used to communicate with Charles with simple pictures and feelings, he now has conversations with both Charles and Anna.
There is also something else which happens at the very end which is going to change Anna and Charles' relationship significantly and which I am not going to tell you about at all.  So grab your copy and get reading!
This story is going to bring many changes to this series, good and bad, but Patricia Briggs has already announced that Soul Taken will be the next book and it will be Mercy Thompson novel.   What?  This is why fans become fanatical…that means it will be at least two years before we come back to Anna and Charles to find out what happened between them after the ending of  Wild Signs.
I already wanted to do a Mercy Thompson series re-read and now I am really going to have to take time for it.
---
Favorite Scene:
Anna waited until they were out of sight of the old gas station before saying, "They didn't have a cash register."
"Probably because they mostly don't use cash," said Tag mildly.
Anna gave a snort of amusement. Served her right for beating around the bush. "Okay, so what was he? And were the woman and child the same? They weren't fae, right? I kept thinking they might be like Mercy–descendants of the old gods. But there is a…" Her voice trailed away as they passed a homemade sign that read Bigfoot Country Souvenirs–10 miles above the familiar hulking shape popularized by a film clip of a faked Sasquatch sighting.
"No," she said, glancing at Charles before she had to look at the road again. "No. You did not let me talk to Sasquatch without telling me what he was. I could have asked to see his real form." She pause. "I could have gotten a photo on my phone and sent it to my brother for bragging rights." Charles laughed, but Tag drew a quick, appalled breath.
"You don't want to get on his bad side," Tag told her. "Really."
"How would you know that?" Anna asked, because there was a hint of a story in his voice.
"I slept with Ford's sister once, a long time ago, and he would have ripped me to pieces except she threatened to kill him for hurting me. It was a glorious fight, though, before she intervened." He paused and smiled softly, distracted from his point.
"You slept with"–Anna changed the ending of her sentence midway through–"Ford's sister."
Tag's smile softened even further. "Breeze. She thought I was one of them, I thought she was who she said she was. We were both surprised." He sounded amused.
Related Posts