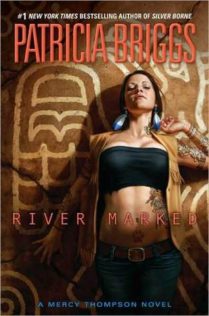 River Marked (Mercy Thompson, #6)
by
Patricia Briggs

Series:
Mercy Thompson #6
Published by
Ace Books
on March 1st 2011
Genres:
Paranormal/Urban Fantasy
Pages:
336
Format:
Audiobook
Narrator:
Lorelei King
Length:
8 hrs 54 min



This post contains affiliate links you can use to purchase the book. If you buy the book using that link, I will receive a small commission from the sale.
---
Being a different breed of shapeshifter-a walker-Mercy Thompson can see ghosts, but the spirit of her long-gone father has never visited her. Until now, on her honeymoon with the Alpha werewolf Adam. An evil is stirring in the depths of the Columbia River-and innocent people are dying. As other walkers make their presence known to Mercy, she must reconnect with her heritage to exorcise the world of the legend known as the river devil.
---
The time has finally come for Adam and Mercy to say their wedding vows and after a beautiful wedding, they leave to spend several weeks alone on their honeymoon. There is nothing like a little time in the woods for a couple of shifters so they can spent their alone time both in their human forms and in their animal forms.
One of Adam's clients is opening up a campground and has offered the pre-opened campsite for Adam and Mercy's personal use and a friend has loaned a camper bigger than Mercy's trailer for their use. Time away from the garage and from the wolf pack and Adam's teenage daughter, all of whom are always at Adam's house, is just what Mercy and Adam need to build on their mating bond and new relationship.
But a vacation for Adam and Mercy just can't stay a quiet getaway. It seems the fae orchestrated the choice of honeymoon getaways for them based on a premonition had by the owner of the campground. Someone has raised an ancient evil from the bottom of the river and human flesh is its choice diet.
With the help of some local Native Americans, Mercy learns more about her own past and about the River Devil and how to stop it. Except the bait they need to lure it out, seems to be Mercy.
THOUGHTS:
Once again, after the world building has been set up, these stories just move, move, move. We do spend a bit of time going back into Mercy's life story dealing with her Native American blood and her father and she learns several things that she just wasn't prepared to learn.
And once again, what happens in this story will have an impact in the next so this is not a series which is easily picked up in the middle.
I definitely recommend picking up Moon Called and starting from the beginning. It is a great series for the paranormal lover.
---
Favorite Scene:
Mercy and Adam's elopement turns into a surprise wedding orchestrated by her mother…
Samuel held me back as the foyer emptied until it was just us, Jesse, and Darryl–and the organ began to play Wagner.
Jesse, on Darryl's arm, led the procession toward the mouth of the sacrament hall. She paused there, to let my sisters Nan and Ruthie, who'd evidently been hiding just inside the chapel doors where I couldn't see them, lead the way, escorted by Warren and Ben, another of Adam's wolves.
At the front of the chapel, Adam waited for me next to the minister.
I blinked back tears, sniffed–and Samuel dropped my arm.
I looked over to see what he was doing, but another man had taken his place.
"Zee wanted to have the honor of giving you away," said Bran, Samuel's father, the Marrock who ruled all the wolves anywhere I was likely to ever go, and the Alpha of the Montana-based wolf pack who had raised me. "But I had prior claim."
"They argued for a good while," Samuel whispered. "I thought there would be blood on the floor."
I glanced in the church and realized that a lot of the Montana pack I'd grown up with were here. Charles, Samuel's brother, sitting next to his mate, smiled at me. Charles seldom if ever smiled.
About that time, humiliatingly, I started to cry.
Bran leaned closer as we walked slowly, and said in a bare whisper that didn't carry beyond us, "Before you start feeling overwhelmed by how nice we all are to do this for you, you really should know a few things. It all started with a bet…"
When we lined up in the front of the church, as smoothly as if we'd practiced it, Bran was right: I wasn't overwhelmed anymore. Nor was I crying. Nan, Ruthie, and Jessie stood on my side of the church, along with Bran, who still had my hand. Darryl, Warren and Ben lined up on the other side, next to Adam.
My mother, the traitor seated in the front row of pews, sent my stepfather up to pin a silk Monarch butterfly on my bouquet. He kissed my cheek, exchanged a nod with Bran, then sat back down at my mother's side. My mother gave me a delighted smile and looked nothing at all like the nefarious plotter she was.
"Balloons," I mouthed at her, raising an eyebrow to show what I thought of her subterfuge.
She discreetly pointed up–and there, clinging to the ceiling, were dozens of gold balloons with silk butterflies tied to the strings.
At my side, Bran laughed–no doubt at my dumbfounded expression.
"Like the fae," he murmured, "your mother doesn't lie. Just leads you where she wants you to go willy-nilly, all for your own good. If it helps, you are not alone; she came to me with a coyote pup to raise, and look what happened to me. At least you don't own her a hundred dollars."
"Serves you right for betting against my mother," I told him, as the music drew to a close, and he led me across to Adam.
Bran stopped just short, pulled me back against him, and frowned at Adam–and let the weight of his authority be felt throughout the chapel. Bran could disguise what he was, and he usually did so, appearing as a wiry-muscled young man of no particular importance. Every once in a while, though, he let the reality of what he was out. Bran was an old, old wolf and powerful. He ruled the wolves in our part of the world, and no one in this room, not even the humans, would wonder that he could make Alpha wolves obey him. The organ music faltered under the weight of it and stuttered to a halt.
"Pup," he said into the sudden silence, "today, I"m giving you one of my treasures. You see that you take proper care of her."
Adam, not visibly cowed, nodded once. "I'll do that."
Then the threat of what Bran was disappeared and he became once more an unremarkable young-looking man in a nicely cut gray tux. "She'll turn your life upside down."
Adam smiled and, out of the corner of my eye, I saw my mother fan her face–Adam cleans up very nicely and, in a tux, is breathtaking even without the smile.
"She's been doing that this past ten years, sir," he said. "I don't imagine it will change anytime soon."
Related Posts