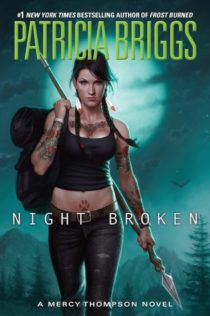 Night Broken (Mercy Thompson, #8)
by
Patricia Briggs

Series:
Mercy Thompson #8
Published by
Ace Hardcover
on March 11th 2014
Genres:
Paranormal/Urban Fantasy
Pages:
341
Format:
eBook



I received this book for free from in exchange for an honest review. This does not affect my opinion of the book or the content of my review.
This post contains affiliate links you can use to purchase the book. If you buy the book using that link, I will receive a small commission from the sale.
---
An unexpected phone call heralds a new challenge for Mercy. Her mate Adam's ex-wife is in trouble, on the run from her new boyfriend. Adam isn't the kind of man to turn away a person in need—and Mercy knows it. But with Christy holed up in Adam's house, Mercy can't shake the feeling that something about the situation isn't right.

Soon, her suspicions are confirmed when she learns that Christy has the farthest thing from good intentions. She wants Adam back and she's willing to do whatever it takes to make it happen, including turning Adam's pack against Mercy.

Mercy isn't about to step down without a fight, but there's a more dangerous threat circling. Christy's ex is more than a bad man—in fact, he may not be human at all. As the bodies start piling up, Mercy must put her personal troubles aside to face a creature with the power to tear her whole world apart.
---
Mercy has fought vampires, grey lords, demon-vampires, river devils, fae queens, government mercenaries, but this time she might be facing the one enemy she has no power to fight — Adam's ex-wife.
Adam receives a call from his ex-wife, Christy. Her new lover has turned out to be a psychotic stalker and she thinks he killed a man she had dated. She needs Adam's help and protection and she wants to come 'home.'
Not all of Adam's pack has welcomed Mercy with open arms and now the line is drawn between those who support Mercy and those who would rather see Adam take Christy back. Christy is demanding and manipulative. She knows when to use tears to get the protective wolves in her corner, and if Mercy fights back, she will come off as jealous and petty. Mercy might be losing the pack to Christy's half-truths and gourmet cooking, but she'll be damned if she'll let Christy try to take Adam back. Christy walked away and now Adam is Mercy's, for better or for worse.
When Christy's stalker can't get to her, he arrives at Mercy's shop ready to take away Adam's love since Adam is responsible for keeping him from his. In a fight for her life, Mercy learns that there is nothing human about Christy's stalker and there just might be nothing that Adam and the pack can do to protect either Mercy or Christy.
THOUGHTS:
I have spent the last few weeks immersed in the world of Mercy Thompson-Hauptman and I am heartbroken that I have caught up with the series. It will be a year before I will be back again with Mercy, Adam, Stefan and the gang. *sob*
Here Mercy have to deal with Adam's ex-wife (Jesse's mom) who comes racing back to Adam for protection, a man she divorced because she couldn't deal with his being a werewolf.   Now that werewolves are out in the open, Christy is happy to shout that she was the ex-wife of pack Alpha, Adam Hauptman, and even without the stalker, she might come back so she could share the spotlight with Adam since he has become such a familiar face.   Poor Mercy is avoiding her own home because can't stand Christy and she can't even hit her with the walking stick.   Speaking of the walking stick (who is making an appearance on this cover), the fae have come looking for the walking stick that Mercy gifted to coyote after  it seemed to be getting a little blood thirsty.  Opps…now she has a week to try and find coyote to get it back.
In this story Mercy finds out she has a half-brother, another one of coyote's children, and Gary Laughingdog is no fan of coyote. In fact, he tells Mercy not to do anything interesting which will catch coyote's attention and she might just be able to live a long and healthy life. Since trouble always finds Mercy, we know that's not going to happen. Like Mercy, Gary turns into a coyote and sees ghosts, but he also is cursed with 'seeing' and foresees what is coming for the pack.
The fae are still on lock down and the reservation is still 'missing' after the fae confrontation with the government, so Mercy can't get any help from Zee or Uncle Mike.
Mercy once again escapes death, but as the only non-immortal in the group, she takes a hell of a beating. Since she has had one in every book, there soon won't be a bone she hasn't broken. We do learn that half-brother Gary is much, much older than he looks so Mercy can look forward to a long and happy life with Adam if she can stop getting her ass handed to her by more powerful preternatural creatures.
We do learn for certain that Stefan has been hiding the fact that he still has a bond with Mercy, which we find out from creepy vampire-boy, Wulfe, who wants just a taste of Mercy's blood in exchange for some information that the pack needs.
I do have several questions about the series, but I haven't been able to finagle an interview with Patricia Briggs. One of those questions would be 'How the hell did Adam ever wind up married to Christy?' That pair just doesn't go. She is manipulative and maybe before she realized Adam was a werewolf, his looks and money were enough of a draw. She hates that he is werewolf and I haven't figured at what point in their relationship she found this out.  And how did an alpha werewolf have a wife who wasn't his mate? Questions, questions, questions, but not enough to detract from the enjoyment of the story.
I still think Olivia Wilde would make an incredible Mercy, but I haven't been able to pin down the perfect Adam.  If anyone reads this series can think of a perfect Adam, let me know. 🙂
We will have to wait another year to find out what else Patricia Briggs has planned for Mercy and the gang.
This is a definite must read series for the paranormal lovers out there.
Received an ARC from the publisher in exchange for an honest review.
---
Favorite Scene:
Christy went right for Adam as if none of the rest of us were there.
"This is your fault," she said viciously. "I felt so horrible, bringing my troubles here, and it was your fault."
"Careful," I murmured, but she didn't pay any attention to me–which was foolish of her.
"I should have known when Troy was killed." It took me a second to figure out who Troy was, I'd never heard the name of her boyfriend who'd been killed. "The only time bodies start appearing around me is when there are werewolves involved," she continued.
"Juan Flores isn't a werewolf," I said, but again I spoke quietly, and she didn't appear to have heard me.
Adam didn't say anything. He took a deep breath and just–accepted what she said. It was the first time I'd ever seen a real fight between them. Watching him as she spewed guilt all over him, I realized that he enjoyed our fights almost as much as I did. When we fought, he roared and stalked and fought back. He didn't let his face go blank and wait to be hit again. Being willing to accept responsibility for the well-being of others was part of being Alpha, part of who Adam was, and she was very, very good at using that against him.
Tears leaked artfully down her face. "I tried. I tried, then I had to run. But I can't get away from you, can't get away from the monsters. They follow me wherever I go, and it is your fault."
Adam wasn't going to defend himself. Honey wrapped her arms around her stomach and turned away. Honey believes herself to be one of the monsters, too, and so Christy's venom spread over Honey as well.
Enough.
"Adam didn't make you go sleep with some complete stranger because he was handsome and rich," I said coolly, but this time at full volume. There wasn't a wolf in the house who hadn't heard Christy, so they could listen to me, too.
"Stay out of this," she snapped at me, wiping futilely at her cheeks. "This isn't your business."
"When you blame Adam, whose only fault that I can see is that he has poor taste in wives, you made it my business," I told her.
Honey cleared her throat. "You do know you are one of his wives, right?"
I raised an eyebrow. "Happily, he doesn't know how bad off he is with me–and I intend that he never will."
Life came back into Adam's eyes with a wicked glint, and I saw a hint of his dimple. Better, I thought, better.
Christy knew she'd lost control of the scene. Her eyes narrowed at me, and she lost the tears. "Juan came after me because of Adam."
"You slept with a complete stranger," I said. "Not Adam's fault you"–Jesse had come down the stairs, with Ben and Darryl trailing behind her, so I didn't call Christy a slut–"made a poor choice."
"He was a friend of my best friend," she said. "Rich, charming, and handsome, he wasn't a 'complete stranger.' I had no way to tell that he was a monster."
"You didn't know enough about him for Warren to find him. You didn't know where he lived, what country he was from. I bet you didn't even check to see if he was married or not before you chased after him. How long did you know him before you hopped into bed with him? An hour?"
It probably wasn't fair to use what Jesse had told me about her mother's dating habits against Christy, but she hadn't been playing fair, either. The tears had been cheating, and when she'd realized just how many of the pack had started to filter into the kitchen behind her, she would doubtless use them again.
"He approached me," she said defensively–not to mention falsely.
"Are you stupid? How long did you live with the wolves?" I asked her incredulously. "You do know that most of the people in this room can tell that you are lying, right?"
Stupid. She wasn't stupid, just self-absorbed and unwise. She didn't like people thinking badly of her, so she lied.
Related Posts