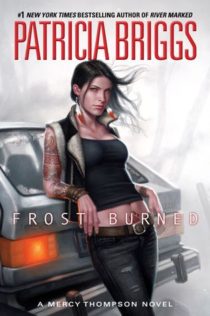 Frost Burned (Mercy Thompson, #7)
by
Patricia Briggs

Series:
Mercy Thompson #7
Published by
Ace Hardcover
on March 5th 2013
Genres:
Paranormal/Urban Fantasy
Pages:
340
Format:
Audiobook
Narrator:
Lorelei King
Length:
10 hrs 1 min



This post contains affiliate links you can use to purchase the book. If you buy the book using that link, I will receive a small commission from the sale.
---
Mercy Thompson's life has undergone a seismic change. Becoming the mate of Adam Hauptman – the charismatic Alpha of the local werewolf pack – has made her a stepmother to his daughter Jesse, a relationship that brings moments of blissful normalcy to Mercy's life. But on the edges of humanity, a minor mishap on an ordinary day can turn into so much more. After an accident in bumper-to-bumper traffic, Mercy and Jesse can't reach Adam – or anyone else in the pack for that matter. They've all been abducted. Through their mating bond, all Mercy knows is that Adam is angry and in pain. Outclassed and on her own, Mercy may be forced to seek assistance from the most unlikely of allies: the vampire seethe.
---
Mercy would rather face down a vampire seethe than take Jesse Black Friday shopping, but she's trying to be a good stepmother after Jesse's mother told her she wouldn't be around for Thanksgiving. If they stayed home, they wouldn't be trying to get into the congested mall. If they had stayed home, they wouldn't have gotten into a car accident. If they stayed home, they would have been captured with the rest of the pack when the government mercenaries came storming in the door.
In Frost Burned, the death of Mercy's beloved VW Rabbit is the least of her problems. After the accident, she can't reach any of the pack to pick them up. Someone has taken the pack and all she can feel through her mating bonds is Adam's rage and pain.
Ben makes it out of the house, and on orders from Adam, he is sent to find Mercy and Jesse and keep them safe. Mercy needs more than just an injured wolf if she is going to locate the pack but she can't get any help from Zee or the fae. The fae and the government are at war and all of the fae have been ordered back to the reservations which have 'disappeared' due to glamour and magic.
They found the pack through the phones, even the ones who weren't 'out,' so she can't even get Bran's help without sending someone to Montana.
Mercy needs to go hunting but first she has to get Jesse somewhere safe. Then she has to find out if any other members of the pack or their families are in trouble.
Someone is trying to take out the pack so they can take over the Tri-Cities. Mercy was shocked by the attack on the pack, but what is more surprising is who really is behind it. Mercy will have to fight to keep the Tri-Cities from falling into the wrong preternatural hands.
THOUGHTS:
This was the first book that changes POV between Mercy and Adam so that we can see what is happening to the pack which was an interesting twist. Also interesting was the war between the fae and the U.S. government. Mercy has earned many new enemies, but also a number of important fae owed Mercy a favor. Now that she could have used help, the only people she could look to were Stefan (who Mercy helped over his depression) and Zee's son Tad, who is half-fae and not required to return to the reservation.
There was a reference in the jacket to the big surprise of who helps free the pack. What I found more surprising was why the pack was taken in the first place.
Mercy is also hit by more fae magic which affects her personality. I am quite surprised that she hasn't turned into a fae artifact destroying machine. Vampire magic doesn't affect her, but fae magic is kicking her butt.
Mercy begins to suspect that her bond with Stefan wasn't destroyed after bonding with the pack and she isn't sure how happy she is to find out that she has more than just Adam and the pack in her head.
---
Favorite Scene:
We went on like that. Him touching a cut, a bruise, a bump, and I'd tell him what happened.
When he was finished, he put his forehead on my shoulder and pulled me hard against him. "You'll be the death of me," he told me. "I could wish you less bold, less brave–less driven by right and wrong."
"Too bad for you," I commiserated. "I know it's rough. My husband tried to kill himself to save the pack, you know. And earlier today, he faced down a fae he knew nothing about–and some of the fae are forces of nature."
"My wife was going to fight him," explained Adam. "I had to protect him from that."
I laughed.
"You know what Jesse's mother would have done if the feds came and took the pack while she was my wife?" he asked.
"File for divorce," I hypothesized.
It was his turn to laugh. "Point to you. And then she would go to everyone she knew and tell them how awful her life was, how people expected too much of her. Do you know what my second wife did?"
"Got beaten up and ran in circles mostly while you rescued yourself," I told him.
"She cared for the pack that was left," he said. "She got my child to safety. She got word to Bran–who sent help. She stepped between my child and those who would harm her."
I snorted. "Sounds like a paragon."
"She saved my life and gave me strength to save the rest of the pack." He heaved a sigh and pulled back so he could look at me. "And I have this urge to turn you over my knee and bruise your butt so that you do exactly what my first wife did."
I narrowed my eyes at him. "You ever lay a hand on me and you better never go to sleep again."
He laughed, sat down on the carpeted floor more as though he just couldn't stand up anymore than as if he'd actually made the decision to sit, and laughed some more. He was very, very tired–but he had just threatened to spank me, so he got no sympathy from me. I folded my arms.
He wiped his eyes with his thumb and looked up at me. His laughter had died altogether. "You don't know how fragile you are, Mercy. The last time we got into trouble, you spend months in a wheelchair. You fight as long and as hard as any werewolf, without any of the weapons we've been given. You are smart. You are careful. And you've been very, very lucky. And that scares me more than any springgand carrying one of Zee's swords or a Cantrip zealot armed with silver. Luck runs out."
Related Posts