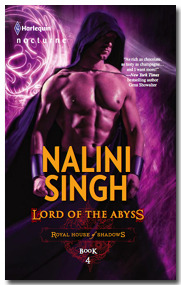 Lord of the Abyss (Royal House of Shadows, #4)
by
Nalini Singh

Series:
Royal House of Shadows #4
Published by
Harlequin Nocturne
on December 1st 2011
Genres:
Paranormal/Urban Fantasy
Pages:
288
Format:
eBook



I received this book for free from in exchange for an honest review. This does not affect my opinion of the book or the content of my review.
This post contains affiliate links you can use to purchase the book. If you buy the book using that link, I will receive a small commission from the sale.
---
Once upon a time…the Blood Sorcerer vanquished the kingdom of Elden. To save their children, the queen scattered them to safety and the king filled them with vengeance. Only a magical timepiece connects the four royal heirs…and time is running out.…

As the dark Lord who condemns souls to damnation in the Abyss, Micah is nothing but a feared monster wrapped in impenetrable black armor. He has no idea he is the last heir of Elden, its last hope. Only one woman knows—the daughter of his enemy.

Liliana is nothing like her father, the Blood Sorcerer who'd cursed Micah. She sees past Micah's armor to the prince inside. A prince whose sinful touch she craves. But first she has to brave his dark, dangerous lair and help him remember. Because they only have till midnight to save Elden
---
He is the Guardian of the Abyss.  The Lord of the Black Castle.  He remembers nothing of a life before he was The Guardian.   All fear him but one woman.  She looks him in the eye and challenges him.  She is not pretty, but she intrigues him.
Liliana is the daughter of the malicious Blood Sorcerer, but he has never been able to bend her to his evil ways.  She is a blood sorceress in her own right and she has seen the future.  If the youngest prince, Micah, is not there with his brothers and sister to lay siege to the castle, the royal children of Elden will fail.
Liliana travels to the Black Castle to help Micah remember who he is before time runs out and Elden is lost forever.
This is the final book in the Royal House of Shadow Series.  Each of the four books in the series are written by a different author.   The books each feature the four children of the King and Queen of Elden who are murdered by the Blood Sorcerer and their kingdom stolen.  Before they die, they bespell their children with one spell to protect them and one filling them with a lust for vengeance.  Each child is also gift with a magic timepiece.
I have to ask – did anyone else spend four books hearing Billy Crystal from Princess Bride saying "Have fun stormin' da castle!"  Anyone? – Ok, just me.
I was charmed by the story of Liliana and Micah and this was definitely my favorite story of this series.  I truly enjoyed how Nalini Singh approached the character of Micah.  There is a wonderful scene in the book where Micah tells Liliana that she needs a bath and then he proceeds to tease her with a game of keep away with the soap.   At this point Liliana makes an observation that Micah went from being a little boy to being The Guardian of the Abyss, since he was held in a sort of limbo until he was old enough to become The Guardian.   Because of this, he never had an opportunity to play with others, pull a girl's hair, or just simply have fun.  So she plays along with him.
Of course, he still makes demands and gives orders since he is the Guardian, and that is all he knows, but it is wonderful when he drops the facade and he acts boyish.  It is not often you see such an intimidating figure acting so young and innocent.  I truly enjoyed Micah and Liliana together.
These were four very good stories that all read well on their own and were all very enjoyable.  All together they may a great adventure.  Definitely worth reading.
Received ARC from netgalley.com courtesy of Harlequin.  THANKS!
****I do have two complaints about the series.  After you have read all four stories, come back and we'll talk.
The first being the watches.  We didn't really need them and they didn't really add much to the story.  This all focused on 20 years after the Blood Sorcerer took over the castle.  They could have used a prophecy of the returning children or an astrological occurrence such as an aligning of the planets.   The magical watches didn't really do much for the story.
The second issue I had was that in the end, the Blood Sorcerer was defeated by Liliana and Micah alone.  After four books, I was so excited waiting for the four siblings to meet up outside the castle and together (with the new significant others) they would defeat the Blood Sorcerer.  So it was disappointing after all of the build up of bringing them all together to the castle at the same moment that we barely even saw the four of them together and mostly just in references in the epilogue.   Come on!!  It was disappointing. 
---
Favorite Scene:
He was crouching with is arms on the edge of the bath, so close that she could've learned over and caressed his face with her lips –oh, dear.  Swallowing the insane urges that told her to react to him as a woman reacted to a man who looked at her as if she were some particularly delicious treat, she pushed herself through the water until her back hit the wall.
It still left them far too close, no matter that the bath was huge.  "Where's the soap?"
He held up a hand, brought the square bar to his nose.  "Smells pretty."
She was being taunted again.  "Give it to me."
"No."
Frustrated beyond bearing, she splashed water at him, remembering too late that he was a man of power, of strength that could hurt.  He drew back in startlement, but when the water hit him, there was no anger.  Instead, he wiped the droplets off his face and…smiled.
Her mind simply stopped.
He was beyond anything she had ever imagined as a child when she'd dreamed of being saved by the lost heirs of Elden.
And he was inhaling her soap again, as if it was the best thing he had ever smelled.  Would he do the same with her if she bathed with that soap?  Biting her lower lip, she pressed them together in an effort to find control.  Liquid with shocking desire or not, she didn't want the Guardian of the Abyss sniffing at her.  He would only hate her all the more when he discovered whose blood ran in her veins.
That thought should've chilled her, but then he held out the soap…only to snatch it back when she went to reach for it.  She froze.  He held it out again…a little further away.  Though she knew his game, she kept playing—until she was back where she'd started, face-to-face with him at the very edge.  "Give me my soap," she whispered, "and I'll tell you a tale of three princes and a princess."  She deliberately left out the name of the kingdom of Elden.  That struck too deep, and might make him refuse to hear what she had to say.
He hesitated.  "Come closer."
"This is close enough."
"Liliana"
Blinking at the masculine demand, she reached out to grab the soap.  He moved it out of reach so fast that she almost rose up after it, forgetting that she was very, very naked.  "Do you want me to be clean or not?"  she asked, dropping back down.
His expression turned thoughtful.
The skin on her shoulders tingled from the intensity of his gaze, she folded her arms under the water.  "Fine.  No tale, then."
He leaned on the rim, satisfaction in the curve of those lips she wanted to taste so badly her toes curled.  "You have no clothes."  A silken reminder.
Her mouth fell open at the way he was telling her she was effectively trapped until he decided to let her go.
Related Posts