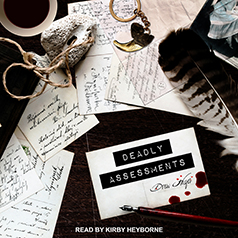 Deadly Assessments (Fred, the Vampire Accountant #5)
by
Drew Hayes

Series:
Fred the Vampire Accountant #5
Published by
Tantor Audio
on August 5th 2018
Genres:
Paranormal/Urban Fantasy
Format:
Audiobook
Narrator:
Kirby Heyborne
Length:
9 hrs 9 min



I received this book for free from in exchange for an honest review. This does not affect my opinion of the book or the content of my review.
This post contains affiliate links you can use to purchase the book. If you buy the book using that link, I will receive a small commission from the sale.
After several years as a vampire, starting a business, founding his own clan, and proposing to his girlfriend, Fred is finally beginning to settle into life as an undead accountant. Unfortunately, not everyone is happy about his continued survival, or the dangerous friends he's made along the way.

The Blood Council has dispatched a representative to determine if Fred is fit for the position he currently fills as head of a clan, and the stakes for failure are deathly serious. Worse, Fred will have to muddle through without the help of Krystal, who is off on a mysterious task of her own.

Saddled with a new bodyguard, Fred will have to prove he's got what it takes to be a respectable vampire, control his abilities, and lead a clan. Because if he can't, the House of Fred will be no more.
---
I love Fred. How come the most boring vampire in Town is also the most awesome?
Fred is in real trouble this time. Someone *cough* House of Terva *cough* has lodged a complaint with the Blood Council that Frederick Franklin Fletcher is not capable of leading the House of Fred.
What started out as a plain old business conference is the start of a test to determine if Fred has what it takes to be a good leader, and if he is not…then he, and the members of his House, will be dealt with…permanently.
Of course, Fred isn't going to allow any of his friends to be hurt and agrees to be the sole barer if punishment needs to be meted out.  He agrees not to contact any of the powerful allies that he has made for help, including the Gideon, the King of the West.
Fred wouldn't be too concerned except that the Blood Council made sure to arrange his case review around getting Fred's fiánce and trained Agent, Crystal Jenkins, out on assignment.   There is no way this is just mere coincidence, since there is no way Crystal would sit back and allow the Council to kill Fred if they deem him to be unacceptable.
Fred will be assigned a caseworker who will be tasked with watching how Fred handles himself of the next few weeks and then they will make a recommendation whether Fred is an acceptable  leader of his House of non-vampire misfits.  Of course in true since Fred's transformation to vampire, nothing goes smoothly for him, including being forced into the woods and being severely wound to see if he can control his baser vampire instincts and keep himself and his caseworker from burning alive come morning.
While I love Fred, his friends and the crazy curve balls life throws at him, this was not my favorite compilation of stories.  I am not sure if it is because most of the stories focus on Fred and his caseworker rather than the usual friends or simply because the caseworker kept pointing out things about Fred and telling him he was lacking.  There was definitely a few "Hey. Hey. Hey." that was uttered  during these portions and it wasn't by Fred.
I love this series and how it is written with mini-stories that build into a complete arc by the end of the book.   The ending rocked but I was not overly excited by the journey this time.   This series is on my Must Listen to list as Kirby Heyborne makes the series with his perfect Fred and gang presentation.
Related Posts