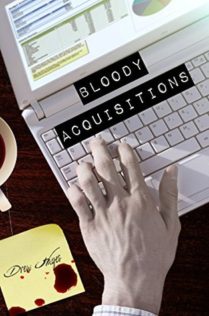 Bloody Acquisitions
by
Drew Hayes
,
Kirby Heyborne

Series:
Fred the Vampire Accountant #3
Published by
Tantor Audio
on September 6th 2016
Genres:
Paranormal/Urban Fantasy
Format:
Audiobook
Narrator:
Kirby Heyborne
Length:
9 hrs 58 min



I received this book for free from in exchange for an honest review. This does not affect my opinion of the book or the content of my review.
This post contains affiliate links you can use to purchase the book. If you buy the book using that link, I will receive a small commission from the sale.
---




[box style="rounded" border="full"]My favorite boring vampire is back. I freakin' LOVE Fred. I especially love Kirby Heyborne's audiobook presentation, so much so that I waited an additional two months of the audiobook release before grabbing a copy of Blood Acquisitions. [/box]
Fred and the gang are back and the firm Frederick Fletcher Accounting is overwhelmed with work. One of the few Certified Public Paranormal Accountants around has Fred quite busy and trying to decide if it is time for him to hire some help. Word is spreading about Fred, and not just about his quality accounting work.
A new Clan of vampires has decided to move into town and they want to meet the vampire who has not only made alliances with the leader of the shifters, but has earned the respect of the King of the West. They just haven't realized yet that these stories of the powerful vampire are actually exaggerated tales of one humble vampire accountant who still wears sweater vests and glasses.
Drew Hayes tells the adventures of Fred in a group of five short stories and each story builds off of the prior story and, in part, off of the prior two books in the series. Because of this writing style, it is hard to get into detail about Bloody Acquisitions without giving away too much, i.e. I can't talk about story five without giving away things that happened in story four.
So the most I can tell you about Bloody Acquisitions is that as the new Clan of vampires move in, a lone vampire without a Clan for protection, such as our hero Fred, is now at risk. While Fred might be dating Crystal, an Agent for the paranormal unit, the Clan can use tricks to rid the city of Fred that are within the legal doctrine of treaties between the paranormals. In order words, they could come into town and find an excuse to kill this lone vampire in such a way that would be within their rights and Crystal and his other friends won't be able to do anything about it. So a big part of our storylines will include whether Fred will leave his home, his friends, his business and everything he has built and make a run for it, or does he make a stand and hope for the best, that the Clan will simply leave the boring accountant to go about his business.
In Bloody Acquisitions, our favorite characters are back, including Crystal (Fred's kick-ass agent girlfriend), Bubba (a pony shifter), Alfred (a zombie who wields the Sword of the Unlikely Champion), his friend Neal (a necromancer) and Amy (Neal's alchemist mentor). There is also appearances by Ash (an agent whose power is still unknown) and Charlotte (the sentient, enchanted Inn and former fortress of mages).  We also meet some new friends, some of which may or may not be important in future stories.
After I finished, I gave my friend Christine my iPod, since we are both fans of Drew Hayes and Kirby Heyborne, and then had a long, long discussion of open issues which we can only hope means that there will be more Fred adventures to come.
I just love the simplicity of Fred and the loyalty of these friends. I enjoy how the story telling and how the stories build upon each other and how it doesn't have to be all sword fights and magic wielding to tell a good paranormal adventure. While this isn't a romance series, we do have a love interest between Fred and Crystal to keep our inner romantic happy.
I was excited to find out that Drew Hayes would be attending a conference in New Orleans the same weekend I was attending NOLA Storycon, but unfortunately it was logically impossible to get from my conference on the edge of the French Quarter to his near the airport without missing some of the Storycon, and it was also a bit cost prohibitive since I would need to take taxis back and forth as well as pay to get into his conference. So my excitement turned quickly to disappointment since it was a matter of so close but yet so far , and I probably passed him on the streets of New Orleans and never realized it. 🙁
If you haven't met Fred yet, I would highly recommend not only starting with The Utterly Uninteresting and Unadventurous Tales of Fred, the Vampire Accountant, but also grabbing yourself a set of the audiobooks narrated by Kirby Heyborne. He does such a wonderful job of bringing these characters to life, from the laid back, level headed Fred to the deep resonance of Gideon, the millennia old dragon.
---
Favorite Scene:
Despite not completely understanding what he was talking about, I did my best to conjure a sympathetic nod. "April is a tight time for me and all other accountants, but since you're a friend of Crystal's, I can carve out a few days to come lend a hand."
Leroy waived me off. "We don't need the boss down here. Things aren't that tough. One of your people will be fine."
"The company is just me and Albert and he isn't properly trained to do a full accounting service on his own."
"Oh."
For the first time, Leroy looked a touch surprised. It didn't last long though. In seconds, he'd faded back to the warm, relaxed grin that was usually there.
"Well then, sure. We'd gladly accept your help. I can even pay some in advance."
I began to protest that it wasn't necessary, but before I had gotten for than a few syllables out, Leroy had produced a small glass vial. Inside were a few drops of red liquid that my base instincts immediately recognized as blood. There was something off about it though. A curious rainbow sheen seemed to shimmer on the edges, like gasoline spilled on a lake.
He tossed it to me and I caught it on reflex. My arm moving without even bothering to check with my brain.
"Had a feeling that would come in handy." He said. "Takes a hell of a lot to make me bleed. Not even I can manage it without a proper weapon but a few decades back there was a rough dragon that tried to settle down in the hills. Sucker managed to get a few drops from me so I put them away for a rainy day."
"This is your blood?" Even through the glass I could smell what was inside. It smelled delicious and savory and strong. Much as I loathed to admit it, my mouth had begun to salivate, acting completely on its own, with no regard for propriety.
"Sure is. A few drops will give you quite the pick me up. Might come in handy if those new vampires decide to cause trouble."
There was something in Leroy's eyes that I couldn't quite place. Not aggression and not judgment. Curiosity? Regardless, the vial had most of my attention. The few drops inside were so powerful I could feel them before they even hit my tongue. If I drank it, would I be safe? It was hard to imagine any other vampire being a threat, not unless they were feeding off a dragon.
With a last long lingering look at the blood, I tossed it back to Leroy, who easily snatched it from the air.
"Thank you, but Fletcher Accounting Services only accepts payment by check, credit card or direct deposit, and we don't take advances for services not yet rendered."
Slowly, he put the blood back in his shirt pocket, eyes never leaving me. "You have any idea what you just threw away?"
"Power. Strength. The ability to live without fear of any who might do me harm. Like I said, thank you, but no thank you. I got a taste of that last year when an ancient dragon gave me his blood. It was more inconvenience than anything. I'm fine with what I got. Maybe it falls short for a conquering vampire, but for an accountant, it's more than enough."
My fingers were still tingling from where I had been holding the vial, though the feeling was finally fading.
The truck made a few more turns and had just burst into the clearing when Leroy spoke again. The cheer had faded from his voice and something else was there in it's place. Experience. Wisdom. Some indefinable quality that only one who has lived far beyond mortal years is able to conjure.
"I've seen many things as long as I've been alive. The rise and fall of countries. The very earth shift beneath our feet. The birth and death of waves of human generations gone so quickly it's like the flash of a firefly, yet in all that time, I've only encountered a handful of people, human or para, who had what it took to turn down power when it was before them. I think I might see what Crystal loves in you, Frederick Fletcher."
Related Posts