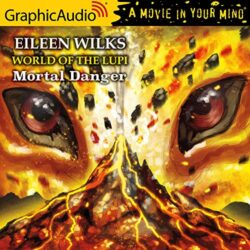 Mortal Danger (World of the Lupi, #2)
by
Eileen Wilks

Series:
World of the Lupi #2
Published by
Berkley Books
,
GraphicAudio
on November 1, 2005
Genres:
Paranormal/Urban Fantasy
Pages:
393
Format:
Audiobook
Length:
8 hrs 5 min
Source:
Audible


This post contains affiliate links you can use to purchase the book. If you buy the book using that link, I will receive a small commission from the sale.
Former cop Lily Yu has her sister's wedding to attend, a missing magical staff to find, and now must deal with her grandmother's decision to return to the old country. Lily could turn to the man she's involved with for advice, but for all the passion that flares between them, she doesn't really know Rule Turner--she's just bound to him for life. Rule happens to be a werewolf, and Lily wonders just how far she can trust him.
---
This one was so stupid it has killed my interest in going further with this series.
The goddess of the Aza has a plan to send a demon to possess Lily. Lily's gift of a sensitive would bar someone from using magic against her or taking possession but they are using Lily's injury as a weak point.
Lily takes Rule to her sister's wedding and gets to introduce him to her family with mixed results, not everyone is excited about a Lupi in the family. Lily follows what looks like Aza's avatar but they killed her. Lily gets attacked in the bathroom and knocked unconscious.
Yet she and Rule still go on an investigation when called because someone is wielding the Aza's missing staff so they arrive at their hideout with Lupi backup. In the ensuing fight both Rule and Lily are hit by magic. Rule disappears and Lily loses her magic. Everyone is telling Lily that Rule is dead but due to their mate bond Lily knows he isn't, she just can't find him and everywhere her feelings take her, Rule just isn't there no matter what the bond is telling her.
What we find out is that Rule and Lily's soul (including her magic) are in Hell. The demon wasn't able to possess Lily but they are sort of joined in a symbiosis. I'm sorry. I found the whole hell trip to be stupid and a waste of time. Rule is trapped in his wolf form and can't communicate. There is no moon in Hell so Rule risks either going crazy or being trapped in his lupi form forever. We also have two half Lily's wandering around. Even if we can get Rule and Lily out of Hell, how are we going to get one solid Lily?
This is the second book in the story and I hated it.
I had a lot of issues with the world building in this series. So I am going to add to my list of complaints that we find out that Rule knew that he was basically sterile which is unusual for lupi and that his son was pretty much a gift from the Lady (The Lupi Goddess). So we know that lupi are very promiscuous and do not believe in monogamy unless they are blessed by the Lady and have mate. They are also irresistible to women. Rule didn't even offer or wait for protection when he had sex with Lily. Are they like an alien race trying to impregnate as many human woman as possible? There should be hundreds of thousand of lupi babies swarming the Earth. I was rather disturbed by how callous Rule was about sex and babies and how surprised he was that he only had one kid running around because for a lupi he is much older than his visual age of 30 and his magical sperm which he spread around go generously these last few decades, should have created a small army of Rules. Definitely a big negative for me in this world building that lupi think nothing of spawning as many random women as possible. Is this because lupi battle each other for dominance and usually to the death? They are pretty promiscuous and it didn't appear that they did a follow up to check which ones they impregnated with their lupi baby batter. They didn't seem all that interested in making sure they collected and raised those lupi babies either.
Related Posts