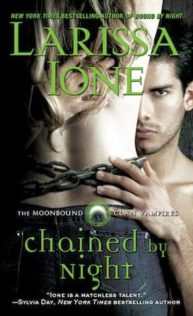 Chained by Night (MoonBound Clan Vampire, #2)
by
Larissa Ione

Series:
Moonbound Clan Vampires #2
Published by
Pocket Books
on September 30th 2014
Genres:
Paranormal/Urban Fantasy
Pages:
416
Format:
Paperback



I received this book for free from in exchange for an honest review. This does not affect my opinion of the book or the content of my review.
This post contains affiliate links you can use to purchase the book. If you buy the book using that link, I will receive a small commission from the sale.
---
Wow. Wow. Wow. Larissa Ione kicks up the excitement in Book 2. Hunter has to make a choice – marry one twin and bring peace with ShadowSpawn or marry the twin he wants and kick off an all out war with a larger and more brutal Clan.   But first he has to break an ancient agreement with a demon.   He has to pick one twin to take with him on a trial through Hell or give up his first born child.  Chose the wrong twin and he'll never make it out alive.
---
At the end of Bound by Night, Hunter makes a deal with the barbaric leader of ShadowSpawn in order to save Riker's mate, Nicole. He agreed to mate with Kars's oldest daughter, Rasha. Rasha is a warrior in her own right. Growing up in ShadowSpawn's more vicious camp where disagreements were settled by bloody battles where the victor is in the right, she has always had to prove her value to the Clan. Rasha doesn't approve of Hunter's more lax leadership which allows learning, playing, and for injured Clan members to sit and eat amongst the strong warriors, even though one of those injured is her own sister who was born with a deformed leg. Rasha plans to make changes once she becomes Hunter's mate and one of those changes might just be a change of leadership.
Hunter's head is spinning with all the problems laid at his feet right now. For the good of the Clan he will mate with Rasha, even if he can't stand the sight of her. Well, actually it's not really the sight of her that is the problem, is it? Hunter can't stop lusting over her identical twin sister, Aylin.  For a brief moment, Hunter believes that his future might not be so bleak when he mistakes Aylin for Rasha and a kiss turns toward passion. At least until they both realize the error.  Now they know what they want and what they can't have. Aylin is everything her sister is not: sweet, caring, thoughtful, intelligent, but with a bad leg she is considered worthless in her father's camp of warriors.
Before any mating can happen, Hunter and Rasha have a task they must perform. Vampires did not come to be as legend has always told. The story of the raven and the crow mixing their blood with the blood of two fallen Chiefs is a myth and the modern day rumor about a virus creating vampires is also wrong. The original vampires made a deal with the demon Samnult for strength to fight their enemies and they promised their first born child as well as the first born of the first generation of vampires as payment. As a first generation, Hunter will be expected to give up his first born to Sumnult and Hunter will do whatever is required to break that contract. Samnult has agreed if Hunter brings his intended to complete a series of tasks, and if they both survive, they can keep their first child. Hunter's best scene was at the end of Book 1 when he contacts Samnult and tells him that Hunter will do whatever is necessary to break the contract. Samnult says What if I tell you to blow me? and Hunter drops to his knees and says I'm gonna get very drunk when it's over, but I said I would do whatever it took. The demon was actually frazzled by Hunter's willingness to do whatever was necessary to keep his child, something no other vampire was willing to do.  Samnult obviously did not accept the blow job in favor of the more exciting trial storyline.
Rasha refuses to risk her own life and is willing to let the demon have her first born. Both Hunter and Aylin are disgusted with her behavior and because Aylin is an identical twin, Samnult allows her to go in her sister's place. And we're barely a third into the book. Obviously they survive the quest, or do they? Samnult offers Aylin a deal asking her to make an ultimate sacrifice for Hunter and her sister so they win the quest, and of course she agrees.
They might have won the trials, but it has also strengthened the bond between Hunter and Aylin. Not only does Hunter not get to mate Aylin, but after his mating ceremony to Rasha, Aylin will be sent to mate a vampire more vicious than her father who has a harem of wives. Hunter is in a frenzy and the only way to save Aylin would be for her to lose her virginity…and Hunter will need to chose one of his own men to do it.
Except it might not be so easy after all. Samnult has gifted Aylin with something very special for her sacrifice and now both her father and her intended are knocking on the door to take Aylin away. So the questions we need answered are:  How can Hunter mate Aylin instead of Rasha without causing a war that MoonBound Clan will doubtless lose? Who is giving information to ShadowSpawn about MoonBound business? And what the heck is Samnult doing with all those first borns?
THOUGHTS:
This book was really exciting and kept me on the edge of my seat.  It was the age old romance storyline between sacrifice and want.  Hunter wants Aylin but he needs to sacrifice for his Clan and mate Rasha.
First of all, I couldn't tell what we were supposed to be feeling about Rasha. Oh, we hated Rasha and we don't trust her, but every once in a while she would be so nice to Aylin and you would start to think, maybe she's not all bad. Then she would do something else awful and it was no question, she's a bitch! But I just couldn't figure out how Hunter was going to possibly get out of mating Rasha so he could mate Aylin instead, because obviously we all wanted Aylin.
The first half of the book was the quest and leading up to the quest which was all very tension filled, and after that was introducing BitchyPoo and Aylin to the MoonBound Clan and everyone's reactions. The buzz between Hunter and Aylin kept intensifying and he kept wanting to pull away for the good of the Clan and the quest gave Aylin a boost of confidence that she has never had before to stand up to Hunter's torment of I want you but I can't have you which made him even crazier about her than before. Aylin was an incredible heroine at the start of the book and the fact that she was so selfless as to sacrifice her own dreams for Hunter (and her bitch sister) just makes her stand out as extraordinary.
This story was sensational. I couldn't put it down and the fact that I couldn't figure a way for them to be together was making me crazy.
I highly recommend grabbing a copy of this and Bound by Night. I had a Twitter conversation with Larissa Ione over the star of the next book who will be…wait for it…<strong>Myne</strong> (Yay!) and you'll never guess who his lady love will be.  (Not Rasha thank God!)  I will be looking forward to Myne's story next year.
Received an ARC from the publisher in exchange for an honest review.
---
Favorite Scene:
The scene I wanted to share gave away too much information, so you get the next best. 🙂
"Do you know what kind of alliances your father has made with other clans recently?"
"No why?"
"I think he's up to something. He might be trying to unite the clans."
"Wouldn't that be a good thing? Samnult said war with the humans was coming."
"Uniting the clans is vital if we want to save ourselves from extinction. But your father wants more than allied clans. He wants the allied clans under his control."
"Like a king? That's crazy." But was it really? Kars had always been power-hungry, and she'd often wondered why he spent so much time digging into the affairs of rival clans. "You know, now that I think about it…remember I told you about the competitions ShadowSpawn has been holding? We've had more than usual, and clans have been coming from farther away than ever before. JaggedSky from Montana and BoneSworn from New Mexico. They'd never been to one of my father's competitions before, but they've both been twice in the last three years. He's even arrange for truces with sworn enemies. Like you."
"Damn," Hunter breathed.
For some reason, she pictured him saying the same thing, just as softly, against the skin of her throat. Her breasts. Her inner thighs.
As if he knew, his dark gaze sparked. He swore again and inhaled raggedly. "You okay? How have you been?"
"Do you really want to chitchat?"
A low, pumping growl vibrated the air and rumbled through her in an erotic wave. "What I want to do is strip you, throw you onto the counter, spread you thighs, and lick you until you scream. That's what I want to do. I want to be the male who takes you for the first time. And every time after that. The thought of you being with someone else tonight is killing me, to the point where I'm tempted to have Riker lock me up so I don't do something stupid. I don't understand it, and frankly, it's pissing me off. But there it is."
His stark, raw honesty stole her breath. She wanted all of that too, could relate to everything he'd said. Here he was in front of her, and she couldn't have him. And in this moment, she was ashamed to admit that if he offered her even the smallest scrap of his attention, she'd take it. Without thinking, she reached for him, but he stepped back with a hiss, his massive fangs bared.
"If you touch me, I'm lost." His big body trembled as he continued backing up. He took panting breaths and his eyes were as wild as a cornered cougar's. "I…have to go."
"Hunter, wait." She moved toward him. He stopped, and she had a feeling he was fighting a battle with himself deep inside. Good. Now he knew how she felt every time she saw him. "Don't have sex with her. Not tonight."
He barked out a laugh. "Really? Just yesterday you told me to get it over with. Now you get jealous?"
"This isn't about jealousy," she said. Okay, it was, but there was also the fact that Rasha mentioned getting pregnant. "You can't…" You can't trust Rasha.  Aylin didn't say it.  She couldn't.  As true as it was, she would sell out her sister like that.
"Can't what?"
Aylin closed her lids. "Nothing. Just trust your instincts."
"I got news for you," he said roughly.  "I can't trust myself right now."
He took off in a rush, and something told her he was heading straight for Rasha.
Hunter had always been one to play with fire, had never minded the burns. But Aylin burned hotter than any flame, and if he hadn't left when he did, he'd have turned to ash.
Holy Spirit, she tested his self-control. Samnult's trials were a piece of cake compared with the challenge of keeping his hands off Aylin.
Related Posts