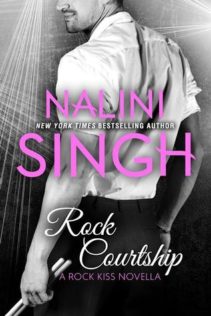 Rock Courtship (Rock Kiss, #1.5)
by
Nalini Singh

Series:
Rock Kiss #1.5
Published by
Self-Published
on September 30th 2014
Genres:
Rock & Roll
Pages:
125
Format:
eBook



I received this book for free from in exchange for an honest review. This does not affect my opinion of the book or the content of my review.
This post contains affiliate links you can use to purchase the book. If you buy the book using that link, I will receive a small commission from the sale.
---
The courtship of Schoolboy Choir's drummer, David Rivera, and publicist, Thea Arsana, is the perfect choice for a novella. Since these characters know each other, and we have met them both in the prior book, we can jump right into the romance and we are already invested in these characters and the HEA.
---
David Rivera is the known as the Gentleman of Rock for a reason. He dresses well and never removes his clothing unlike like his band mates. He is still close with his family and takes care of his parents who sacrificed so much for him. He is absolutely loyal to those he loves, and he fears the woman he loves most will never give him a chance to prove that unlike her cheating ex, David would always be loyal…always be true.
She has already shot him down once declaring that she cannot date a client. Thankfully, David has a secret weapon…Thea's sister, Molly. Molly can see how much David loves Thea already and convinces him the best way to approach her business minded sister is to write a memo outlining all the reasons why Thea should agree to be with David. This begins the war of the memos which starts out full of subtle sexual innuendo and builds into memo sex until Thea can't do anything but fan herself with them to cool down her blood.
Both David and Thea come from close knit families. Thea trusts her mother when she convinces Thea not to let fear ruin her future, and David's love for Thea is only reinforced when he sees her interaction with his family.
But love with a rock star can't be that easy and a woman comes forth with some accusations against David in a pay me to shut up approach, Thea will be forced to face what she fears most about a long distance relationship with a man who has women throwing themselves at him. Will she stand by her man and trust that David has been true to her or will she fear history repeating itself?
THOUGHTS:
Novellas are tricky. It's like the story of Goldilocks, sometimes they feel so rushed you don't really feel the connection. Sometimes they are too short. You are just starting to enjoy the characters and you feel they didn't get enough story. Rock Courtship felt just right.
We already met and had a pretty good idea about David and Thea. We were already aware from the opening chapter of Rock Addition that David has been in love with Thea for some time. We also knew that Molly was encouraging David to write the memos to Thea and that it got her attention. In Rock Courtship, we only need to learn Thea's feelings for David, read those sexy memos for ourselves, and then we got to see David win his woman's heart.
We started this story full of momentum and all the background info we needed so the novella just needed to concentrate on rounding out David and Thea's characters and then bringing them together and bonding them.
It was an enjoyable companion novel to Rock Addition and I am still waiting anxiously for Charlotte and T-Rex's story.
Received an ARC from the publisher in exchange for an honest review.
---
Favorite Scene:
David sends flowers to Thea to convince her they should be together.
When she finally had a chance to check her phone again, she saw David had sent one more message: The red one reminds me of you. It's so fucking beautiful.
Thea went to the bouquet, and touched her fingers to one of the flame-red blooms. It was glorious. The petals were soft and velvety, curling gently outward from a golden core that held another, hidden core of opulent cream. Heart sighing, she pulled out one from the bouquet, intending to clip off the stem so she could tuck it behind her ear.
"Ow!"
Glancing down, she saw a red bead of blood on her skin; the stunning flower had tiny green thorns all down the stem.
Laughter shook her shoulders. He had to have made a special request that the thorns not be stripped or the florist would have done it as a matter of course. "Okay, David," she muttered, "points to you." She could get on board with a man who saw beauty in her thorns.
Related Posts