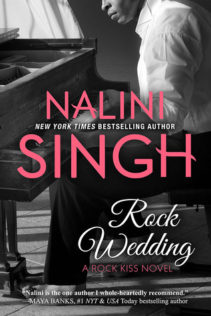 Rock Wedding (Rock Kiss, #4)
by
Nalini Singh

Series:
Rock Kiss #4
Published by
Self-Published
on July 19th 2016
Genres:
Rock & Roll
Pages:
345
Format:
eBook



I received this book for free from in exchange for an honest review. This does not affect my opinion of the book or the content of my review.
This post contains affiliate links you can use to purchase the book. If you buy the book using that link, I will receive a small commission from the sale.
---



[box style="rounded" border="full"]The final book of the Rock Kiss series is a second chance romance with two characters who needed to grow before they could finally get things right. [/box]
There is a trigger warning since both Sarah and Abe had issues dealing with the death of children which might be upsetting.
Abe was not my favorite character in this series, probably since he was drafted to be the rock star with the out-of-control drug addition and he was quite unlike the other characters. We were given the impression in the prior books that although Sarah and Abe's divorce was quite bitter, there were still feelings which needed to be addressed.
I was a bit confused at first since I have seen several notes from other reviewers and bloggers that this was a second-chance love story. Yet we start out Rock Wedding learning the Abe would leave Sarah alone in the house most of the time while he practices with the guys and even when he goes on tour. Abe is deep in his addiction at the time of their marriage and spends little time with Sarah unless it is in bed. Sarah laments that it is all her fault since she lacks education and breeding and although she tries to imitate her sophisticated mother-in-law, she can't pull it off so Abe must be embarrassed by her. Their flailing marriage comes to an end with Abe having a drug-infused meltdown on the anniversary of his little sister's death where he's screaming at Sarah that she is a gold-digging liar who faked a pregnancy to marry a rock star and how he doesn't and couldn't love her. Sarah runs off but still harbors a young-woman's fantasy that her husband will come running after her only to be further disappointed to find tabloid pictures of his partying with groupies soon after her departure. All this culminates into one nasty divorce.
You can see where I am confused by everyone's praise of this "second-chance" romance since Abe treats Sarah like crap and appears that he doesn't even like her. Why would he be pursuing her again if he never loved her?  They went through a nasty divorce and he ends up dying to get back together?
As I mentioned above, there is a lot of young death which is dealt with here. Abe's drug issue stems from the loss of his baby sister to cancer. Her loss hit him hard and harder still because she looked up to him as a hero and there was nothing he could do for her but watch her die slowly and painfully. Just about everything reminds him of her and we eventually come to learn that his treatment of Sarah doesn't come from his lack of feeling for her but that fact that his feelings for her keep him from enjoying the drug inducted bliss that allows him not to feel anything at all. The longer he is with Sarah the more he feels for her and falls for her. That is why he keeps away from her and doesn't take her on tours. If he loves her, she could die like his sister did and that would destroy him.
Sarah not only deals with the death of the fairy-tale romance she believed her marriage to Abe gave her, but she first miscarried Abe's baby, and afterward starts a romance with the sympathetic Jeremy, and then gave birth to his stillborn baby. While both men were there for her at the beginning of her loss, both kind of got over their loss quickly (Abe with the help of his drugs) and wanted Sarah to move on from her loss.
We may be sad that Abe and Sarah's marriage did not work out, except this is definitely a story of two people who needed that time apart. With the help of a near-death experience and the support of his band mates, Abe is finally able to clean up. He still has anger issues about his sister, but without the drugs, he starts to learn how to deal with those feelings.  Meanwhile, Sarah stops being a little girl waiting for her Prince Charming to come home and give her some attention. She takes night classes and eventually goes from cleaning houses of the rich and famous to hiring people to work for her company cleaning houses for the rich and famous. During this time she grows a spine, which she admits was easier to do after she obtained a decent divorce settlement from Abe, than for the scared, penniless kid who first arrived in L.A.
There is also the important issue that once Sarah and Abe reunite, they confide their deepest secrets and issues to each other. In their first marriage, Abe didn't really know anything about Sarah's home life which was far from pretty and Abe never let Sarah know anything of his feelings and pain of his sister's death. Each kept their dark past locked in a closet, never to be opened or shared and thereby their first go-round was doomed to failure.
We see in Rock Wedding two people who have an intense passion for each other, but now Sarah is a woman to be noticed both because she is attractive and she is filled with self-confidence and an inner strength. We are also seduced along with Sarah by a sober Abe Bellamy. He is thoughtful, considerate and affectionate, and he uses his free time and energy to bulk up, rather than shoot up, so his hotness factor is in the stratosphere.
Rock Wedding is a love story about two passionate people who learn to get past loss and betrayal. It is a very moving story. A love story about young, drug-addicted Abe meeting a hot-mess, groupie Sarah, no matter how hot their sex life would have been, would be destined for the trash. These two needed the failure of their first marriage as a catalyst to become the people they were meant to be.
The finale of Rock Wedding takes us far, far away from the people we met in the opening chapters and gave us a wonderful love story of two people learning the meaning of love. It was a lovely ending to such an enjoyable series.
---
Favorite Scene:
"We've paired a number of award-winning wines with tonight's dessert-tasting menu," the other woman began.
"No wine," Abe interrupted. "Alcohol's permanently off the menu for me," he said in a voice that made it a simple fact of life. "Sarah's keeping me company in my sobriety."
Florentina smiled and didn't offer them the little menu in her hand. "In that case, I will accompany your desserts with our most decadent teas. Yes?"
Sarah was a coffee woman and so was Abe, but this was an adventure. "Yes," she answered for them both. "We'd love to try the teas."
The first one that came up was, according to Florentina, "A light, aromatic herbal in fusion with a hint of grapefruit and vanilla." Sarah liked it enough to reconsider her coffee-only habit.
Abe looked at it askance before making a face of total martyrdom that had her laughing. Then he threw back half the cup. "Fancy hot water," was his conclusion.
He was far more impressed with the poached pear in a light pomegranate cream that was their first course.
Sarah took a bite, groaned, eyes closing.
She opened them to find Abe staring at her in a way that sent the blood rushing to her cheeks. And not from embarrassment. A little breathless, she took a second bite, bit back the moan this time.
Of course, the pear dish was just the start. Next came a chocoholic's dream–a rich and sinfully dark chocolate mousse swirled to perfection inside a tiny bowl fashioned from the finest milk chocolate, then topped with curls of white chocolate sprinkled with sparking gold dust. Florentina had paired it with a strong black tea that, to Sarah's tongue, held a faint undertone of raspberries, lush and juicy.
Sarah dipped her spoon into the mousse, took a taste.
There was no way she could hold back her moan this time.
"Jesus, Sarah." Abe's words were rough, ragged. "I won't be able to fucking walk if you keep that up."
She stared at him, swallowed the mousse…and realized she'd dropped a curl of chocolate right in the V of her red top. It was sitting on the plump curve of her breast. She didn't even have a chance to attempt to pick it up before Abe leaned over and wiped it off with the soft white of his cloth napkin.
"Behave," he ordered in a tone as stern as that of her junior high school principal. "I mean it."
Sarah took another bite of the mousse, slide the spoon out oh-so-slow from between her lips. She didn't know what had gotten into her except that Abe was looking at her like he wanted to eat her alive, and no one had looked at her with that much raw want for a long, long time–not even the man who'd once been her husband. He had back before everything went wrong, before the grief and the drugs and the anger turned him into someone else she didn't know.
It was a heady feeling to see that look in his eyes again.
Related Posts