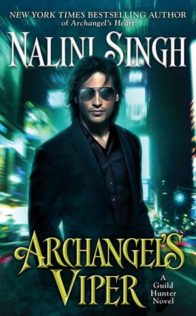 Archangel's Viper (Guild Hunter, #10)
by
Nalini Singh

Series:
Guild Hunter #10
Published by
Berkley
on September 26th 2017
Genres:
Paranormal/Urban Fantasy
Pages:
400
Format:
eBook



I received this book for free from in exchange for an honest review. This does not affect my opinion of the book or the content of my review.
This post contains affiliate links you can use to purchase the book. If you buy the book using that link, I will receive a small commission from the sale.
Enter New York Times bestselling author Nalini Singh's breathtakingly passionate Guild Hunter world with the story of a woman who isn't a vampire or an angel…or human…

Once a broken girl known as Sorrow, Holly Chang now prowls the shadowy gray underground of the city for the angels. But it's not her winged allies who make her a wanted woman—it's the unknown power coursing through her veins. Brutalized by an insane archangel, she was left with the bloodlust of a vampire, the ability to mesmerize her prey, and a poisonous bite.

Now, someone has put a bounty on her head…

Venom is one of the Seven, Archangel Raphael's private guard, and he's as infuriating as he is seductive. A centuries-old vampire, his fangs dispense a poison deadlier than Holly's. But even if Venom can protect Holly from those hunting her, he might not be able to save himself—because the strange, violent power inside Holly is awakening…

No one is safe.
---



This story takes a left turn about three quarters of the way through but it was so entertaining that you don't realize it until you are finished.
I saw several thumbs down for the cover of this book, but to me, it was the perfect Venom. He was always presented as very slick and always very dangerous. He was always stylishly dressed with the dark glasses and the slight smug smile giving off the "just try me" vibe.
Venom was made by Neha, the Archangel of India, also known as the queen of snakes and poison. We learn more about Venom, how and why he was changed and how he was subsequently shunned by his family even though he ageed to be made to save them from their own follies.
Holly is the perfect match for Venom although I did do an eye-roll that like venom, her bite was toxic.  Of course the only two characters with a poisonous bite fall in love.
In case you don't recognize the name, Holly spent part of the series know by the name Sorrow. She is the human from the first story who was tortured and feed blood by Uram, the crazed Archangel.   They still don't know Holly's full potential or what she truly is since she eats rather than drinks blood. She's not a full vampire nor has she become an angel.
She has emerged from the depression which engulfed her after Uram changed her and killed her friends and has also tossed off the name Sorrow.  Holly now works for the Tower and has become sort of a ward of Demitri.  She spends time in the poorer and more run down sections of the city and has many contacts among those living in the shadows which includes many broken vamps after their century in the "care" to some of the more brutal and twisted angels.
My biggest issue with this story was that we were working on a plot of kidnapping for 75% of the story, then we are sent off on archangel business.  Then I realized I am more than 90 percent done and WHAT HAPPENED WITH THE KIDNAPPING?  It gets wrapped up but left me feeling WAIT! WHAT HAPPENED HERE??? at the very end. This kind of screwed with my feelings about the story as a whole. We were investigating. Important things were happening. We had to go handle this other thing. That was interesting too. Then we forgot all about what we spent most of the book being concerned about.   There were a few little dangly story bits since we really didn't get back into the whole kidnapping storyline but like I said, it was all interesting enough that you forgot what you were doing to begin with.
It's like after you clicked on 20 different pop ups on Facebook and then realized, "Hey, wait. I came over here to check my bank balance.  Why I am now reading Unknown facts about Llamas?"
This was a good story and you will race through it.  I really like how Venom and Holly compliment each other.  Holly doesn't fade into the background next to such a vibrant personality like Venom.  It was a good pairing, and I like how Holly had reclaimed her life after years of depression.  I just feel a bit weird about the whole change of storyline at the end.
**This review was supposed to post last June. I have no idea why it showed as scheduled but then they sometimes never post.**
---
Favorite Scene:
Venom was both immune to her capacity to mesmerize prey and the only person who would teach her how to deal with the ability. Which meant she'd had to have his annoying voice in her ear once a week over the time that he'd been away–in a place no one would mention by name to her. He'd been meant to return to work physically with her, but a strange, taut tension had gripped the immortal world in the interim, and Venom had made no visits to New York.
He stepped out of the private jet.
Of course he was wearing a flawlessly tailored suit in black, paired with a black shirt and no tie. Wraparound mirrored sunglasses obscured his yes. Holly still hadn't figure out if he wore the sunglasses because his eyes were sensitve to light, so people wouldn't freak out, or simply because he was an asshole who like to look impenetrable.
She'd bet on the last.
After striding down the steps of the plane with a battered brown–in an elegant way, of course–leather hold-all slung over his shoulder, he turned to look back at the plane, raising a hand toward the cockpit. The early afternoon sunlight caught on the clean line of his jaw, the burnished brown of his skin glowing in the light.   His slightly overlong chocolate-dark hair was brushed neatly, not a strand out of place.
The damn man looked like he'd stepped out of an ad for fine whiskey or luxury watches.
She was scowling when he met her eyes through the glass. She knew he was looking at her despite the mirrored sunglasses. Arms folded and feet set apart, she stared back.
He smiled and slid off the sunglasses.
Eyes slitted like a viper's met hers, the color a bright astonishing green. I see you missed me, kitty, he mouthed.
Holly gave him a sickly sweet smile…followed by the finger.
Sliding the sunglasses back on, Venom laughed. He was inside the waiting area moments later. The raw power of him crashed into her. Violently. Despite her earlier thougts, she'd forgotten just how incredibily strong he was–she knew this was no power play; he wasn't trying to overwhelm her on purpose.
This was simply who he was: a vampire a hundred times more deadly than the guard outside.
"Damn," she said with a downturned face. "I was hoping you'd fallen into a crevasse." He'd mentioned in their last call that he was about to go out on a climb. "Too bad, I guess."
"I see those little kitten fangs of yours are still just as cute."
She wanted to hiss at him, controlled the urge only because it would amuse him–and because in the time that he'd been gone she'd achieved iron control over the most obviously inhuman aspects of her nature.
As for the ugly voice that kept whispering inside her when she was distracted, she'd strangle that, too. "Where's the rest of your luggage?"
"This is it."
Rolling her eyes, Holly put her hands on her hips. "Yeah, right. What did you wear for the past two years?" Venom had a suit for every day of the month.
"You don't know everything you think you know, kitty."
The world became tinged in acid green.
His smile was slow and satisfied. "There you are." He took off his sunglasses again to reveal those eyes even more eerie than her own. "Boo."
Getting her temper in check through sheer teeth-clenched grit, Holly looked up toward the speaker mounted on the wall. "Bye, Trace. Hope you and Andreja have a good day. Oh, I may be arrested for homicide soon. Please come visit me in prison."
Related Posts