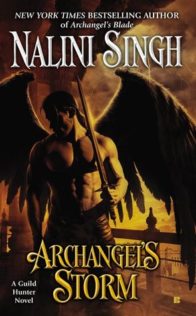 Archangel's Storm (Guild Hunter, #5)
by
Nalini Singh

Series:
Guild Hunter #5
Published by
Berkley
on September 4th 2012
Genres:
Paranormal/Urban Fantasy
Pages:
337
Format:
eBook



I received this book for free from in exchange for an honest review. This does not affect my opinion of the book or the content of my review.
This post contains affiliate links you can use to purchase the book. If you buy the book using that link, I will receive a small commission from the sale.
---
With wings of midnight and an affinity for shadows, Jason courts darkness. But now, with the Archangel Neha's consort lying murdered in the jewel-studded palace that was his prison and her rage threatening cataclysmic devastation, Jason steps into the light, knowing he must unearth the murderer before it is too late.

Earning Neha's trust comes at a price—Jason must tie himself to her bloodline through the Princess Mahiya, a woman with secrets so dangerous, she trusts no one. Least of all an enemy spymaster.

With only their relentless hunt for a violent, intelligent killer to unite them, Jason and Mahiya embark on a quest that leads to a centuries-old nightmare… and to the dark storm of an unexpected passion that threatens to drench them both in blood.
---
As the angels and vampires celebrate the wedding of Dmitri and Honor, not everyone is full of joy. Halfway around the world, the Archangel of India, Neha, has found her consort dead. When Spymaster Jason (angel), one of Archangel Raphael's most trusted seven, receives a call from one of his sources that Neha's grief might be dangerous for all those in her region, Jason knows that he must help solve the mystery of who would dare to kill an Archangel's consort.
Although Neha has kept Eris imprisoned for 300 years for the unforgiveable crime of infidelity, she loves him too much to kill him, as she did her betraying sister. But Neha will not trust one of Raphael's spies into her territory without a blood oath swearing to do no harm to Neha or her people. Jason cannot make a blood oath with an archangel, so Neha offers the Princess Mahiya. Neha expects Mahiya to spy on Jason to make sure that the Jason lives up to the blood oath.
Mehiya (angel) is the illegitimate child of Eris and Neha's sister, and Neha has not raised her as a beloved daughter. Neha has raised her as a tool to serve as a constant reminder to Eris of his infidelity. Mehiya has been the model daughter to Neha and has been quietly biding her time to escape from Neha's territory so she can live a life free of hate. Now that Eris is dead, Mehiya knows that her every breath is precious. Neha has no further use for her as punishment, and she will use any excuse to kill Mehiya. While Jason and Mehiya investigate Eris's murder, Jason quickly discovers Mehiya is not the simple court adornment that the archangel has led him to believe. She is as intelligent and brave as she is beautiful.
Mehiya and Jason are drawn to each other, but Jason survived a traumatic childhood, his parents' deaths left him abandoned on a tropical island far from any others, and it was decades before Jason was strong enough to fly to any civilization, so long that he had completely forgot how to communicate. Jason does not believe he is capable to truly connecting to another person. He does not believe he can feel the love and connection that his friends have been finding lately. Although he is attracted to Mehiya's beauty and her intelligence, he warns her often that he will not be able to commit to a relationship.
When the killer shows a power almost equal to the archangel, Mehiya and Jason will need to work together to keep these powers from destroying each other as well as the world around them.
I have only read a few Nalini Singh's stories, but I truly enjoy the characters that she writes. They are so vivid and multi-dimensional. Although most of the characters are angels, they are not the usual type of halo wearing angels. They have the same emotions as humans, love and joy but also sadness, fear, betrayal and vengeance.
Jason is a strong, self-made man, surviving his childhood trauma but not without psychological damage. Although he had strong love for his mother, he feels that he is damaged and cannot love like normal people. He has avoided any type of commitment and he seriously fights any thoughts of a permanent attachment. We see that Mehiya's simple thoughtful gestures mean so much to him, such as making dinner for him.
Mehiya is another strong heroine who has not allowed the harsh treatment she has received all her life to change the person she is, and her greatest desire is to leave and just simply live a life that is happy, and where she might meet someone who will show her love.
This is no fluff romance story. The storyline is almost Shakespearean with the betrayal of the husband and the sister, the illegitimate child, the traumatized childhoods and the epic battle between archangels. Although this is my first Guild Hunter story, I had no trouble following the back stories.
I have been wanting to read the Guild Hunter series for some time now and after reading this book, I am definitely going to find the time to squeeze in the rest.
Received an ARC from Penguin/Berkley. Thank you.
---
Favorite Scene:
He wondered if Mehiya had truly heard what he said to her the night before, or if she, too, harbored dreams of fixing the broken pieces of him. The truth was, no matter how she compelled him, she would soon realize what was shattered in him was nothing that could be healed, the damage done at such a young age that it had become part of his very psyche.
Yet instead of backing off, he did a selfish thing then. Lowering his head, he claimed the lush intoxication of her kiss, his hands thrusting into her hair to tumble black silk over his skin. She opened for him with a sweet sensual generosity that enticed without design, and made him want to caress her every secret pleasure point until her desire was a shimmer across her skin and he knew her like no other man ever would.
Tugging her head with the hand fisted in her hair, he forced himself to release lips swollen from his kisses. "Open your eyes." It was a harsh order.
Thick lashes rose to reveal tawny eyes hazy with passion. "I see you, Jason."
"And what do you see?" He stroked his free hand up her side, rubbing his thumb gently back and forth over her nipple through her clothing.
Her breath caught, but she didn't break the eye contact. "A man who is a storm, who belongs to no one and who will never be tamed. To expect otherwise would be to ask for agonizing disappointment."
Open eyes, he thought, she had wide-open eyes. "Some might say you're attempting to seduce me in order to lead me on a leash."
Laughter, warm and startled, spilled over the hilltop. "Only a fool would attempt to contain or direct a storm. I'm far too smart."
He took her lips in an open-mouthed kiss in an attempt to drink of her laughter, steal some of her dazzling warmth of spirit to hoard inside him. Her nails dug into his chest through his shirt, her breast pushed into his hand, and her scent, it tangled around him in an exotic wildness.
The gut-deep sense of connection was an intense shock that made his nerve endings burn. He had never felt more real, more a part of the world.
Related Posts