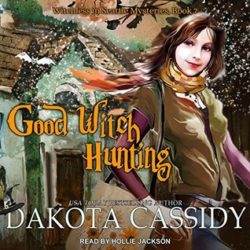 Good Witch Hunting (Witchless in Seattle Book 7)
by
Dakota Cassidy

Series:
Witchless in Seattle #7
Published by
Tantor Audio
on June 26th 2018
Genres:
Paranormal/Urban Fantasy
Format:
Audiobook
Narrator:
Hollie Jackson
Length:
5 hrs 56 min



I received this book for free from in exchange for an honest review. This does not affect my opinion of the book or the content of my review.
This post contains affiliate links you can use to purchase the book. If you buy the book using that link, I will receive a small commission from the sale.
After a really busy summer, things have settled down for my crew here in Ebenezer Falls. That is until my favorite Spy-Guy, Win has a crazy recollection of the night he was murdered. His memory leads us to the new tattoo artist in town who just happens to be an ex-nun named Trixie Lavender. Sister Trixie has a gifted tattoo artist for a sidekick who just happens to be a demon straight from the bowels of Hell...

A demon who, coincidentally, is accused of murder, that is. You know what that means—Stevie and gang to the rescue!
---
I was so happy to see another Witchless in Seattle story had come out and that is why it is so much worse when the story was disappointing.
Stevie, our favorite powerless witch and spirit-hearing madam, is awakened by her awesome spy-guy Crispin Alistair Winterbottom, or Win for short, when he suddenly has a revelation that the person who murdered him had a very distinct tattoo. Good thing a new tattoo artist just moved into town and is setting up shop down the street from Stevie's Madam Zoltar 2.0.
Stevie goes to visit and introduce herself to her new neighbors and surprise, surprise, they find a dead body in the storage room and no one knows how he got there. Yes, it is a murder mystery series but it was just too…convenient.
The new neighbors might have been more interesting if they were more of a mystery but the story description already tells us that one is an ex-nun and the other is a demon. They also have a pet owl/demon who spoke with an Irish accent, just to mix it up a bit. It would have added something to the story if we were unaware of Coop being a demon. She is supermodel gorgeous and talks a bit awkwardly like English isn't her first language and she is unused to American slang.   If we had to wonder and guess why she acted so strangely, that would have added to this storyline and the interest.  And just as these new characters were getting interesting, we find that the new neighbors, Coop and Trixie and their owl buddy, won't be sticking around town after this story.
I had several issues with this story starting with the fact that the entire thing happened during a blizzard where Stevie kept going out to get clues driving between her house and town, which is normally a 10 minute drive and now was taking over an hour. Hint, might not be a good idea to go out driving in a blizzard and who did she think was going to be out and about besides her.
She also didn't figure out this mystery.  It was more like she kept falling into the killer's path and getting knocked around.  Until in the end she finally got in the killer's way and got a confession to buy some time in hopes that someone would come out in the blizzard and save her.
Most annoyingly was what is happening with the romance between Stevie and Win. Yes, she is a witch and he is a ghost and that makes dating harder. But in the last novel, which was from Win's point of view, several times we hear Win's unfinished thoughts that he can't tell Stevie of his feelings for her since he hasn't figured out how to return to the living world full-time (he has possessed a few bodies for the short-time) and it is not fair to make her wait. Yet the romance Stevie had in the first few stories with the local coffeehouse owner was quickly nixed so that we could focus on Win and Stevie. In this novel, Stevie is obsessed with her jealousy of Win's former fiance, how Win must be spending time on plane-limbo with other women while she sleeps and how he will never return her affection.
I had thought that we long ago established their star-crossed lover romance and hashed out their strong feelings for each other. Really, why else is he trying to get back to this plane of existence? Just to use that wood fire pizza oven?
This is book 7 in the series and we are far enough along that we shouldn't still be dragging in teenage-agnst of "does he like me like I like him?"   They had a stronger relationship and understanding of the other's feeling in the earlier stories.
In the last story, I was disappointed that Win didn't give us more about how he plans on returning to the living but this one flopped on so many levels and I am truly disappointed.  Tell me, can a book series "jump the shark?"
Related Posts