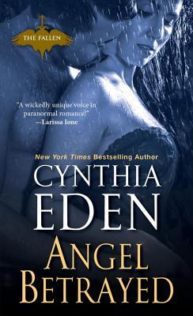 Angel Betrayed
by
Cynthia Eden

Series:
The Fallen #2
Published by
Kensington
on June 28th 2012
Genres:
Paranormal/Urban Fantasy
Pages:
352
Format:
Paperback



I received this book for free from in exchange for an honest review. This does not affect my opinion of the book or the content of my review.
This post contains affiliate links you can use to purchase the book. If you buy the book using that link, I will receive a small commission from the sale.
---
Sammael – call him Sam – was an angel once. An angel of death. But the dispassionate, watch-from-above thing just wasn't working for him when it meant watching evil torture innocent souls day in and day out. It might have cost him his wings, but these days, he gets to apply the direct method on the bad guys. Problem is, what's making his life difficult is a bad girl…

Seline O'Shaw needs protection, and with the hounds of hell on her tail, she's not going to quibble too hard about where she gets it. Sam's virtue is questionable, but he's smoking hot, massively powerful, and owes her a favor. So what if she's getting a little case of angel lust? There are some damn deadly sins after her hide.
---
We met Fallen angel Sammael (Sam) during book 1 of the Fallen series, Angel of Darkness. Sam is also a Fallen Angel, a former Angel of Death. Sam falls from grace after he decides to kill those who were preying on the weak and helpless. As a Fallen, Sam has retained most of his angel powers, including his ability to kill with just a touch.
Sam has been around a long time and when sexy succubus Seline O'Shaw comes into Sam's club, asking for his help and his protection, he doesn't agree to help her right away. He knows when he is being set up, and he's not entirely wrong. Seline does need help. She was sent to bring down Sam by an Angel of Justice who believes all of the Fallen must be punished. Seline wants to get away from Rogziel, and Sam is the only one she knows that would have enough power to free her from an angel's hold.
Sam isn't the only Fallen Angel who is being targeted for punishment and although Sam and Seline don't completely trust each other, they try to work together to get to the other Fallen before it is too late.
Cynthia Eden is one of my favorite authors. She is a favorite because she never disappoints. I have yet to pick up one of her stories and not be grabbed up by the story from page 1. This story is no exception. And her heroes, whether they are weres, shifters, demons or Angels and all drool-worthy.
In Cynthia's list of sexy, badass supernaturals, Sam tops the list as the sexiest, badass in Town and he knows it! Although Sam will leave you weak in the knees, I have already pledged my devotion to Det. Colin Gyth from Hotter After Midnight, so I will leave Sam to you to fight over.
If you haven't read one of Cynthia's books, WHY NOT!!! Grab one…any one…give it a try!!
Received ARC from Kensington Books. Thank you.
Check out our review of Book 1 of the Fallen series: Angel of Darkness.
And a guest blog from Cynthia from last Fall: Cynthia Eden Guest Blog
---
Favorite Scene:
He threw open the door to his apartment, and it took the scene before him a bit too long to register.
Seline lounged on the bed, clad in an oversize white robe while Cole bent over her.
What. The. Fuck.
She'd been attacked, weak, so she would have needed power—
I didn't give her enough.
So she'd turned to Cole? A snarl broke from Sam's lips.
What. The. Fuck.
Sam lunged across the room and grabbed for Cole.
Seline saw him. She jumped up and knocked the demon back before Sam could touch him.
"Dammit, Seline, you didn't have to—" Cole broke off when he got a look at Sam's face. Then the demon's eyes darted from Sam to Seline. "Guess you did." A long sigh slipped from his lips. "I am so screwed," he murmered.
Seline's clothes were tossed onto the floor. "Yeah," Sam said very definitely, "you are."
But Seline stepped between them before Sam could make Cole wish for death. "Ease up, Sam. This isn't what you think."
Doubtful. "That so? I am not staring at a succubus who decided to get a little power surge…and a horny-ass demon who is about to learn a whole new meaning to the word 'hurt'?"
"Succubus? Cole repeated, and gave a low sigh. "Yep, that would explain some things."

Related Posts