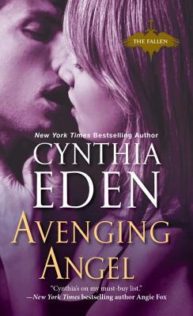 Avenging Angel (The Fallen, #4)
by
Cynthia Eden

Series:
The Fallen #4
Published by
Kensington Publishing Corporation
on May 28, 2013
Genres:
Paranormal/Urban Fantasy
Pages:
352
Format:
eBook



I received this book for free from in exchange for an honest review. This does not affect my opinion of the book or the content of my review.
This post contains affiliate links you can use to purchase the book. If you buy the book using that link, I will receive a small commission from the sale.
---
With a messed up family background and a tendency to grow claws and fangs, Tanner Chance isn't exactly the boy next door. But he's a decent cop, and he keeps himself on the side of the good guys. Convenient, because when he rescues a survivor of a horrific shifter attack he finds himself instantly smitten—with an honest-to-goodness angel, as innocent as she is irresistible.

Marna may be angelic, but she's not stupid or weak. She can take care of herself. Tanner is more temptation than protection anyway. Or so she thinks, until someone wearing her face starts taking out some of New Orleans' more unsavory paranormals. With police and predators both gunning for her blood, Marna has no choice but to trust Tanner…even though what's sparking between them is hotter than anything holy.
---
Marna was an Angel of Death. Being an Angel of Death wasn't something that she loved to do. She hated seeing all the pain, suffering and fear associated with death, but it was all she knew. Except Heaven is closed to her now. An Angel without wings can't fly back to Heaven and her wings were shredded off her body by a half-shifter/half-angel named Brandt. He's dead, killed by another Fallen, but that doesn't stop the pain that Marna suffers each day for her loss. The loss of everything that she has ever known. The unbearable pain of having her delicate wings ripped from her body. And suffering the overwhelming emotions which are plaguing her, a Fallen Angel, rage, pain…lust.
The worst part is being a Fallen Death Angel that no longer has the killing touch. Oh how she wanted to use it to kill those shifters to just watched and laughed as her life was torn from her. She tried to touch them and failed, and they laughed at her some more. Now everyone knows that the fragile, helpless little Angel has no power to protect herself. And every predator is looking for her wanting a taste of Angel's blood, of the power that blood can boost their supernatural abilities. She No. 1 on every supernatural's hit list whether they want a taste or just want the fortune to be had selling her blood to the highest bidder.
Detective (and shifter) Tanner Chance has been trying to protect Marna since his brother, Brandt, left her broken and bleeding in the swamp. Now that those shifters have turned up dead and eyewitnesses are pointing to the little blonde angel as the killer, Tanner has to work fast to keep Marna from being locked up in the human jail. He will do whatever he must to protect her, even go against his training, because every sense he has tells him to protect her…to protect what is his. Marna isn't his yet, but she will be. Both the man and the beast know she is his.
THOUGHTS:
Cynthia Eden never disappoints. Although Azreal gets to keep the crown for most awesome Angel, this story kept me guessing the entire time, Who could we trust? Who is watching? Who is after them? After three stories featuring powerful, bad-ass Angels, I loved that Marna is portrayed as small and helpless. Unlike the other Fallen, Marna has not regained her Angel powers since loosing her wings. This makes her a prime target for all the vampires, demons and shifters prowling New Orleans who want to take or cash in on her powerful and very addictive angel's blood.
There has been something between Tanner and Marna since he picked her up off the ground in the swamp in Angel In Chains and it was a great story to read. Watching Marna go from being afraid whenever she saw Tanner's claws to her coming to trust him not to hurt her and finally their budding relationship was so enjoyable.
Another great story by Cynthia Eden!
Received a review copy from the publisher. Thank you.
---
Favorite Scene:
Marna swallowed and lifted her chin higher. Of course, she lifted the covers higher, too. "I want to be alone now. I don't want–"
You.
In two seconds, he was on that bed with her. Marna tried to scramble back. Too late. He grabbed her hand and forced it against his bare chest.
Her breath rasped out, and she tried to jerk away from him. "Stop it!"
"Make me." A cruel taunt, but he had to see what would happen.
Marna's blue eyes widened as she tried to yank her hand away again. He just tightened his hold. Her palm was soft against his chest. Her splayed fingers pressed right over his racing heart.
"Let me go!"
The covers had dropped. She had on a black bra–one he'd raced out and bought for her before they'd gone to Hell. He'd picked up clothes for her, fantasizing a bit about her in the silk panties, and–
Her left hand plowed into his face.
He shook his head, barely feeling the sting of that blow as realization settled heavily in his gut. "You can't do it."
No wonder the vampire had been so close to her.
Her breath rushed out, far too fast, and he could see the frantic race of her pulse at the base of her neck. "Don't push me."  Her words were loud, rushed. "I don't want to hurt you!"
"You can't." Certain now. "You can't hurt me." She was touching him. Flesh to flesh.
Her skin was so pale. Her eyes wide. And the scent of her fear was driving him freaking insane. "You can't kill me. You can't use the Death Touch." Fuck. "Why the hell didn't you tell me? That vamp could have drained you dry!"
But, even as he asked, Tanner knew why she hadn't told him. The lady didn't trust him, not for one single minute.
"I could have handled him," Marna gritted out.
He still held her hand pinned against his chest. "Oh, yeah? How? The way you're handling me right now?"
Then she moved, so fast that he didn't even see the motion of her body. Angels could always move so quickly. Marna just hadn't moved that way in a while, and he'd forgotten…
She shoved him back on the bed and straddled him, and Marna shoved a knife against this throat.
Now where the hell had she gotten that little trinket?
The silver began to slice into his flesh.
"I found this back at Hell," she told him, fingers clenched tightly around the hilt of the blade. "I had it when that vamp came at me. I could've used it on him."
"A little knife wouldn't stop him." Or me. Silver would hurt like a bitch because the old tale about shifters and silver not mixing so well was true, but she wouldn't have time to do any permanent damage. Permanent like cutting out his heart.
"It would have slowed him down. Vampires get weaker with blood loss. I would have been sure to make him plenty weak."
Strange to hear such bloodthirsty plans come from her lips. He had to remember, the lady was far deadlier than she appeared.
Even if she'd somehow lost the Death Touch.
"When did you know?" Her legs straddled him. Did she feel the swelling cock shoving again her? Probably. Tanner didn't really see how she could miss that. Not like it was a small thing.
The blade dug a bit deeper into his skin. "I went after those bastard panther shifters, LaRue and Stokes," Marna confessed. "I went after the jerks because I wanted to kill them."
So she had been seeking some vengeance. Tanner tried to keep his body perfectly still beneath her. He had one hell of a view, and other than the stinging pain in his neck, being beneath her was pretty damn pleasurable.
Being in her, that would be even better.
A hungry growl slipped from him.
Marna frowned down at him.
Tanner cleared his throat. "What happened?"
Her tongue swiped over her lips. His cock jerked.
"I–I tracked them in the Quarter," she said. "I followed them for days. I waited, wanting the perfect moment."
To strike.
Definitely a bloodthirsty angel. He'd have to remember that little tidbit about her. Marna sure wasn't all sunshine and light, no matter how she appeared.
"I was going to walk right up to them. Look them straight in the eyes, and watch as their lives drained away."
Cold. Vicious.
He would have done the exact same thing. He liked for his kills to be personal. Those getting payback, well, they needed to see just who was delivering the justice to them.
"They always went to the same place for drinks. I waited until the bar on Bourbon Street was almost empty, and then I went inside."
Tanner heard the echo of pain in her voice. "What did they do to you?"
"Nothing." A laugh, heavy with bitterness, slipped from her. "I marched up to Stokes. Put my hand on his chest and waited for him to look at me with fear in his eyes."
Beau Stokes had always been a sadistic prick. So eager to attack weaker prey. So quick to slice with his claws and laugh when his prey begged for mercy.
"But he didn't even know who I was," Marna whispered. did she realized she still held the knife to his throat? "He tried to kiss me. Tried to pull me closer to him, like I was another body to screw in that dark bar."
Tanner didn't speak.
"I wanted to kill him. I was trying to. LaRue was coming toward us, laughing, and I wanted them both to die." Her head dipped further forward, and the curtain of her hair hid her face.
Tanner lifted his hand and pushed back her hair. He could barely feel the sting of the knife now. "But they didn't die."
Her lashes slowly lifted. "Angels of death–those Fallen and those who still have their wings–all of them can kill with a touch. That's our power. Our one, unbreakable gift. Death."
Death was a gift?
"I ran from the shifters. They were laughing at me while I ran away." Her breath rasped out. "When Brandt took my wings from me, he took away everything that I was. I have nothing now. Nothing."
But fury. A rage so dark it had sent her after the panthers–ready to kill and destroy.
"Angels have magic. They can do so much–conjure, stir fire." A bitter laugh came from her. "I can't even make smoke." She shook her head. "So what am I supposed to do now?" Marna asked him and then she blinked, seeming to finally realize that she still had a knife at his throat. Her hand lifted as she took the knife away from his jugular. "Just wait around for a vamp to drain me? Wait for a shifter to slice me and–"
It was his turn to have her flat on her back. Tanner crushed her into the mattress. He didn't have to worry about a Death Touch now. She wasn't going to lose control.
Maybe it was time he did.
Related Posts