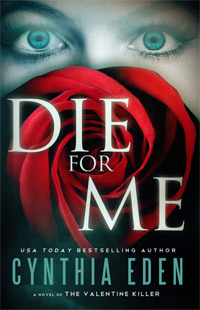 Die For Me (For Me, #1)
by
Cynthia Eden

Series:
For Me #1
Published by
Montlake
on February 12th 2013
Genres:
Mystery
Pages:
358
Format:
eBook



This post contains affiliate links you can use to purchase the book. If you buy the book using that link, I will receive a small commission from the sale.
---
She thought her fiancé was the perfect man—until he turned out to be the perfect killer…

Katherine Cole is running for her life, desperate to escape the Valentine Killer—so-called because he stabs his victims through the heart and leaves them holding a telltale single red rose. Still he tracks her to New Orleans and begins carving a bloody path to her door. But this time, Katherine refuses to run any farther. This time, she'll do anything to stop the madman she once loved, even trust the sexy cop promising to keep her safe…

Detective Dane Black never lets his emotions interfere with his job, even as the Valentine Killer surfaces in New Orleans to stalk his prey. But when Dane agrees to protect the killer's ex-fiancée, Katherine Cole, he can't ignore the passion kindling between them. After a single unforgettable night binds them body and soul, Dane knows he won't rest until Katherine is safe in his arms—and the Valentine Killer is dead.
---
Katelynn thought she had the perfect life, a great job and a wonderful fiancé who loved her dearly. Then her life in Boston ended after her perfect man turned out to be a serial killer. She is still tormented by the knowledge that she never knew there was a monster that lived inside the man she loved. After walking in on the man now called The Valentine Killer, she was brought in and questioned by the Boston Police and she told them everything she knew, or thought she knew, about the man she called Michael. But they were never able to find him.
Three years later, she is living in New Orleans, with a new look and a new name. She now answers to the name of Katherine Cole. She thinks she is finally regaining control of her life when her nightmare starts again. A woman has been murdered, and she is found clutching one red rose.
Although it jeopardizes her new life, Katherine goes to the New Orleans Police Dept. to help them catch Valentine. When she approaches Det. Dane Black, he is concerned that Katherine is involved with the murders. How else could she know so much about the murder scenes? As he finds out more about Katherine and her life in Boston, he is convinced that Valentine is focusing on women who look like Katherine and this time, she might just become one of his victims if Dane isn't quick enough.
Katherine will do whatever is necessary to help keep more women from becoming victims of this killer. While Katherine has never forgotten Valentine, Valentine has never forgotten the only woman he ever loved, and he is watching and waiting for an opportunity to be with his Kat again.
THOUGHTS:
This was a nail biting thriller. It is not often that I get to read a thriller that just keeps me guessing. I think I had everyone guilty at one point or other during the story.
There was also an interesting thought throughout this story in that our killer was in love with and absolutely obsessed with our heroine, and Det. Black falls for Katherine and becomes obsessed with her. So what is the difference between the killer and the cop if they are both so obsessed with Katherine. A very interesting point.
On the romance scale, I'd only give it a 3 1/2 . I really wasn't feeling it. Dane's obsessive interest seemed to come too quickly and although they have sex, it is more of a quick, lust filled coming together with little foreplay. I usually enjoy the dance that Cynthia's hero and heroine do before they come together, especially that first time, so I would say the focus on this story is more the thriller than the romance.
This story takes off from page 1 and never slows down. I would definitely recommend picking up a copy.
---
Favorite Scene:
It wouldn't have been fair to lead the guy on, not when she couldn't make herself feel anything for him.
But then, she hadn't felt very much in the past few years. Half the time, it seemed as if she were wrapped in some kind of fog, moving slowly through life.
You felt something when you were with the detective. The whisper slid through her mind. Katherine swallowed and turned toward the stairs. Right then, she didn't want to think too much about the dark and dangerous detective. Instead, she wanted—
She came to an abrupt stop.
There were roses on the stairs.
The breath froze in Katherine's chest.
Once upon a time, roses had been her favorite flowers. Then she'd learned just what Michael had been doing with the roses. Buying a dozen roses…then leaving one with his victim and bring the remaining eleven to her.
He brought them to me after each kill.
Her cheeks were wet now. Her hands were shaking.
And there were fucking roses on her stairs. In my house. "No," Katherine whispered. This could not be happening.
But there was something beside the roses. A small box. It almost looked like a candy box from one of those fancy chocolate shops that she'd seen in the French Quarter a few times. Slender, long…
She was walking toward the box. She should be getting the hell out of there, but it was as if she were being pulled forward, forced toward that box.
I'll look inside. It will just be chocolate. Trent could have left the candy and the flowers when I wasn't looking. He dropped them off when he was here earlier and I was getting my purse.
It didn't have to be from Valentine.
But he always sent me flowers after each death. She just hadn't realized that fact until after it was too late. He'd sent her eleven roses, and his victim—each time his victim had the twelfth rose.
Her breath sawed out of her lungs as her gaze locked on those roses. Helplessly she began to count them.
One, two, three…
The scent of the roses was sickly sweet.
Four, five, six…
There were thorns on the roses. Thorns that would draw blood.
Seven, eight, nine…
Her heart beat so hard that it hurt her chest.
Ten. Eleven. Dear God, only eleven.
The twelfth rose was missing.
She picked up the box. Nearly dropped it because she was so scared and nervous. Then her shaking fingers lifted the lid off the box. Rose petals fell onto the steps. Then she screamed, a long, desperate sound, but one that also burned with rage because the sick bastard was back. He was playing games with her—with his victims—all over again.
There was no chocolate in the box.
She dropped it. Jumped back.
Katherine whirled and ran for the door. Get away, get away, get away.
Because the nightmare of her past had found her once more.
Related Posts