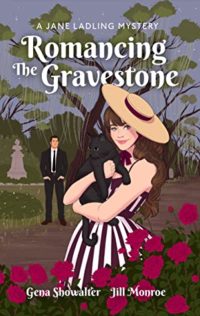 Romancing the Gravestone (A Jane Ladling Mystery, #1)
by
Gena Showalter
,
Jill Monroe

Series:
Jane Ladling Mystery #1
Published by
Author Talk Media LLC
on September 27, 2021
Genres:
Contemporary
,
Mystery
,
Small Town
Pages:
197
Format:
eBook
Source:
Author



I received this book for free from Author in exchange for an honest review. This does not affect my opinion of the book or the content of my review.
This post contains affiliate links you can use to purchase the book. If you buy the book using that link, I will receive a small commission from the sale.
She suspects everyone of everything. Sometimes she gets it right.
Jane Ladling is the sole proprietor of her family's landlocked cemetery, Garden of Memories. She's responsible for the, er, guests, but there's a slight problem. Well, besides her moody cat, Rolex, and her sixty-two-year-old best friend's unrequited crush on the sheriff. An extra body now rests in Plot #39.
Enter Special Agent Conrad Ryan. He's gruff, he's gorgeous, and oh, yes, he kind of suspects her of murder. What's an innocent—and very single, not that it matters—girl to do? Solve the crime herself. Even if she must turn the small town of Aurelian Hills, Georgia upside down.
The only line she won't cross? Falling for the first man to make her heart flutter. Nope, not happening. Not even a little.
---
A cozy mystery with a lot of potential.
Jane Ladling is the caretaker of her family's now landlocked graveyard called The Garden of Memories.  With no new customers coming, Jane's duties consider of merely greeting guests and visiting with the residents.  Jane knows that everyone in the former mining town of Aurelian Hills refers to her "the cemetery girl."  She should probably be offended but she is more upset that everyone seems to simply ignore her.   The only friend Jane has is her grandmother's friend, Fiona Lawrence, and her cat, Rolex.
But things start to change for Jane when she finds a dead body in an open grave. Well, a new dead body in an open grave. Someone has joined Rhonda Burgundy in her eternal rest. Now Jane's perfectly cared for cemetery is being trampled by crime scene investigators and one particularly frustrating and gorgeous piece of eye candy known as Special Agent Conrad Ryan.
With a murderer focusing on her cemetery, Jane needs some type of security other than her fierce house panther and finds out that her childhood friend Beau Harden is back in town and heading his own security firm.
Beau and Conrad are doing everything they can to keep Jane safe, but Jane is determined to find out who desecrated her family's cemetery and is doing her best to flush out the killer. Well, Jane isn't doing a great job of it but she should get points for trying.   Jane knows that most murders come down to love or money, but considering the murdered Dr. Hutchinson has been having affairs with most of his female patients, the list of possible jilted lovers or their respective partners is really, really long.   Added to that the fact that someone has once again started a rumor that gold is buried with the residents of Garden of Memories, and Jane's list of murders and visitors trampling her lovely cemetery has grown out of hand. When Jane gets an idea of how to flush out the killer, even her growing list of friends might not be able to save her from herself.
I have to admit that when I started this story I thought I was going to be bowing out of a review on this book.  At the beginning of the story, Jane came off as more featherbrained and unbalanced rather than capricious and adorable.   I was determined to continue and it took about a third of the book for the characters that were introduced to begin to stabilize and I began to enjoy getting to know them.   In the beginning, I didn't get any real attraction or even interest from Conrad, and even while told in a first person POV, we would normally see notes of interest.  It wasn't until Jane was sick and apparently calling both Conrad and Beau and discussing nonsense with them, that we see a change in demeanor in the characters.  There was one flaw in telling us that Jane is supposedly a grumpy bear when sick but that doesn't explain why she made these phone calls.  It would have made more sense if say Jane got loopy when taking cold medicine and was almost drunk dialing the new men in her life. Regardless, this section is where the story and the characters flipped for me and started becoming a more  cohesive group.   This story is a collaboration of two authors so I am uncertain if the change comes simply because these authors found their rhythm working together and the characters simply began to take shape for them, or if they were taking turns writing and had a different understanding of the characters.
Admittedly I have only read a few stories which would be classified as a "cozy mystery" so I am uncertain if most of them only focus on the main character and the mystery part.  But what I found missing here is character depth.  For example, we learn that Beau and Jane were friends in school, mostly it appears they were both kind of outcasts but no examples of how they were treated or how they bonded except to say they ate lunch together, or why Beau seemed originally standoffish with someone he was friends will as a kid.  We know Conrad was an orphan but no more details about him were given and his interest in Jane only seemed to turn on after her bizarre phone calls and then he was 100 percent in where he is suddenly calling her sweetheart and threating to lock her up under house arrest with him as her personal jailer.
This story was only a 195 pages so there is only so much time for those kind of details and still get a murder mystery solved but hopefully, we will get to know these characters more in future stories.
It took a bit for this series to find its stride but I would be interested to see what book 2 has in store.
---
Favorite Scene:
Jane is showing Conrad possibly entries into the cemetery by the killer…
Up ahead was a hill topped by the backside of a one-story version of the Victoria cottage. The white exterior had yellowed over time, the wood in need of serious repairs. Ivy grew over one side and encroached upon the roof.
"That's the official business office, such as it is, and what I wanted to show you. I removed it from the map because I'm never in it. But the original cobblestone path begins at the porch and lead to Autumn Gove. A night, this is the easiest track to follow, with the fewest twists, turns and skunks."
He made a notation. "Why don't you use the building?"
"Oh. That's where the ghosts live."
He missed a step, and she laughed.
"Teasing. Only teasing," she told him, and he huffed a breath. "I simply prefer the convenience of the cottage." The memories of working with her grandparents. "Plus, it isn't about to crumble into dust."
Related Posts