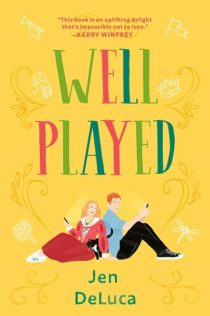 Well Played (Well Met, #2)
by
Jen DeLuca

Series:
Well Met #2
Published by
Berkley
on September 22, 2020
Genres:
Contemporary
Pages:
336
Format:
eBook



I received this book for free from in exchange for an honest review. This does not affect my opinion of the book or the content of my review.
This post contains affiliate links you can use to purchase the book. If you buy the book using that link, I will receive a small commission from the sale.
Another laugh-out-loud romantic comedy featuring kilted musicians, Renaissance Faire tavern wenches, and an unlikely love story.
Stacey is jolted when her friends Simon and Emily get engaged. She knew she was putting her life on hold when she stayed in Willow Creek to care for her sick mother, but it's been years now, and even though Stacey loves spending her summers pouring drinks and flirting with patrons at the local Renaissance Faire, she wants more out of life. Stacey vows to have her life figured out by the time her friends get hitched at Faire next summer. Maybe she'll even find The One.
When Stacey imagined "The One," it never occurred to her that her summertime Faire fling, Dex MacLean, might fit the bill. While Dex is easy on the eyes onstage with his band The Dueling Kilts, Stacey has never felt an emotional connection with him. So when she receives a tender email from the typically monosyllabic hunk, she's not sure what to make of it.
Faire returns to Willow Creek, and Stacey comes face-to-face with the man with whom she's exchanged hundreds of online messages over the past nine months. To Stacey's shock, it isn't Dex—she's been falling in love with a man she barely knows.
---
Well Played is another fun day at the Faire.  I wanted to dress up and be part of the fun.
Stacey Lindholm couldn't be happier that her friends Simon and Emily are getting married or her BFF from college just had a baby. Except Stacey's life has been going, well, nowhere.  Really.  No. Where. Nowhere for the last few years actually. When her mother had a heart attack a few years ago, Stacey walked away from the internship of her dreams in the fashion district in New York City, and by the time she was recovered, it was simply too late — all Stacey's prospects and connections had dried up.  But things could be worse than a ho-hum job in the tiny town of Willow Creek, where she's lived forever, right?  And she loves helping out at the Renaissance Faire that benefits the school each summer.  But is that really enough to make a woman happy?
That could be what prompted that drunk Facebook message to Dex MacLean, her hook up for the past two summers from the Celtic band, The Dueling Kilts.  Dex is super hot and they had a good time together. I mean, they didn't go out or anything or really have much conversation, but he did call her again to hook up again so that should mean something.  Maybe?  Stacey is actually surprised and delighted when he responds to her, especially since they didn't really spend much talking during their hook ups.  Stacey and Dex correspond and get to know each other pretty well over the next several months. Yet as summer approaches and it is almost time for the Faire to begin again, Stacey is wondering if there can be more to their relationship when Dex travels 10 months of the year and she's just a small town girl along his yearly travel schedule.
Except wondering if there can be more between herself and Dex might not be the right question to ask once Stacey begins to think she hasn't been speaking with Dex at all this whole time, and if the man she has been pouring her heart out to isn't Dex, who is he?
There are two reasons I enjoyed this story so much. First, I really like the backdrop of the Renaissance Faire. I enjoy going most years when it comes around our area. Especially this year, since there was no Ren Faire because of the pandemic but I could relive the shows, the fun and the costumes through the story.  I almost felt like I should dress up while I was reading.
I also enjoy the plot of getting to know someone through correspondence, whether by letter, text or email. It gives the characters a chance to connect on a deeper level than just physical attraction. Now this isn't really sight unseen, since they know each other, but still they are getting to know each other better without the physical distraction.  I am not much for love at first sight or insta-love stories.  That always comes down to a simply physical attraction and not much basis for a long-term HEA.
Since it is part of the book description, I am not giving anything away by saying Stacey is not corresponding with Dex but his cousin, Daniel.  The big question is why and is this some sort of  Cyrano de Bergerac mix up?  Is Daniel responding for Dex or is he responding for himself?
There are two things that did bother me although they are not significant but they annoyed me nonetheless.  First, we are told several times that Stacey graduated as a fashion major.  She knew by looking at Emily what her wedding dress should look like and that her sister's bridesmaid dress would look perfect on her.  But when Stacey walks into the dressing room with her dress, which obviously looks different than the other bridesmaid, we suddenly learn that Stacey is plus-sized and suddenly she has body issues looking at the dress, and she is self-conscious trying on this generic sized bridesmaid dress that doesn't zip all the way on her.  First of all, this is the first hear about Stacey being plus-sized.  Obviously, it is unimportant to the series so far since Stacey's weight was never brought up until now.  We know she looks great in her serving wench dress at the faire.  She obviously dresses herself in clothes that accentuate her assets (see fashion major) or else she wouldn't have been so attractive to Dex and Daniel.  She obviously had no problems getting naked in front of super hot Dex, many, many times and he's a man who has a woman at every town.  So Dex can crook his finger at any woman, and he crooked it at Stacey.  She also had no issue getting naked later in the story so why the sudden issue of how she would look in a bridesmaid dress when she was consulting with the bride about dresses and posting on Emily's Pinterest page.   Really WTF?  Stacey is presented as a confident woman, regardless of body type, who obviously is very attractive.  It bothered me as it was suddenly out of character for Stacey and unnecessary to the story.
When later in the story, Daniel texts Stacey to meet him at his hotel room.  Stacey is saddened that maybe Daniel just wants her to hop into bed with him as a hook up like Dex.  Well, let's put aside the fact that they were getting to know each other for nearly a year in emails and texts and she should be able to come right out and discuss her concerns with him.   But, if he believed that a year of getting to know each other would equate to an escalation of physical affection since he would only be in town for four weeks, especially after she hopped into bed with his cousin several times with no strings and barely any conversation, I couldn't really blame him.
Overall, I enjoyed the story and the series so far as a whole.
Related Posts