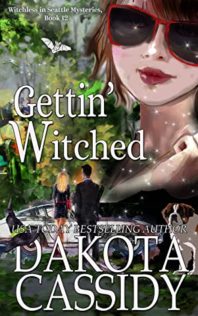 Gettin' Witched (Witchless in Seattle Mysteries Book 12)
by
Dakota Cassidy

Series:
Witchless in Seattle #12
Published by
Self Published
on August 3 2020
Genres:
Paranormal/Urban Fantasy
Pages:
102
Format:
eBook



This post contains affiliate links you can use to purchase the book. If you buy the book using that link, I will receive a small commission from the sale.
Stevie here, reporting to you live from Ebenezer Falls, WA with my disaster of a day.Yes, that's right. I'm having a terrible day. The worst. It started off like any other day with the exception of Win's strange behavior, that is. But it's all gone downhill from there and I have questions.So many questions...For instance, why is everyone else in Eb Falls behaving as strangely as my International Man of Mystery? And who the heck is Donna? For that matter, who's Candy Cane and why does she have snow? Who's the blonde picking up Win in our driveway? And was that an Aston Martin I just saw drive by?What the heck is going on?I set out to have a perfectly nice day after a long summer filled with tourists and readings at Madame Zoltar's shop. Since we'd had so little time to spend together these last few weeks, I was feeling a little left behind while Win was off on a guy's day of his own, but a much-needed spa-day should have cured that.Or at least I thought it would. That was before everything turned upside down, Win became almost unreachable by phone or text, and the words blackmail, drugs, and extortion were bandied about...
---
I love this adorable, quirky series.
The Witchless in Seattle stories are usually short but at 102 pages, this one was especially short and I finished in only a few hours. Since the book was short, my review will be very brief as well.
As you might have guessed, in Gettin' Witched Win finally pops the question but in true Stevie style, she can't keep her nose out of it and almost ruins the surprise. According to Win, it has taken two months of planning to get this night perfect. Win has a plan which he is trying to finalize. Problem is Stevie is naturally nosy and she hasn't had a mystery to butt in on for months so her overactive imagination is in hyperdrive.
Stevie overhears conversations. There is a mystery woman in town named Donna who picks Win up and drives off. And Stevie is certain she saw an Aston Martin drive through Ebinezer Falls. the same sports car that her International Man of Mystery owns but which he never let her have.
Win is hiding something from her and Stevie is afraid that some skeleton has popped out of Win's closet.
Not only is Win, Belfry and Arkady acting weird, it appears that the whole town is jumping every time they see her or simply avoiding her completely.
This series is my guilty pleasure. It truly is a literary Twinkie but I just love it. If you checked our my prior reviews on this series, I was cranky how things were going relationshipwise between Stevie and Win. He was dead and existing on plane Limbo helping Stevie investigate murders. He kept declaring that he would find a way back to be with Stevie. He figured out how to jump into his identical twin's dying body, all to be with Stevie on the earthly plane and yet, he's been living in the guest cottage that they built on the property instead of moving into the huge house that he helped design. Even with both of them almost dying again, it wasn't forcing their relationship along. It was frustrating. What are they waiting for? Well, finally he proposes.
There are still some continuing issues which still need to be addressed, including the Warlock who took away her powers and who keeps trying to kill her and whether Stevie will ever get her powers back. I want answers but I hate to think any answers to these questions might just be the end of our fun.
Related Posts