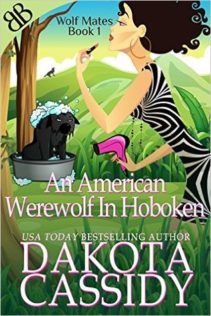 An American Werewolf in Hoboken (Wolf Mates, #1)
by
Dakota Cassidy
,
Hollie Jackson

Series:
Wolf Mates #1
Published by
Self-Published
on September 4th 2014
Genres:
Paranormal/Urban Fantasy
Format:
Audiobook
Narrator:
Hollie Jackson
Length:
6 hrs 34 min



This post contains affiliate links you can use to purchase the book. If you buy the book using that link, I will receive a small commission from the sale.
---


As much as I like this author and narrator for the Witchless in Seattle series, I did not enjoy this story as much. It might be that there wasn't as much story here as sex. I was almost hooked at the end to grab the next, but I am not sure if I will bother.
I was disappointed in An American Werewolf in Hoboken. I picked up a free copy quite a while ago and it wasn't until I finished the last Witchless in Seattle book that I remember it and I picked up the audiobook copy for only $1.99. This is the same narrator for the other series, but this was just didn't catch me as much.
It has an interesting premise. Max Adams is alpha of a misfit pack of outcasts. The werewolf council wanted to execute all of these werewolves who escaped government testing or other facilities where they were tortured or experimented on, or their offspring. Max's father refused and created his own pack to protect these people. The Council then cursed the Adams men. Once their destined mate was prophesized, they have until the next full moon to mate with them or die a horrible death. Max's aunt is the one who gets the prophesy in her chicken noodle soup and tell him to go to Hoboken to find his woman.
He's on a time crunch, but Max decided to take him time getting to Hoboken so instead of hopping in his car, he changes to wolf and wanders there (without clothes?) only to be caught by animal control and be put on death row. JC happens to come to shelter that day to adopt a dog and wanders down the wrong corridor and finds Max.  JC turns out to be 100% human with no knowledge of werewolves.She adopts him and takes him home. She inappropriately names her giant dog Fluffy for a cuteness factor.
Human Max realizes that JC is the woman prophesized for him and once he has the sex dream about her, as all mates do, then he is 100 percent certain. I thought this was just a way to get the sex in while the story plays out so the audience doesn't get frustrated, but no it was just the beginning of the sexfest.
Human Max moves in the conveniently available apartment across the hall from JC, and allowed Fluffy to run away. JC is so devastated that her dog ran away and searches prove fruitless even with Max's help, that she gives in and has sex with him on his kitchen table. Max can't stand how unhappy JC is over Fluffy so he continues the ruse spending half his time as Fluffy.
Time is running out for Max. The full moon will be upon them soon and he has to let JC know that he and Fluffy are one and the same and convince her to mate with him forever and ever or he dies.
While the story premises was an interesting idea, once we set up the adopt Max/Fluffy part of the story, it was mostly filler of sex between Max and JC while they dated and we didn't really get more story until Max took her to meet his family and try to figure out how to tell her about his little werewolf problem.
There were several great attempts to flaunt the comic aspect of the premise such as when Fluffy protects JC from her pushy ex-boyfriend or when JC is taking Fluffy to the vet to discuss being neutered (which upped Max's timeline considerably), and overall it needed more of these types of scenes.
When I pick up an erotica, I expect more than a fair amount of sex in the story. When I pick up a paranormal romance with a sense of comedy, I expect a story not a sexfest. I was almost interested at the end for the next story, but it isn't high on my list.
Related Posts