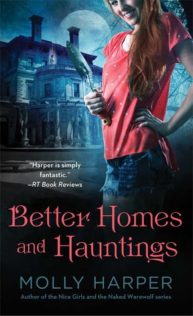 Better Homes and Hauntings
by
Molly Harper

Published by
Pocket Books
on June 24th 2014
Genres:
Paranormal/Urban Fantasy
Pages:
318
Format:
eBook



I received this book for free from in exchange for an honest review. This does not affect my opinion of the book or the content of my review.
This post contains affiliate links you can use to purchase the book. If you buy the book using that link, I will receive a small commission from the sale.
---
When Nina Linden is hired to landscape a private island off the New England coast, she sees it as her chance to rebuild her failing business after being cheated by her unscrupulous ex. She never expects that her new client, software mogul Deacon Whitney, would see more in her than just a talented gardener. Deacon has paid top dollar to the crews he's hired to renovate the desolate Whitney estate—he had to, because the bumps, thumps, and unexplained sightings of ghostly figures in nineteenth-century dress are driving workers away faster than he can say "Boo."

But Nina shows no signs of being scared away, even as she experiences some unnerving apparitions herself. And as the two of them work closely together to restore the mansion's faded glory, Deacon realizes that he's found someone who doesn't seem to like his fortune more than himself—while Nina may have finally found the one man she can trust with her bruised and battered heart.

But something on the island doesn't believe in true love…and if Nina and Deacon can't figure out how to put these angry spirits to rest, their own love doesn't stand a ghost of a chance.
---
As a self-made billionaire, software genius and only successful Whitney in the last 100 years, Deacon Whitney wants to prove once and for all that there is no family curse against the Whitneys. What better way than to reclaim the family estate which he just inherited out on Whitney island. But anyone within 100 miles has heard the rumors that the mansion is haunted, and so in order to keep his key people working, he needs to keep them with him on the island, before the houses creaks and moans scare them from the job for good.
He has chosen his friend Jake Rumson, to be his architect, Cindy Ellis to help with the clean up and restoration, and Nina Linden to design the landscaping. Deacon hired Nina for her talent, but he will admit that there is more to his interest in the lovely gardener than just her choice of plants.
Everything is going well once everyone arrives and the work begins. Is that because the "ghosts" are quiet or because no one wants to be the first to admit that they're the crazy one who is seeing ghosts?
The real question is whether there really is the ghost of Catherine Whitney, supposedly murdered by her jealous husband Gerald, haunting the island or are the things going bump in the night made of flesh and bone? There are several family members and overlooked competitors who have various reasons why they don't want this job to be completed.
Whether the ghost is real or not may be the least of their problems since the attacks are getting more and more violent as the days go on. These meddling kids better hurry up and solve this mystery quickly before they become the next victims of the Whitney curse.
THOUGHTS:
There are no werewolves and vampires this time, but Molly Harper has definitely written a ghost story which is a grown-ups version of a Scooby Doo mystery. Although I miss her beloved characters, her writing is still as entertaining in this stand alone novel as in her Nice Girl and Naked Werewolf series. But unusual in a Molly Harper novel is the various POVs. It jumps between Deacon, Nina, Jake, Cindy and Deacon's cousin, Dotty. Her novels are mainly 1st person narratives with a few exceptions.
Deacon Whitney may be a billionaire software genius, but he is still deep down a geek and Geeks in Love are always adorable as he tries to awkwardly flirt with Nina and gets excited when told that Nina likes him. Nina is just as much a geek as Deacon and she gets all his SciFi and fantasy references which just makes more cartoon hearts float around Deacon's head.
Cousin Dotty just shows up in the middle of the renovation determined to document the renovation for her book while she searches for Catherine's missing diaries. Dotty wants to prove that Catherine's husband, Gerald, didn't kill her.  Dotty is quirky and flaky and hasn't finished one project yet, but you can't help but love her.
We also have a secondary love interest story going on between Cindy and Jake which was interesting. Jake keeps trying to get close to Cindy, but all she does is growl at him. What Jake doesn't remember is that he dated Cindy years ago, and never called her again after their second date. Now he's looking at Cindy with interest and Cindy refuses to tell him why she's so pissed of at him.
This is all part of the POV changes throughout the story, which includes the different romances and the various ghost sightings by the various characters.
As always Molly Harper gives us fun story with great dialog and this time with a little spooky added in.
Received an ARC from the publisher in exchange for an honest review.
---
Favorite Scene:
As the newcomer gushed over how thrilled she was to be involved and that she just couldn't wait to get started, which was why she'd shown up weeks ahead of schedule to present Deacon with her design ideas for the interior, Cindy rolled her eyes. Typical.  Now that this barracuda with the telltale red-soled shoes was in the picture, he'd dropped Cindy and moved on.
Cindy pursed her lips, steadied herself against the banister for a moment. It sucked to be right all the time.
Resolving to forget the entire "tripping" episode, Cindy made her way to the opposite site of the room, where Dotty and Nina were whispering quietly.
"The insecure preadolescent girl inside of me is curled up in the fetal position," Nina grumbled, noting with inexplicable irritation the way the new arrival was practically standing on Deacon's feet, murmuring to him in low, familiar tones; until the moment Jake had walked in, anyway, which was the moment she launched herself at him. Poor Anthony had been standing off to the side, intently staring at the blueprints of the house so he could look anywhere besides at his boss getting kitten-whispered. And Deacon looked…
Well, maybe Nina didn't know Deacon well enough to gauge his facial expressions. He seemed impassive, even bored. He hadn't exactly been leaning into the lady's aural assault, but his face didn't give of a Get thee away from me, you fashion-forward she-beast! vibe, either.
In Nina's mind, Indignant Deacon spoke like a character from Game of Thrones.
"Oh, honey, she doesn't deserve your head space." Dotty sighed. "That's just Regina Van Hauten. We've know her since, oh, two or three noses ago." When Cindy lifted an eyebrow, Dotty clarified, "Since high school Her family is close to Deacon's and Jake's parents."
"And why is she here?" Cindy asked.
Dotty's facial expression wasn't hard to decipher at all, with her mouth pinched into a derisive frown. "Regina's supposedly an interior designer, but judging by the hatchet job she did on Deacon's corporate offices, I'm betting she got her training from one of those videos you can order from an infomercial."
"Uncomfortable seating and abstract art?" Nina guessed.
"There's an 'installation' of discarded Starbucks cups in the lobby by some artist from Hoboken. It's called 'The Globalization of Mediocrity.' The janitor kept trying to throw it away, so Regina's idea was to put up a sign that says, "Please don't recycle the art."
Cindy bit her lip before a snicker could escape. Dotty grinned at her, even as Regina sent the pair a scathing look. Nina noted that Regina hadn't bothered introducing herself to Nina or Cindy.
Dotty muttered, "I told Deacon not to hire her, but he said he 'has his reasons' for letting her ruin both is offices and his home. And when I press him, he refuses to answer, which is saying something, because I can always get Deacon to fess up. Just for your information, he is very ticklish."
"How will that information ever be of use to me?" Nina asked.
Dotty wriggled her eyebrows. "I can think of a few ways." Nina stared at her, adopting Deacon's "impassive" expression. "Oh, come on, I've seen the two of you together. It's like watching a nature documentary on scientists trying to get the two most socially awkward people in the world to mate."
"Not true!" Nina whispered back. "We talk about work-related subjects, that's all."
Just then, Deacon looked up from Regina's papers and gave Nina a lingering look, as if she were the only thing giving him the strength to continue his conversation with his decorator. Nina's face flushed bright red, and Dotty fanned her cheeks with Cindy's clipboard.
"Oh, hush the both of you," Nina muttered.
"You made my cousin smoulder," Dotty whispered in awe. "Until two years ago, he didn't wear matching socks half the time. He actually pays someone to match his clothes for him. So for him to throw any sort of swagger at you, that's sort of a miracle."
"He probably just had something in his eye," Nina protested softly. "Now, be quiet before someone hears you. This is a foyer, not a cone of silence."
"You're right, he did have something in his eye," Cindy singsonged. "You."
Nina groaned.
"Sweetheart, I'm going to insist that you ride that man like a pony," Cindy added. "For the good of mankind, technological advancement, and America's place in the world economy. Think of the gadgetry he could come up with if he had a little stress relief."
Nina poked at Cindy's arm. "You are all class, my friend."
Related Posts