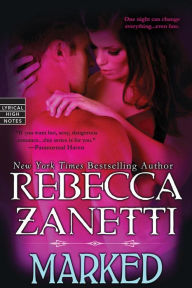 Marked (Dark Protectors, #7)
by
Rebecca Zanetti

Series:
Dark Protectors #7
Published by
Lyrical Press
on December 22nd 2014
Genres:
Paranormal/Urban Fantasy
Pages:
304
Format:
eBook



I received this book for free from in exchange for an honest review. This does not affect my opinion of the book or the content of my review.
This post contains affiliate links you can use to purchase the book. If you buy the book using that link, I will receive a small commission from the sale.
---
[box style="rounded" border="full"]It's finally here and I am thrilled and heartbroken.  This is the conclusion to the Dark Protectors series and the one we have been waiting for since the very beginning. Janie is psychic and has known from the time she was four that she would be a pivotal character in the final solution for the war between the vampires, kurjans, demons and witches.  We'll finally see if the end of the war comes down to Janie, Zane and Kalin as promised.[/box]
Warning: There is no way to talk about this without some spoilers. If you want it all to be a surprise, come back to discuss after you finish.
Janie arrives at the peace talks with her father and the King.  The talks are being moderated by the three prophets and the vampires will be meeting with the shifters, the witches, the kurjans and the demons.  They hope more than believe that some type of peace can be reached and the war can finally be ended. All the parties want the kurjans to release information on their bioweapon, Virus 27. It is the kurjans who have added more to their demands. Kalin is demanding "access" to Janie.
More surprising to Janie than Kalin's request, is the person who arrives at the talks and who will not allow the Kurjans anywhere near Janie.  Much to the shock of the vampires and Janie, Zane has shown up for the negotiations– on the side of the demons. It is finally revealed that Zane is half-vampire and half-demon. His mother is the sister of Suri, leader of the demons.
Although Zane is there at Suri's side, he has his own agenda and priority one is keeping Janie safe and away from Kalin. Zane's plan also includes rescuing his brothers and locating where his mother has been hidden. Suri has been using Zane's family to keep him in line, and time has come for Zane to execute his plan to get everyone he loves safe before he takes out Suri.  Zane knows he will not survive the fight. Even if he succeeds in killing Suri, he would have no hope of surviving the backlash of power killing a demon as powerful as Suri will unleash.
When Suri makes a deal with Kalin for the delivery of Janie to the Kurjans, Zane knows he has run out of time and he has to get Janie to safety. This is the first time that Janie and Zane have been alone with the real world and not Janie's dream realm, and they agree to one night of passion before they will probably lose their lives in the upcoming battles. As their passions peak, Zane does what he swore he would not do — he marks Janie as his mate. If Janie doesn't kill him, he knows that her father will. Zane will have to try even harder now to stay alive or he will doom the woman he loves to a life without love. Mated to a vampire, Janie would not be able to be with another man if something happens to Zane.
Now that Janie is safe, Zane will move onto Plan B which is save his family. The vampires are going to put a twist in Zane's plans. Talen is not going to let anything happen to his daughter's mate and the Kayrs are all in with the plan to help Zane kill Suri.
Just when they think everything is finally going their way, the Kurjans have managed to release an airborne version of Virus-27, and all of the mates become infected. Time is running out. They need a cure now and the vampires will do whatever they must to save their mates.
THOUGHTS:
This is it. The conclusion of the Dark Protectors series is finally here. I have been waiting for this book since I finished Fated three years ago. I loved Janie and Zane but I have since they were kids.  They have had a connection that I couldn't wait for them to finally meet.  Even knowing each other so well all these years, there were some things Janie did not know about Zane.  The sex was hot.  No question about that.  I enjoyed Janie and Zane finding a balance in the real world.
I was disappointed that, since it was always supposed to come down to Janie, Zane and Kalin, Kalin was not more prevalent in this story.  It is Janie and Zane's story, and we wanted to finally see them together.  As Zane kept reminding Janie, he is not the person she met in her dream world. He is a warrior and the time he spent with her was a respite from his harsh life. He needed her to accept him for the dominating vampire/demon hybrid that he was. His demon side did add a whole new layer to dominating than the other stories.  She thought her dad was overbearing.
My biggest issue is the Virus-27 portion of the story. The vampires have had two brilliant scientists working on this virus 24/7 for the last 20 years. The only progress they made was to give the shifters an inoculation against it, but other than that, they knew nothing.   And I am not happy with Kalin's eventual explanation of the virus. (I have questions!) The whole virus story comes down to an 11th hour save. Not even 11th hour. It was more like 11:59 and they pull a "cure" out of their butts. Yes, it made sense, but really how many bombs can be defused with 2 seconds remaining before we start going REALLY??   You had 20 years to find something and your cure magically appears just as some characters are taking their last breaths?
My only other issue was the longer than Lord of the Rings ending where we had an epilogue for each of the couples that we have met along the series (except for Katie and Jordan who we've not seen since their own story). Yes, everyone is happy. Who is having a baby? Who is doing what now? Who is having sex before they meet for a party — oh, yeah everyone. Nothing like a family party to make you all horny. I think we could have wrapped that up with just Dage and Emma having a conversation about where everyone is ending up, etc., etc., instead of the non-stop couple by couple recap which all ended up naked. I am a fan but it starting blurring together until we got back to Janie and Zane. I came just short of flipping the pages and passing the whole section by. Enough was enough. Everyone is happy and getting lucky. Got it. Thanks.
There was a bonus epilogue that I loved but I won't tell you about. Sorry.
I loved Janie and Zane. I was a little disappointed that Kalin was relegated to a lesser importance after all these years.  Overall I loved the series and each story left with you more questions to be answered and you couldn't wait until the next book was released. The Hollywood save and the never-ending ending where my only issues with the series as a whole.
Received an ARC from the publisher in exchange for an honest review.
---
Favorite Scene:
Zane landed in a war zone; barricades, vampire special forces, so many guns pointed at him, he couldn't focus. The Realm had quickly prepared for his return. Slowly, he set Janie onto her feet and pushed her behind him.
She tapped his shoulder. "They won't shoot me."
Maybe. Maybe not.
The demons had spies in the vampire organization, and Zen had no doubt one would take the shot if possible. "Just stay back," he said, blocking her the best he could.
Barricades parted to allow Dage and Talen Kayrs to stalk his way. Fully armed and wearing combat gear, they allowed no expression to lighten their hard faces.
Zane relaxed his stance although his mind reeled. He needed to know that Sam and Logan were all right. "Where are my brothers?"
The two vampires came to a stop.
"Janie?" Talen asked.
Janie peered around Zane. "I'm fine, Dad."
"Walk this way, please," Dage said evenly.
Janie stepped to Zane's side. "I'd really rather you didn't shoot Zane."
Zane nudged her toward safety. The hulking vampires wouldn't let anybody harm her, and it was too difficult to concentrate with so many weapons pointed her way. "Go to your family."
"If I go to my family, there's a good chance you'll get shot," she muttered under her breath. "Kidnappers don't get much leniency from the Realm."
"I understand. Now go." He had to get her out of the line of fire. There hadn't been time to fully recuperate from the previous day's jumps, and today he'd already teleported three times. His strength was subpar at the moment. He focused on the king. "Where are my brothers?"
Talen stepped up. "Release my daughter."
"I'm trying to." Zane nudged her again.
She sighed. "I don't suppose Garrett or your brothers broke the news to my family?"
Doubtful. The young soldiers were all too smart to be the messengers of bad news. "No." Zane angled to the right to prevent a clean line to Janie, hoping the vampires crossed to the left. "Please get out of the line of fire." Every instinct he owned pushed him to grab her and toss her to her family, but if he moved too quickly, somebody would shoot. He couldn't risk her safety."
———
Talen growled, the sound vibrating through the tense air. "Kidnapping's your specialty, right?"
"No." Zane eyed Janie's father. At over three centuries, the soldier was in fighting shape. Incredible fighting shape. "Get your daughter to safety, and we'll talk."
"I'm not leaving you," Janie snapped.
"Now, Janie." Talen ordered.
The hair bristled down Zane's neck. "Don't yell at her." Then he gave her a small push. "Go."
Janie dug in her heels, exasperation escaping on her sigh. "Everybody calm down and listen. Dad, let's go inside and have a discussion…with Zane."
Talen's eyes morphed into a glittering gold. "Not a chance. Get inside, Janet."
Janie faltered and scanned the bristling weapons surrounding them. "We really need to talk privately."
"Okay. Go inside and wait for me," Talen said, his gaze never leaving Zane.
Zane shook his head. Talk about stubborn, and he could see where Janie got it. "Would you please go inside so I can talk to your father?"
"It's a little late for that talk, isn't it?" Janie shot back.
Talen's chin lowered. Slowly "What does that mean?"
Janie held her ground. "You can't shoot Zane if he's my mate."
"He won't be if I kill him," Talen said conversationally. "That's not a decision you're ready to make."
Zane's ears rang. "Okay. Everyone just calm down a little bit. How about I follow Janie inside, and then you can shoot me?" That way, at least he'd be able to cover he back until she reached safety.
"How about I shoot you now?" Talen growled.
Enough of this shit. "Fine. Shoot me. But first make sure Janie is covered, damn it." Zane had about had it with vampires. With the Kayrs family, actually. There were too many of them. "Get inside, Belle."
She grabbed his arm, trying to slide in front of him.
To take a bullet meant for him? Zen saw red. "Take your daughter out of the line of fire, Kayrs." He couldn't say it any plainer than that.
Talen took a step toward them.
Janie planted her feet. "I will not let you harm my mate."
God. She had to quit saying that before somebody figured out they'd actually mated and started shooting.
Talen snarled. "He's not your mate, and he won't be if I cut off his head. Please go inside, Janie."
She sighed and her shoulders went back. Oh shit. She wouldn't–
"We mated last night," Janie said clearly.
The damn earth ground to a stop. A weapon hit the pavement a yard away. Dage Kayrs's eyes widened, and Moira Kayrs gasped.
Zane sighed and focused just as a locomotive the size of Talen Kayrs tackled him midsection, throwing him ten yards and landing hard on his chest. Zane's head crashed onto the asphalt. Stars exploded behind his eyeballs, and unbearable pain cut into his brain. He tried to concentrate, to say something, when a fist plowed into his face.
Unconsciousness was a fucking blessing.
Related Posts