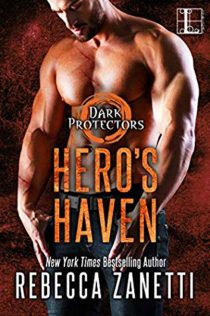 Hero's Haven (Dark Protectors #11)
by
Rebecca Zanetti

Published by
Lyrical Press
on January 21, 2020
Genres:
Paranormal/Urban Fantasy
Pages:
336
Format:
eBook



I received this book for free from in exchange for an honest review. This does not affect my opinion of the book or the content of my review.
This post contains affiliate links you can use to purchase the book. If you buy the book using that link, I will receive a small commission from the sale.

He's her darkest fantasy. . .


After years of struggling, Haven Daly has finally accepted that she's nuttier than a fruitcake. Why else would she see visions of a beautiful but tormented male every night . . . and actually believe she can talk to him, even feel his touch? But thanks to those dream journeys, she can paint images nobody else on earth can duplicate. In each brush stroke, she captures the blatant masculinity and raw desire in his eyes that promise he's coming for her…and soon.
She's the light that keeps him going. . .
Quade Kayrs has already suffered a lifetime of pain and torture. Completely isolated, he kept his sanity thanks to one beautiful female, a vision with kind emerald eyes. In the end, her soft voice led him out of hell. Now, naked and alone, he's in a strange world that bears little resemblance to the one he left behind. All he knows is Haven. All he wants is Haven. His final mission? To protect her from the evil hunting them both—whether she likes it or not . . . "Spicy romantic interplay; highly recommended." —Library Journal on Vampire's Faith

"Sizzling sex scenes and a memorable cast." —Publishers Weekly on Claimed

"A fast-paced, excitement-filled explosion of action… Zanetti keeps getting better."—RT Book Reviews on Marked, 4.5 Stars Top Pick
---
Things are heating up in more ways than one in this newest Dark Protector novel.
In prior stories we were introduced to Quade, the other Kayrs uncle who has sacrificed a millenia of his life trapped in an alternate time bubble guarding Ulric, the Kurjan leader. We learned in Vampire's Faith that when Ronan's bubble imploded, that Quade's bubble was thrown off kilter and in Demon's Mercy and Alpha's Promise that for the last few centuries in Quade-dimension-time, Quade has been living in an unstable environment being badly burned or frozen with no food or water.
We also know that Haven has been visiting Quade, whether by dimension jumping or dream visits, we weren't 100 percent sure, but we know that Haven has been drawing pictures of Quade and his realities.
As we begin Hero's Haven, just before Quade's world implodes completely, Haven dimension jumps to Quade and is able to drag him into our reality, which is even more impressive since unlike Mercy's dimension jumping, Haven does it while she is asleep and with no control.
While modern life is confusing to Quade, especially slang, I was quite surprised that after what amounts to a millenia living alone and the past few centuries of living in savage conditions as the dimension crumbled, Quade has returned here quite sane. In fact, he seemed a lot better off than Ivar was after getting caught in a dimensional vortex of sort which dragged him from one portal to another. Ivar was barely holding onto his sanity in Alpha's Promise yet Quade started off a little quiet and overwhelmed then grew more Me Tarzan as he grew in confidence in this new world.  You had to feel bad for Quade at the beginning of the story (again since he was out of touch for millenia), he had a mating mark which appeared as soon as Haven brought him here but he felt he couldn't mate her because of his role as part of the Seven, when of course he isn't aware that the rest of them tossed that rule out of the window a few years ago.
Haven is part-demon and part-fae, being one of those fae baby making experiments that went wrong and she was dumped into a human orphanage. Sadly for her, the preacher and his wife who adopted her took one look at her one black eye and one green eye and determined that she was possessed by a demon, which he felt was his calling to get it out of her. So Haven spends this story running from the preacher, who seems to have more contacts than the FBI and has had Haven on the run for years.  She is running from a shifter who insists she should be his mate.   She is also running from the Kurjans and the Cyst, who want her to retrieve their leader where he trapped between dimensions. It seems that the seven in playing with dimension bubbles had screwed something up and as these prison bubble collapsed, no one can dimension jump any longer, including the fae or the demons who could teleport like Dage.   Haven can somehow still jump in her sleep and she keeps trying to rescue fae who are trapped and she keeps getting dragged over to wherever Ulric is stuck, and he wants out so he can go about his evil plan to kill the enhanced females.
There is a lot going on in this story, including more secret headquarters being destroyed so I don't believe there are any mountain ranges left in the United States since they have all been blown up, and Quade's obsession with mint.  Can't someone please give that man a roll of lifesavers.
There is still a lot more of this story to go, including Benny, Garrett and Grace and Adare since it seems Grace's mating brand is disappearing, probably due to their unconventional mating; and don't forget we are going to need a time jump here since Hope is only seven and she will need to be grown up to participate in the ritual. The question will be whether Benny or Garrett will end up with the third key.
---
Favorite Scene:
He backed away from her. "We have soldiers after us, and I need sustenance. I'll catch game."
She shook her head. "We can find a small store, probably one without cameras, tomorrow morning. All of the nearby stores are probably closed right now."
He needed to run. Hard and fast and flat out. "That will suffice tomorrow. For now, I will hunt." He had missed hunting. In the world he'd just left, he was the prey more often than not. He moved toward the door.
"Wait. You have to wear the socks and boots I bought you. And for Pete's sake, put on a shirt and that jacket." She stood, her eyes deep pools in her pretty face. She sniffed the air again. "Also, you're very minty. I mean, I liked kissing you but did you…"
Heat climbed into his face. "I found your toothpaste."
She pressed her hands to her hips. "Did you eat the entire tube?"
Well, the first tube had been so delicious, he had figured another would not hurt. He shuffled his feet. "Maybe." It was not right that she was providing for him. He needed to provide for her. Surely he had currency somewhere in this world. "It tasted good."
She pressed her lips together as if trying not to laugh. The small gesture lifted his mood as nothing else could have. "You're not supposed to eat toothpaste, Quade. It'll upset your stomach."
"I've eaten rocks," he returned. In fact, he'd eaten things she couldn't even imagine in his quest to live. At least now he understood what he'd been living for. A better and safer world for her. "I will not eat your toothpaste if we acquire more. Just brush with it." Seemed like a good waste of something delicious, but he owed her that much at least. "For now, I will hunt and then find rocks so we can strike sparks to make a fire."
Her mouth opened and then shut quickly. "I have a lighter in my bag. That makes fire faster than rocks. Are you sure you can't wait until tomorrow morning?"
"If I wait, I'll have those clothes off you in seconds," he said, giving her honesty. "We both need space."
Her light eyebrows rose. "You're confident."
"Yes." It was good that she saw him. "I am."
Related Posts