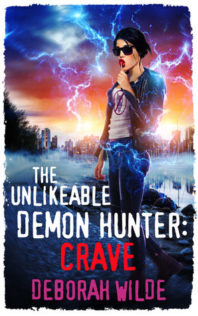 The Unlikeable Demon Hunter: Crave (Nava Katz, #4)
by
Deborah Wilde

Series:
Nava Katz #4
Published by
Te Da Media
on February 20th 2018
Genres:
Paranormal/Urban Fantasy
Pages:
438
Format:
eBook


I received this book for free from in exchange for an honest review. This does not affect my opinion of the book or the content of my review.
This post contains affiliate links you can use to purchase the book. If you buy the book using that link, I will receive a small commission from the sale.
What doesn't kill you...




seriously messes with your love life.

Nava is happily settling into her new relationship and life is all giddy joy and stolen kisses.

Except when it's assassins. Talk about a mood killer.

She and Rohan are tracking the unlikely partnership between the Brotherhood and a witch who can bind demons, but every new piece of the puzzle is leaving them with more questions than answers.

And someone doesn't appreciate them getting close to the truth.

Go figure.

On top of that, a demon known only as Candyman has unleashed a drug that's harming users in extremely disturbing ways.

After a friend of Nava's is hurt, she vows to take this demon down. But will life as she knows it survive this mission, or will this be the one time she should have looked before she leapt?

Happily-ever-after: barring death, she's got a real shot at it.
---





Things are settling down at Demon Club or are they? There might be more to Nava being the first femal Rasha and relationships are blowing up everywhere.
Nava and her twin, Ari, are about to celebrate their twenty-first birthday.   Nava would just like a simply night out with her boyfriend.  Is it too much to ask for a quiet night out dancing and drinking and getting into this whole "we are a couple" thing?
But a night on the town gives the Brotherhood's newest girlfriend/boyfriend Rasha team a new case. An old high school acquaintence of Nava's goes bizerk after taking a hit of something called "Sweet Tooth." A new designer drug to hit the club scene usually isn't something that usually calls for Rasha intervension, but it appears that this drug is using demon secretions as its base and causing people with addictive personalities to go psychotic.
Nava and Rohan are on the trail of a demon calling himself the Candyman who is leaving a trail of destruction in his wake. Nava is not only concerned for her friend, but then Nava comes to the realization that Rohan also shows the traits of addiction (first his music, then the Brotherhood, and now maybe, her?). She has to convince her Alpha Male boyfriend that he needs to allow her to handle this demon on her own since any contact with its secretions can cause Rohan to go off the deep end. It's bad enough when a regular human loses control, but someone with Rohan's training and abilities losing control can be deadly to everyone around him. That's not something he would be able to forgive himself for.
In between battling secretion throwing demons, Nava is also trying to investigate who is controlling demons; is it someone in Camp Witch or Camp Rasha?  And neither camp is excited to find Nava sticking her nose into their business.
Nava's 21st birthdayalso brings some revelations and changes to the series, and not all of them are for the better. One of them will change Nava's standing in the Brotherhood, which was not all that stable to begin with and others involved her relationships with the Brothers, Rohan and her BFF (half-goblin) Leo. I had hoped that officially declaring Rohan and Nava as boyfriend/girlfriend would end all the high school romance drama on this series but it seems Nava can't stop overthinking everything. And it isn't just Nava, her brother Ari and his BFF can't seem to make the jump and commitment into a relationship either.
I like the cast of characters and the world building in this series. Self-confident Nava rocks, but the High School romance drama is the only real downside of this series.
---
Favorite Scene:
The suite I'd reserved was perfect for my needs. I hurried to set everyting up and get myself ready.
Rohan knocked on the door sixty-one minues later.
I smoothed down my clothes about four times more than I needed to, resisting the urge to run for the bathroom and change. This was our chance to step out of being us for a night. To connect without all the other bullshit and reset things, get back to what was great about our relationship without the stress.
I opened the door, only sticking my pigtailed head out.
He held up the mask I'd gifted him with. The rest of the costume was nowhere in sight. "Whatever are you up to, Sparky?"
My heart sank at the sight of his regular clothes, but I mustered up a smile and stepped aside to let him into the short entrance hallway of our suite. "Call me Harley."
Rohan gaped at my red and blue satin short shorts with the black hip belt and T-shirt reading "Daddy's Lil' Monster." Blessings for online cosplay stores. "Harley Quinn hates Batman," he finally said.
My cheeks flamed. I toed at the ground but it didn't conveniently open to swallow me whole. "Plenty of fans ship them." I'd checked.
My boyfriend stepped back like I might infect him. "We're roleplaying fanfic? It's not canon. It's wrong. I mean really wrong. Weirder than that alternate universe with the zombie Alfred."
Save me from fanboys and screw you, buddy. I'd subsisted on Chickeny Delight to save up the cost of hotel rooms and cosplay outfits, not to mention stepped way outside my comfort zone in dressing up in the sexual foreplay miscalculation of the century. We needed this night.
I needed this night.
Except Rohan was still frowning at me. I wasn't getting this night.
"My bad." I gestured for him to head into the main part of the suite, ripping out one of my pigtails. Would it be too much to skip the glass and just stick a straw directly into the champagne bottle chilling in the stainless steel bucket over in the corner on a stand?
He did a double take at the bed's spiffy little addition of an under-the mattress restraint system. Four nylon and Velcro cuffs, one for each arm and leg, were connected with cords under the mattress. No headboard or footboard needed. "You were going to let me tie you up?"
"Yup." I slingshot a blindfold onto the bed.
"Fuck canon." He turned the Batman mask over in his hand, the stuffed it in his pocket, and poured us each a splash of champagne. "Breaking into my home? You can't get to Wayne Enterprises that easily, Dr. Quinn."
Related Posts