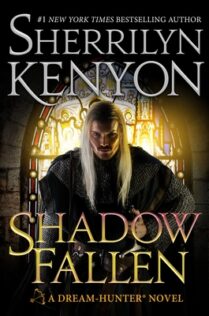 Shadow Fallen (Dream-Hunters, #6)
by
Sherrilyn Kenyon

Series:
Dream-Hunters #6
Published by
Tor Books
on April 12, 2022
Genres:
Paranormal/Urban Fantasy
Pages:
288
Format:
eBook
Source:
Netgalley



I received this book for free from Netgalley in exchange for an honest review. This does not affect my opinion of the book or the content of my review.
This post contains affiliate links you can use to purchase the book. If you buy the book using that link, I will receive a small commission from the sale.
#1 New York Times bestselling author Sherrilyn Kenyon returns with Shadow Fallen, a brand-new entry in her Dream-Hunter series.
For centuries, Ariel has fought the forces of evil. Her task was to protect the souls of innocent mortals when they die. Captured by a powerful sorceress, she is transformed into a human who has no memory of her real life or calling.
And is plunked into the middle of the Norman invasion of England.
Cursed the moment he was born with a "demonic deformity," Valteri wants nothing of this earth except to depart it and will do his duty to his king until then. When a strange noblewoman is brought before him, Valteri realizes he has met her before…in his dreams. When others come for her, bringing with them preternatural predators, he is faced with a destiny he had no idea was waiting. One he wants no part of.
The truth is that Valteri isn't just a knight of William the Conqueror. He is the son of one of the deadliest powers in existence, and if he doesn't restore Ariel to her place, she is not the only one who will be in peril. The world itself hangs in the balance, and he is the necessary key to hold back the powers of evil. But only if he can find a way to work with the woman who stands for everything in the universe he hates.
Can a wounded hero be too depressing?  Yes, yes he can.
Ariel is a Arel, an angel who accompanies warrior cut down in battle and have been chosen to fight a battle against demons.  Her job isn't to select those who die but to simply escort those souls so that demons don't try to grab them while they are vulnerable.  As an Arel, Ariel has no emotions.  She isn't sad for the dead or for those left behind.  Ariel isn't concerned when one of the souls that she takes, was the only son of a witch.  A witch who is willing to sell her soul to a demon who gives her the power to rip Ariel out of the sky and force mortality on her.  Ariel has been cursed to live a human life until she falls in love and has watch her love die in her arms.
Not only is Ariel earthbound, but with the help of the demon, she loses her memory of who she is and the curse placed upon her.
Ariel is then brought to the Norman warrior Valteri, who is now holding claim to the Saxon lands.  Not only is Valteri hated because he is a conquering Norman, but because everyone thinks he is demon spawned.  Why?  Because Valteri has bi-colored eyes...yes, that's it.  He has bi-colored eyes and for this sin, his mother named him Valteri, which mean Godless, and he was raised–read: tortured by–monks as a child, and then feared most of his adult life.  All because of his eye color!   As a warrior, being feared even before you arrive on the battlefield is, well, half the battle, but it also means that Valteri has no friends at all.  Not only does everyone fear him but anyone who had befriended him has been branded a godless, demon and tormented.   So Valteri has lead a sad and brutal life.
Ariel doesn't know who she is, but she instinctively knows that Valteri isn't demon spawn and she knows that somewhere hidden in her memories, she recognizes who Valteri's father is and it is a man she respects.  She just can't remember who it is.
Ariel and Valteri grow closer, but when Ariel finally regains her memory, she realizes her growing feelings for Valteri are going to trigger the curse and she is going to watch him die unless she can figure out how to break the spell.
I love my wounded heroes.  I really do.  When someone finally cares about them, and they are finally soooo happy, or usually they are.  But Valteri takes his lamenting a bit too far.  I understand that this guy has had a bad deal so far.  He is absolutely the nicest person.  He refuses to treats others as he has been treated, and yet his squire is the only one who sees this.  He even rescues a kitten who was tossed in a bag to die for simply being cross-eyed.  But still Ariel is the only one who doesn't look away and cross herself when he passes.  Ariel shows no fear of him and she is drawn to him right away, but all we keep hearing is Valteri's inner monologue about how the monks tortured him and abused him and…mostly, its about the monks and how his mother tossed him away.  Not that you didn't feel bad for Valteri, but after meeting some of the guest appearances in this story, Valteri should have counted himself lucky.
Thorn and Shadow are dispensed to find Ariel and while they can't break the curse, they stay to protect Ariel from the demon who is hanging around her.   Listening about their Thorn and Shadow's parents, Valteri's childhood was no big deal.  In fact, they lament to Ariel about how her parents were simply neglectful and they would have killed to simply be neglected by their parents.
What did bug me most is that the demon was hanging around so he could take  Ariel to hell once she succumbed to human desires and had sex.  Apparently, her having sex would equate to a great fall from grace.  Is that because she is a female?   Ariel's father and mother made her and they are both Arel.  Is it because she had sex with a human?  Is there no loophole where a witch makes you human and a demon steals your memory and you think you are human where she would get a pass on this great sin?  I was very bothered that Ariel had to go to eternal torture for something that most of the men in these stories are doing since there are so many bastard demi-gods on earth I am surprised there is anyone left who is plain human.  Then another big shot demon says "you don't think big enough"  and he doesn't want Ariel's soul.  He wants Ariel brought down to hell so one of the malachai can rape her and create a child of light and dark and bring about a prophecy.   Whoa, whoa, whoa.  That got real dark, real fast.
It has been a number of years since I have read Sherrilyn Kenyon and her Dark Hunter series.  So I was not very familiar with all of the major demons and heavenly beings  who were mentioned although I do remember Thorn from prior stories.   It wasn't that important to remember everyone to keep up with the story.
I definitely would have enjoyed this story so much more if Valteri could have accepted some of the good coming his way without always going right back to his lament that everyone betrays you, just look at what the monks use to do to me.   It took way to long for him to let go of that and start accepting Ariel's kindness.
Related Posts