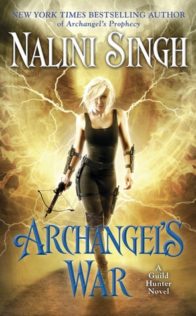 Archangel's War (Guild Hunter, #12)
by
Nalini Singh

Series:
Guild Hunter #12
Published by
Berkley
on September 24, 2019
Genres:
Paranormal/Urban Fantasy
Pages:
480
Format:
eBook



I received this book for free from in exchange for an honest review. This does not affect my opinion of the book or the content of my review.
This post contains affiliate links you can use to purchase the book. If you buy the book using that link, I will receive a small commission from the sale.
Wings of silver. Wings of blue. Mortal heart. Broken dreams. Shatter. Shatter. Shatter. A sundering. A grave. I see the end. I see. . .

The world is in chaos as the power surge of the Cascade rises to a devastating crescendo. In furiously resisting its attempts to turn Elena into a vessel for Raphael's power, Elena and her archangel are irrevocably changed. . .far beyond the prophecy of a cursed Ancient.

At the same time, violent and eerie events around the world threaten to wipe out entire populations. And in the Archangel Lijuan's former territory, an unnatural fog weaves through the land, leaving only a bone-chilling silence in its wake. Soon it becomes clear that even the archangels are not immune to this deadly evil. This time, even the combined power of the Cadre may not be enough. . .

This war could end them all.
---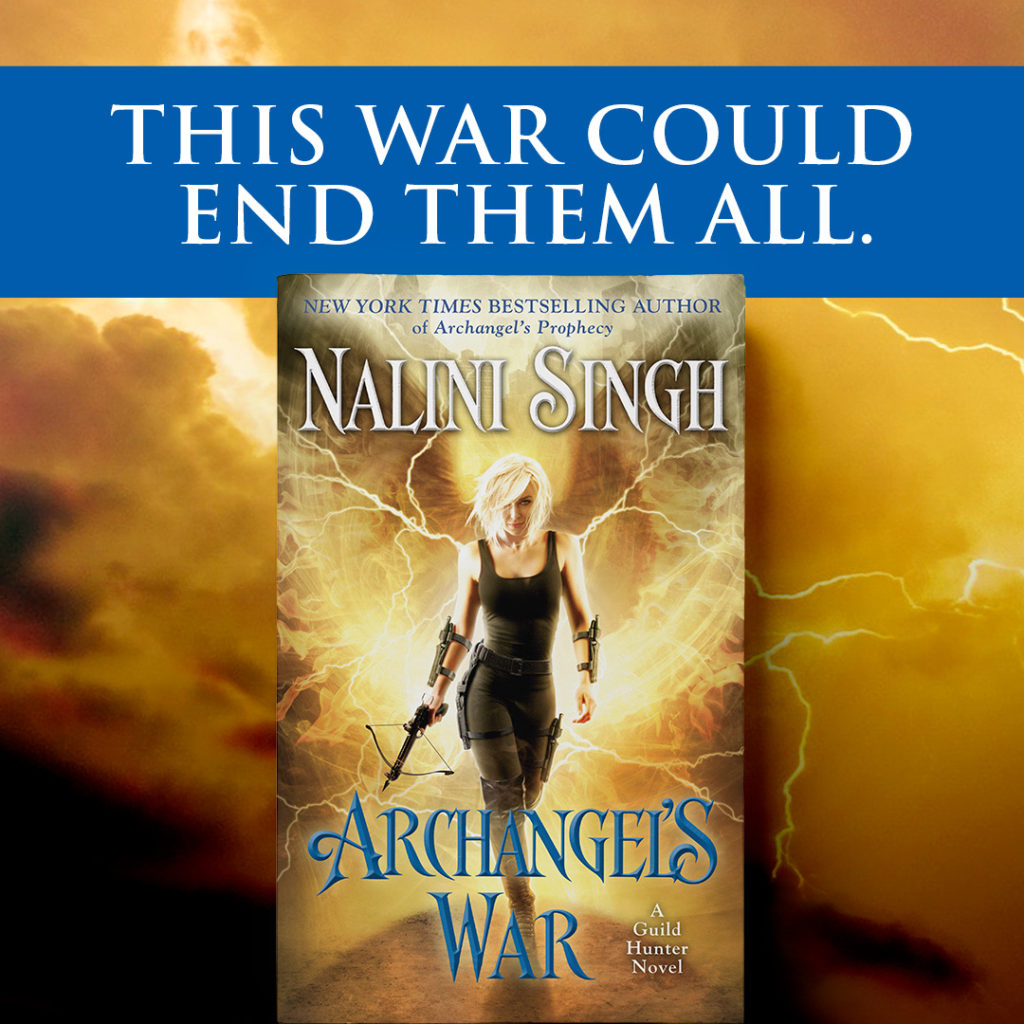 This is the only War you are ever going to be excited about. It will be bloody and brutal and Nalini Singh will make sure you love every moment of it.
Elena emerges from her cocoon looking a little worse for wear, she is nothing but skin and bones and missing her beautiful new wings. But the most important thing to Raphael and Elena is that, with or without wings, Elena is still Elena. Raphael sent out enough power to stop the cascade's attempt to make Elena nothing but a battery to store Raphael's power for the upcoming battle, and maybe it was also enough to destroy the house, but hey, it's hard to control your super-duper archangel powers sometimes.
Even reduced to skin and bones, Raphael's hunter is not down and out, and Elena is determined to be ready to fight when Lijuan strikes, even if it means battling without her beautiful wings of midnight and dawn. But the cascade is determined to create chaos and there is no chaos if one individual is too powerful, so it has more tricks in store for Elena and Raphael before the battle even begins.
The biggest problem the Cadre will have — well after the bitter and devastating re-rising of Lijuan and the bloodbath that a war with her will create — is that fact that the cascade is causing too many sleeping ancient angels to awaken too early.   Really, how many sleeping angels are there because the sleeping ones are usually a little cray-cray so waking them too early might give us another Lijuan.   Anyway, the Cadre, and the world's territories, can only sustain ten archangels.   Any more, and they will be too close to each other and their powers battling and causing catastrophes.   So now there are too many archangels around and if all survive the upcoming War, then Lijuan will be just the beginning of the problems to come.
As far as a conclusion to a story arc, Nalini Singh goes all out with this story giving us a devastating battle against evil on many, many fronts.   Lijuan has always been, well, crazy yeah but also a brilliant and sneaky strategist and brutal, even to her own people.   This war will be ugly and drawn out, like most wars are, it will also be bloody and devastating.   Casualties will be high and no matter the winners and losers, it will take the world a long, long time to overcome the devastation and horror that will come.  While Nalini drags our feelings out and stomps all over them with each battle, no war, even in fiction, should be clean and easy. And in Archangel's War, she doesn't spare our feelings or favorite characters the devastation and trauma since every character we have met so far is a strong individual and fighter, whether an archangel or a newly turned vamp, and most will be right on the front lines of this battle royal.
This was a phenomenal conclusion to the series arc, and as Nalini has proven with her Psy-Changeling series, the end of an arc is by no means the end of the series.  I have no idea where the series will go from here, but I am certain that we will enjoy each and every story she brings us next.
---
Favorite Scene:
SPOILERS!
When they did walk inside and down to the infirmary level, it was to run into Dmitri.  He took one look at her and shook his head. "Don't scorch the walls."
Striding over, Elena hauled down his head and kissed him hard on the lips. "Today, even you can't annoy me," she said into his stunned face before releasing him.
A laugh sounded from not far down the corridor, where Dmitri's wife had just emerged from Lucius's office. Honor's eyes were dancing. Dmitri, meanwhile, was looking at Elena in utter horror. "We will never speak of this again," he said. "Ever."
"I think he could use a hug," Elena said to Honor.
"You two are awful together and I love you both. And your wings are a showstopper." With that, Honor walked over to console her scowling husband.
Raphael meanwhile, was wearing a suspiciously bland expression.
Elena Jerked up her head as they continued on down the corridor. "What?"
"I have never seen that look on Dmitri's face in all my life. I also cannot wait to see the look on your face when it sinks in that you kissed Dmitri."
"All worth it." Full of sunshine and sparkles and freaking puppy dogs, Elena all but skipped into Nisia's Office.
Related Posts