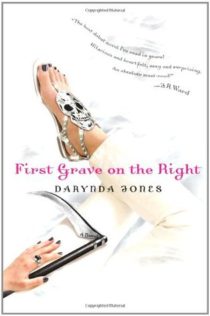 First Grave on the Right (Charley Davidson, #1)
by
Darynda Jones

Series:
Charley Davidson #1
Published by
St. Martin's Press
on February 1st 2011
Genres:
Paranormal/Urban Fantasy
Pages:
310
Format:
Audiobook
Narrator:
Lorelei King
Length:
8 hrs 58 min



This post contains affiliate links you can use to purchase the book. If you buy the book using that link, I will receive a small commission from the sale.
---
I hesitated on this Urban Fantasy series since the main character, Charley Davidson, is a grim reaper. I had thoughts of a cloak and sickle and couldn't imagine why everyone thought it was so entertaining. After about a dozen glowing recommendations, I downloaded an audible copy and have to agree with those reviews.   Charley is snarky, witty and delightful.
Charley Davidson is a grim reaper, not the cloak and sickle kind of grim reaper, but he does show up from time to time during Charley's life to save her.  Spirits can pass through her to heaven. This creates a very interesting continuing story premise for the series. Some spirits come to her after they die and she either assists them to cross-over or she assists them in solving their own murder. Charley is a Private Investigator. She also works with the New Mexico Police Department, first with her Dad (who is now retired), and now with her Uncle Bob (she refers to him as Ubie).
In Book #1, Charley is approached by three dead lawyers from the same law firm who were all killed execution style at about the same time in different locations. They all find their way to her at about the time her Uncle Bob calls her to the crime scene. Uncle Bob knows Charley can see ghosts, but she hasn't given him all her secrets, like that she is a grim reaper. She learned the painful truth as a child that not everyone believes and not everyone wants to know about the spirits wandering around.
Charley has a few spirits who hang around her including her dead aunt, the old man down the hall who keeps trying to peep at her in the shower, and Mr. Wong who stands (or more appropriately floats) in the corner of her apartment and who so far hasn't moved or spoken since he showed up there. There is also Angel, a 13 year old gang banger who was killed years ago and who works with Charley as part of her P.I. investigations.  She sends the money he would have earned anonymously to his mom.
There are two men in her life currently. Garret is a skip tracer who also works with Charley's Uncle Bob on his cases. They have a bit of antagonistic relationship. Garret has only learned recently from a drunk Uncle Bob that Charley sees ghosts and he is not a believer. Although Garret seems angry and annoyed with Charley, there is also that feeling that he is very attracted to her. At one point in the story, it looked like Garret was moving in for a kiss, and was shoved back by a presence, which brings us to guy number 2.
When the story starts, Charley has been having someone invade her dreams for the last month. Dream lover brings a night of erotic pleasures to Charley. She can tell he is not someone who is dead, but she is uncertain if he is all her imagination. We come to learn that dream lover has a name–Reyes Farrow. Charley knows Reyes from her teenage years and never forgot the young man with the mesmerizing eyes.
While investigating the murder of the lawyers, Charley also searches out Reyes Farrow and finally locates him, in a coma, where he has been for the last month. That explains why he has been coming into her dreams for the last month, but not how he has that ability. If you go read synopsis for the next few books, you learn like I did more information about Reyes Farrow that you won't get until the very end of this story. So if you like surprises, don't do that! By peeking that the descriptions for the other books, I saw that Reyes will be an important and continuing character. Since he has supernatural powers of his own and doesn't like Garret sniffing around Charley, I think this love-triangle will definitely be kicking Garret to the curb.
Like most Urban Fantasies, Charley keeps getting herself in positions where she gets her ass kicked and spends most of her time bruised and bloody, but not dead — enter the cloaked grim reaper who shows up whenever Charley is in serious trouble and usually slices the spine of the threat to Charley and has been doing this since she was a child.
THOUGHTS:
Despite my initial hesitation, I did enjoy the fluid writing which kept the action going and I can see the premise of this series leading to many, many interesting story lines.  Charley is a delightful heroine and Reyes has enough dark, mysterious sexiness that we want to see more and more of him.
The only flaw here was the fact that it was a first book of the series and we did have a few slowish parts where we are learning all the back stories on Charley and laying down the foundation for the series.  While the stories were enjoyable, it did draw you away from all the other happenings which were finding out about the lawyers and getting more details on Reyes and his coma.
My other only issue, which was not the fault of the author, was the fact that Lorelei King also narrates the Mercy Thompson series and several times I had to remind myself that this was not a Mercy Thompson story.
The other problem with audiobooks is that I found out I was spelling the names wrong.  I hopefully have fixed all my Charlie's to Charley and I thought her uncle was called U.B. for Uncle Bob, but it is in the books as Ubie.  I apologize for any misspellings. 🙁
I will definitely be picking up Book #2, but I have several review downloads that I have to listen to first.
---
Favorite Scene:
As many times as I've seen dead people appear out of no where, you'd think I'd be used to it. "Holy crap, Sussman. I wish you guys would learn to knock."
"Incorporeal being," giving attitude.
I stepped out of the shower and grabbed a squirt bottle from my vanity. "You set one foot in this bathroom and I will melt your face with my transcendental pest repellent."
His eyes widened. "Seriously?"
"No," I said, my shoulders deflating. I had a really hard time lying to the departed. "It's just water. But don't tell Mr. Haversham, the guy in 2B. This bottle is the only thing that keeps that dirty old man out of my bathroom."
Sussman's brows arched as he scanned my lack of attire. "Can't say that I blame him."
I glowered and swung open the door, pulling it through his face and disorienting him. He put one hand on his forehead and one on the door jam to ride out the dizzy spell. Newbies were so easy. After giving him a second to get his bearings, I pointed to the sign tacked on the outside of my bathroom door.
"Memorize it." I ordered and then slammed the door shut again.
"NO DEAD PEOPLE BEYOND THIS DOOR," he read aloud from beyond the door. "AND YES, IF YOU SUDDENLY HAVE THE ABILITY TO WALK THROUGH WALLS, YOU ARE DEAD. YOU'RE NOT LYING SOMEWHERE IN A DRAINAGE DITCH WAITING TO WAKE UP. GET OVER IT AND STAY THE HELL OUT OF MY BATHROOM."
He stuck his head through the door again. "That's a bit harsh don't you think?"
My sign may have seemed a tad brutal to the untrained eye but it usually got my message across — unless it was Mr. Haversham. Him, I had to threaten. Often. Even with the sign, I tended to wash my hair like the apartment was on fire. Dead people standing in the shower with me after the rinse cycle was a bit much. You're never quite the same after a shotgun blast to the head pops in for tea and a sauna.
---
BONUS SCENE:
Good. He seemed to be doing better.
He turned thoughtful a moment, and then asked, "In the meantime, can I jump in your body and make out with my wife through you?"
I fought a grin. "It doesn't really work that way."
"Then can you just make out with my wife and pretend I'm in your body?"
"No."
"I can pay. I have money."
"How much we talking?"
Related Posts