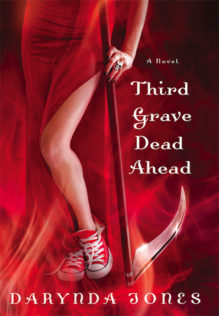 Third Grave Dead Ahead (Charley Davidson, #3)
by
Darynda Jones

Series:
Charley Davidson #3
Published by
St. Martin's Press
on January 31st 2012
Genres:
Mystery
,
Paranormal/Urban Fantasy
Pages:
310
Format:
Audiobook
Narrator:
Lorelei King
Length:
9 hrs 51 min



This post contains affiliate links you can use to purchase the book. If you buy the book using that link, I will receive a small commission from the sale.
---
[box style="rounded" border="full"]Charley hasn't slept for three weeks. Every time she falls asleep, she draws an incorporeal and very pissed off Reyes to her. Hot, angry dream sex with Reyes, most of us would be taking sleeping pills.[/box]
Charley Davidson is a private investigator and grim reaper. She can speak to the departed, which makes solving their deaths so much easier. Charley sometimes works with Uncle Bob, a detective with the Albuquerque Police Department to solve crimes.
NOTE: There might be small spoilers here on the emerging relationship between Charley and Reyes since the last book. You've been warned.
Charley Davidson has a hard time staying focused on a normal day, but she hasn't slept for three weeks. Sucking down obscene amounts of mocha lattes has helped, but even a supernatural being needs to sleep occasionally. Except every time she falls asleep she calls Reyes to her dreams. What woman wouldn't want to dream about hot sex with Reyes? The one he is truly pissed off at, that's who. To save Reyes from his suicide mission, Charley has bound Reyes's incorporeal spirit to his corporeal body and he is one pissed off son of satan. He wants her to unbind him, but Charley doesn't know how.
In the real world, the newly returned to prison, Reyes Farrow, has escaped once again. He believes the man he was sent to prison for killing is actually alive. Reyes wants Charley to help him find Earl Walker. Everyone is trailing Charley again waiting to see if Reyes contacts her and yet they can't keep Charley from finding trouble.
Charley gets caught by the biker gang who have taken over the abandoned insane asylum when she tries to sneak in to visit Rocket. They make her a deal. They won't hurt her if she can help to figure out who has been killing their guard dogs.
The on-line psychic Mistress Marigold finally tracks Charley down and she's nothing like Charley expected.   She has an unbelievable source of information that floors even the grim reaper.
Charley is also still hurt and angry with her father for setting her up as bait for a killer without so much as a warning. Everyone keeps insisting that she needs to go see him and even though she knows that something is wrong, she is not ready to put aside her hurt feelings.
Meanwhile, Garret has a case for her. A doctor's wife is missing and he needs Charley's help finding her. Except, Charley is pretty sure the good doctor knows more about his wife's disappearance than he is letting on. She has no problem letting him believe she understands his plight, while she goes out to investigate him further.
THOUGHTS:
Still loving this series. The only thing which didn't make sense is the fact that Reyes keeps threatening Charley or her family and friends to get Charley to cooperate and Charley seems to not trust Reyes in the flesh. They have been all over each other incorporeally for months now. They talk all the time.  They might be having their first real fight, but it is unbelievable that Charley wouldn't be there to help Reyes without the threats of violence and sadly, it comes off that she seems to believe he would hurt her. This seems to go against the characters and the relationship they developed. Faking threats of violence so the police don't believe she is an accomplice to his escape is one thing, but watching the distrust just felt false.
Normally Charley is what you would politely term "ditzy" but add in a lack of sleep and she takes it to a whole other level in this book.
---
Favorite Scene:
"Oh, my god!" I said, throwing my hands over my eyes and hurtling my body against the counter.
"What?"
"You're naked."
"I'm not naked."
"I'm blind."
"You're not blind. I'm wearing pants."
"Oh." That was embarrassing.
He shifted his stance in impatience. "Would you like me to put on a shirt?"
"Too late. Scarred for life." I had to tease him a little. He was so grouching at four thirty in the morning. I went back to scouring his cabinets."
"Seriously, what are you looking for?"
"Painkillers," I said, feeling my way past a military-issue canteen and a package of Oreos. Oreos just happened to fall under the category of brown edibles. I popped one in my mouth and continued my noble quest.
"You came all the way over here for painkillers?"
I gave him a second once-over while crunching. Other than the bullet wounds he now sported on his chest and shoulder from when I almost got him killed a couple weeks ago, he had good skin, healthy eyelashes, six-pack abs. Cookie may have been on to something. "No, I came over here to talk to you," I said, swallowing hard. "I just happen to need painkillers at this moment in time. They in the bathroom?" I headed that way.
"I ran out," he said, blocking my path, clearly hiding something.
"But you're a bond enforcement agent."
His brows snapped together. "What the hell does that mean?"
"Come on, Swopes," I said, my voice sharp with accusation, "I know you track down drug dealers when you're not watching Debbie Does Dallas. You have access to all kinds of drugs. You can't tell me you don't pocket a little crack here, a few prescription-strength Motrin there."
After scrubbing his face with his fingers, he strolled to a small dining room table, pulled out a chair and sat down. "Isn't your sister a psychiatrist?"
I stepped into his bedroom and switched on the light. Besides the rumpled bed and clothes strewn about the room, it wasn't bad. I hit the dresser first.
"Actually, I"m glad you're here," Garrett called out. "I might have a case for you."
That was exactly why I'd come over, but he didn't need to know that. "I'm not cleaning out your truck in search of some mysteriously lost object again, Swopes. I caught on."
"No, a real case," he said, a smile in his voice, "through a friend of a friend. Seems this guy's wife went missing about a week ago and he's looking for a good PI."
"So why send him to me?" I asked, stumped.
"Are you finished in there?"
I'd just gone through his nightstands and was headed for the medicine cabinet in his bathroom. "Just about. Your choice of porn is more eclectic than I thought it would be."
"He's a doctor."
"Who's a doctor?" Nothing to use in his medicine cabinet. Absolutely nothing. Unless nondrowsy allergy medication could be considered a painkiller.
"The guy whose wife is missing."
"Oh, right."
Who on plant Earth didn't have aspirin in the house? My head ached, for heaven's sake. I'd nodded off on the way over to Garrett's place and veered into oncoming traffic. The honking horns and flashing lights had me believing I'd been abducted by aliens. Thank goodness a well-placed telephone pole put a stop to that nonsense. I needed stronger coffee to keep me awake. Or maybe something else entirely. Something industrial.
I peeked around the door and asked, "Do you keep syringes of adrenaline on hand?"
"There are special programs for people like you."
In a moment of sheer terror, I realized I couldn't feel my brain. It was just there a minute ago. Maybe I really was dead. "Do I look dead to you?"
"Does your sister have an after-hours emergency number?"
Related Posts