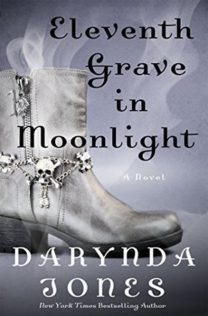 Eleventh Grave in Moonlight (Charley Davidson, #11)
by
Darynda Jones

Series:
Charley Davidson #11
Published by
St. Martin's Griffin
on January 24th 2017
Genres:
Paranormal/Urban Fantasy
Pages:
352
Format:
Hardcover



I received this book for free from in exchange for an honest review. This does not affect my opinion of the book or the content of my review.
This post contains affiliate links you can use to purchase the book. If you buy the book using that link, I will receive a small commission from the sale.
A typical day in the life of Charley Davidson involves cheating husbands, missing people, errant wives, philandering business owners, and oh yeah...demons, hell hounds, evil gods, and dead people. Lots and lots of dead people. As a part time Private Investigator and full-time Grim Reaper, Charley has to balance the good, the bad, the undead, and those who want her dead. In this eleventh installment, Charley is learning to make peace with the fact that she is a goddess with all kinds of power and that her own daughter has been born to save the world from total destruction. But the forces of hell are determined to see Charley banished forever to the darkest corners of another dimension. With the son of Satan himself as her husband and world-rocking lover, maybe Charley can find a way to have her happily ever after after all.
---



I miss the original storyline of this series which focused on Charley the grim reaper and P.I.  I am not so excited about the plotlines recently.
I miss the simpler stories where Charley used her ability to see the dead to solve investigations. I still hate the premise of leaving her baby to be raised by Reyes's human birth parents. They might be surrounded by guards but it is not the same thing as having her supernatural parents raise her.  Also, since the focus of the series is shifting, we are missing a lot of favorite characters in this story. Rocket wasn't part of this one at all, and Strawberry Shortcake, Garret, Osh and Artemis barely make it in.
In Eleventh Grave, Charley is being watched by angels. It seems when you threaten to overthrow God in his own dimension, he takes that personally. So currently Charley is on God's shit list, Satan's and an evil God who escaped a hell dimension. She promised to remove the evil gods for the archangel Michael. She trapped one in the gods glass but one is still on the loose and not to mention the fact that Reyes was created out of the third.
Reyes decides that it is important to focus on training Charley to use her god powers which is about time. He also tries to get her to understand that she cannot be killed by anyone but another god. She has to revise her thinking if she is going to stand against another god, one who knows and understands his powers and limitations better than Charley does.
Charley is also busy investigating the Fosters, who abducted Reyes as a child and sold him to Earl Walker. The Fosters have an ability to see just enough into the supernatural world to make them dangerous and it seems Reyes wasn't the only child they abducted over the years.
I wish there was some way to get back to the original story of Charley but you can never go back to the simple.  Charley is still her wacky, OCD self most of the time, but it just isn't the same.
There were inconsistencies to the story now such as Reyes teaching Charley about her superpowers, but she still manages to get her human ass handed to her by bad guys, and in the last book she and Reyes swear to always tell each other the whole truth, so why does it look like Reyes is still holding back info about himself and his past.  I think I understand where Darynda Jones is going with the ending of this story, but it left me feeling "did anyone really think that was a good idea?"
---
Favorite Scene:
Cookie finally picked up on the twelve-hundredth ring, panting and out of breath.
"Are you getting a quickie at the office again?" I asked, climbing into Misery, my cherry red Jeep Wrangler.
"No, Charley, I have never gotten a quickie at the office. I was trying to put paper in the copier."
I did not even want to know why that would have her so out of breath.
"It's acting up again."
I turned Misery's engine over, put her in reverse, and sped out of there, all the while keeping an eye on the celestial being keeping an eye on me. It was all very cyclical.
"Did you check the carburetor?"
"I don't think copiers have carburetors."
"Did you check to see if it had one? Maybe you need to be on top of these things instead of judging others."
"You're absolutely right. I apologize."
She didn't mean it. I could tell.
Once out of his sight, the tension in my lungs eased, thought just barely. "So, I have bad news."
"Uh-oh."
"I'm going to have to let you go."
"Did we lose money on a case again?"
"This one was not my fault. I was attacked. And I hate cheap toothpaste, so it's either let you go or buy cheap toothpaste. Sorry, hon."
"That's okay."
"Of course, at the rate I'm going, I might need to find a new job as well. Or go back to my old one. My former pimp said he'd hold my corner for me should I ever go back to him."
"Aw, that's so sweet."
"Actually, I think his exact words were, 'if you ever come crawling back to me like the ungrateful bitch you are.'"
"Well, still, it's the thought that counts."
"Right?"
"So?" she asked.
"So?" I asked back.
"How'd it go?"
"Not horridly, if that's what you're implying. But I didn't get to say goodbye to Alexander Skarsgard."
"Don't tell me. A chair?"
"No."
"An end table?"
"No."
"A floor lamp with really nice curves."
"A couch."
"Ah."
"Seriously, Cook, if stealing weren't illegal, I would've taken him home with me. And slept on him. And possibly licked him." Parting was such sweet sorrow.
"Well, you've licked worse."
"Why? What gave you heard?"
Related Posts