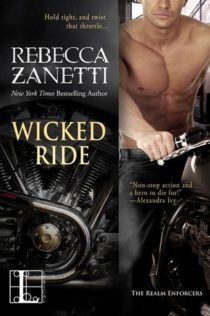 Wicked Ride (Realm Enforcers, #1)
by
Rebecca Zanetti

Series:
Realm Enforcers #1
Published by
Lyrical Press
on June 23rd 2015
Genres:
Paranormal/Urban Fantasy
Pages:
282
Format:
eBook


I received this book for free from in exchange for an honest review. This does not affect my opinion of the book or the content of my review.
This post contains affiliate links you can use to purchase the book. If you buy the book using that link, I will receive a small commission from the sale.
---



[box style="rounded" border="full"]Rebecca Zanetti's new series creates a new exciting story with new characters and yet includes the comfort of old characters and blends in some open storylines from her Dark Protectors series. It is a perfect blend of old and new. [/box]
Kellach, Daire, and Adam Dunne are Enforcers for the Coven Nine. They have been sent to Seattle, Washington by the witches' council to track down a new drug that is hitting the streets called Apollo. This new drug uses a mineral called Phenakite as its main ingredient. Phenakite is dangerous to witches doing anything from negating powers to causing death. Someone is in Seattle feeding this drugs to humans and giving them witch-like powers. At least until the drugs causes their internal organs to burn away. Someone is selling it to humans, but there is no question that this is more of a test zone. The drugs are killing humans so it has no purpose as a new designer drug. Ultimately, it will be brought to Ireland to be used against the witches. The question is why?
The war is over. The vampires, shifters, kurjans, demons and witches have all agreed on a truce, but is someone still working against the Realm or is this more personal a vendetta against the witches?
The Dunnes have gone undercover with the Titans of Fire Motorcycle Club. The Titan are known drug distributors and Kellach and his brothers are hoping that they can get a lead on the distributor and manufacturer of Apollo. Unfortunately, hanging with known drug dealers brings you to the attention of the local police. Detective Alexandra Monzelle and her partner are also trying to get Apollo off the streets. Alexandra has her eye on these new Irish Titans. She wants to know if they are here from Ireland to exchange guns for drugs.
Kellach wants Alexandra to understand that they are on the same side trying to get rid of Apollo, but he can't exactly tell her that he's an Enforcer for the witches' council. The sparks are flying between them, but Alexandra doesn't trust Kellach. She believes he is part of the drug ring and is smuggling guns that throw fire and plasma balls.
He has to find out who is manufacturing Apollo, first to keep the witches safe and then to gain the trust of the human cop that is becoming much too important to Kell.
THOUGHTS:
This was a great blend of old and new. Anyone who has read the Dark Protectors series is already well versed on all the world building. We also had special guest appearances from favorite characters. Dage, the King of the Realm, shows up. He is dropping off his nephew Garrett and Zane's brother, Logan. Now that the war is over Garrett and Logan are getting into trouble with women and Dage hopes they can learn a little about undercover work from the Enforcers. Plus it keeps the boys busy and the King informed about what's going on.
We also spend time with Simone Brighston, from the Coven Nine, who we have met in prior books and we also meet up with demon Nicholas Veis, who with help of Zane rescued Simone in Marked. They have a complicated past but there were definitely sparks flying when they were in a room together, and maybe a few punches. Hopefully they will get a story somewhere down the road.
Now that the Dark Protector series is over and so is the war, the Realm Enforcers is picking up with a completely new storyline involving the drug Apollo that someone has created to use against the witches. We have a new cast of characters in the form of the Dunne brothers and cousins, and there are a lot of them so that there will be plenty of future stories to keep us all happy.
I liked the story and the plot brings a new twist and new characters to the familiar world. I am looking forward to more.
Received an ARC from the publisher in exchange for an honest review.
---
Favorite Scene:
Kell finished tossing items on the drugstore counter, fighting the urge to hit something. Fucking condoms. He was an immortal witch who couldn't contract a disease, and he'd never worn rubber over his cock. It had taken him precious minutes to figure out what kind to buy, and he'd felt like a dumbass reading the back of the packages. Thank god there were extra-larges.
A chipper teenager popped purple bubblegum behind the counter. humming softly and not seeming to give a shit that he was buying condoms. Her pink nails tapped easily on the old-fashioned cash register as she range up condoms, gum, shampoo, and a six-pack of beer.
He'd only need the condoms but felt as if he had to buy something else.
The outside door opened. Hair stood upon the back of his neck, and tension spiraled through the oxygen.
Damn it all to hell.
Bear stopped at the doorway, one eyebrow raised. His bushy hair curled over his shoulders, reaching his battered cut. His ripped jeans were so old as to almost be threadbare, and his dinged boots had seen better days. He glanced around the store, his gaze returned to the counter and Kell's purchases.
His bear-like snort echoed against the rack of potato chips.
Kell kept his gaze on Bear while the cashier bagged his purchases. He slid a hundred across the counter. "Keep it." Without looking back, he grabbed his bag and sauntered toward Bear. "You lookin' for me?"
Amusement sill lit Bear's brown eyes. "No."
Kell brushed by him and shoved open the door, his boots echoing hollowly on the worn wooden steps.
Bear followed Kell outside into the windy day. "Saw your bike and wondered why you were in my territory."
Kell paused and turned around to face Bear completely. Mild irritation filtered through him, and he settled his stance, banishing any embarrassment in the hope of a good brawl. He'd never gone head to head with a bear shifter, so maybe it was time. "Thought we were welcome here."
"You are, but some warning would be, ah, polite." A rare grin split Bear's rugged face, and he tipped his head toward the brown bag. "Although, considering I own the store, I do appreciate the sale. I hope you bought the ribbed ones for her pleasure."
"You're about to get hit the face, Bear," Kell said slowly, appreciation lighting his veins.
Bear pursed his lips. "Might be fun. Wanna go a round?"
Kell lifted a shoulder. "We could. You ever fought a witch."
Bear rubbed his scruffy chin. "Hmm. No, I don't believe I have. You ever grappled with a shifter?"
"Wolf and cat, yes. Bear…no." Kell eyed the massive shifter. "Could be fun."
"Yes." Bear sighed and relaxed his stance. "I'm kinda busy right now, though."
Kell nodded. "Me too. Maybe next time?"
Related Posts