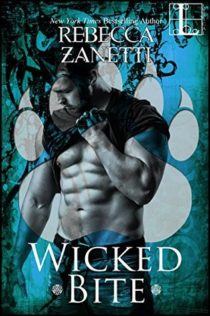 Wicked Bite (Realm Enforcers, #5)
by
Rebecca Zanetti

Series:
Realm Enforcers #5
Published by
Lyrical Press
on August 1st 2017
Genres:
Paranormal/Urban Fantasy
Pages:
291
Format:
eBook



I received this book for free from in exchange for an honest review. This does not affect my opinion of the book or the content of my review.
This post contains affiliate links you can use to purchase the book. If you buy the book using that link, I will receive a small commission from the sale.
If you love the Dark Protectors, these wicked hot Realm Enforcers are for you!

As she hunts for a drug lord killing her fellow witches, all Tessa Lansa's instincts point to the Grizzly motorcycle club. That might be because their leader, Bear, is the strong, silent shifter type: warm brown eyes and more muscle and alpha male than any woman can ignore. Which makes Tessa's plan to seduce and betray him all the more dangerous . . .

Bear doesn't trust the curvy, blue-eyed witch. But Tessa can heal the injuries that sap his strength. And since he can't stop thinking of her lush body and teasing smile, her plan to mate him to reclaim her own power is highly tempting. Just one problem. Once a desire this wild is loose, no one will ever control it . .
---




[box style="rounded" border="full"]I am loving the bears this year![/box]
This is definitely my favorite story of the series and not just because we finally have an answer about who is making the drug and why.  The connection between Nessa and Bear make this story wonderful. It is funny that my favorite stories so far this year include bear shifters and they couldn't be more different. Valentin (Silver Silence) was laid back and sweet while Bear was more the grizzly shifter being all cranky and gruff but both have ranking high with me.
The Enforcers had to return to Ireland after the happenings in Wicked Burn and Wicked Kiss. Former councilwoman from the Coven 9, Nessa Lansa arrived in Seattle to take up the investigation. She also agreed to help her friend Simone and check on her half-brother Bear McDunphey and help him heal from his unfortunate shifting incident which bear subjected himself to save his sister in Wicked Burn. Shifters can only shift into one form but with one parent a bear shifter and one parent a dragon shifter, Bear sought his inner dragon and protected Simone. Now the damage which has been done is soul deep and try as he might, his shifter ability can't seem to heal the damage.
Nessa is rare among her witch brethren. She can't create fire. Her ability is to heal. She is willing to heal Bear, but she wants something in return. She hopes that if she mates with Bear, his dragon half might help her gain the ability to create fire like the other witches and she will be able to protect herself.
Bear agrees to help her track down the Apollo manufacturer in exchange for healing him, but he isn't interested in mating, especially not to a witch.  Bear agrees to introduce Nessa to his brother, a full-blooded dragon, and maybe she can convince him mate with her.  After meeting the grouchy bear shifter in person, Nessa starts to realize that her plan sounded better in theory and does her best to try to heal Bear.
But, as expected, their attraction quickly grows and as Bear begins to feel more like himself, he decides he doesn't want Nessa to mate with anyone else.  Now, he just has to convince her that mating would be the best thing for both of them.
Grouchy and domineering as Bear is, he and Nessa are sort of sweet together which completely makes the story.
We do finally get some answers in this story so it is bitter sweet.  Yet it makes me think what the hell were those "investigators" doing for the last four stories where they really had nothing to show for the months they were here investigating.  A lot of shutting down distribution lines, but no one ever knew anything.  The drugs were being manufactured and were ready to ship out so the witches didn't really get anywhere.
I also find that I am going to miss Garret and Logan the most as this series and the Dark Protectors have come to an end.  The next generation are all grown up and these two make a hell of a team of soldiers and fun trouble makers.  Maybe it is time for their own spinoff series since they have made allies in all the factions.
---
Favorite Scene:
He reached for her and looked beyond her to see a taxi waiting at the end of the Grizzly private road. A growl ripped from his chest. "What the fuck are you doing?"
Her chin snapped up. "I have to be somewhere." Then she turned on her stylish and snow-covered boots.
He grabbed her arm and spun her around. "Excuse me?" Steam poured out of his breath.
Her blue eyes glittered. "I'm sorry, but there isn't time for this. I'll call you when I can."
There was hurt behind his anger, and that pissed him off even more. "You're not going anywhere," he bellowed over the storm.
She drew in air. "I donna' want to fight you." In her pretty pink suit with her little boots, she looked as dangerous as a baby bunny he'd once had for a pet. "But I will. Just back off, bear."
How could she leave like this? He yanked her bag off her arm and stomped toward the taxi. She followed, but his stride was much longer.
The taxi driver rolled down his window. Bear flashed his canines. "Go. Now."
The driver's dark eyes widened, and he jerked the cab into gear. Without rolling up his window, he sped off, sliding on the icy road.
"Damn it, Bear," Nessa yelled, throwing up her hands.
He turned on her.
She took a step back.
"Too late, baby," he snapped. "Now explain yourself."
Fury rippled red across her high cheekbones to match her pink nose. "I have to go." Desperation lit her words and gave him pause.
"Why?" he thundered.
She looked down the very empty main road, and her shoulders slumped. "George has my uncle. He'll kill Boon if I don't show up in LA by tomorrow night."
Bear's temper cooled. Slightly. "You're being blackmailed?"
"Aye."
"Why didn't you tell me?" He gestured toward the snowy road. "Why just leave?"
"I didn't think you'd let me go," she mumbled, her face pale in the snowy day.
He sighed. "Does this kind of thing happen often?" Damn witches.
She shrugged. "Often enough."
His leg tingled. So she was throwing herself into danger to save her uncle–and she still lacked the ability to create fire. Oh, she could fight, but size mattered, and she didn't have it. At some point, some asshole with a dart was going to hit her, and she'd be gone. He couldn't let that happen. "Is it possible that your healing attempts are temporary? I mean, on me?"
"I donna' know," she said. "It's possible. You really harmed yourself."
He looked down the now vacant road to the city. His mind spun. His only chance for survival might hinge on actually mating her–which was what she'd wanted from the beginning. "You want the ability to throw fire so you can defend yourself."
"So I can fight." She nodded, looking incredibly delicate standing in the angry snowstorm. "I could really use it."
His chest heaved. Oh, this was crazy. "If you're mated to me, then George Flanders has no reason to keep your uncle." That didn't man Flanders wouldn't harm Boondock, but the bounty for Nessa's kidnapping would cease to exist. This was beyond insane. Nothing in Bear wanted Ness to mate his brother. He didn't want to examine why, but he wasn't that clueless. He wanted her for himself. At least for now. "Do you still want to mate me?"
Snow fell on her pert nose, but she ignored it. "Aye."
She faltered, sticking her hands in her jacket pockets. "With conditions."
The animal in him rose up, quickly pushing logic aside. "No conditions." The blood pounded through his veins. She needed fire, and he needed to heal completely. Matings for convenience had been part of their cultures for centuries. But this was more. Her scent. Her mind. Her spirit. She called to him, and he was tired of denying it. "The only thing I agree to is a mating. Right now." The rest he'd figure out later.
His body tensed in anticipation, and the bear inside him roared awake.
Like a doe who's caught in a predator's scent, she stilled. Completely. "All right."
His vision narrowed to her–only her. "Do you understand what's entailed in a shifter mating? We're not like witches."
Arrogance firmed her chin. "You have the same working parts, Bear. Come on."
"I'm a fuckin' animal, baby." She had to know what she was agreeing to. "We don't nip your skin and soften it with a kiss. We bite. Really bite." He'd seen a shifter lose a shoulder after a mating. Sure, it had eventually grown back, but still.
"I understand." She faltered. "So. Well. All right. The cabin?"
"No." his voice dropped to a hoarse rasp. It was decided then. "Run."
Related Posts