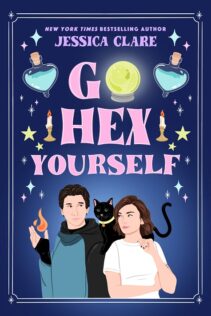 Go Hex Yourself
by
Jessica Clare

Published by
Berkley Books
on April 19, 2022
Genres:
Paranormal/Urban Fantasy
Pages:
384
Format:
eBook
Source:
Netgalley



I received this book for free from Netgalley in exchange for an honest review. This does not affect my opinion of the book or the content of my review.
This post contains affiliate links you can use to purchase the book. If you buy the book using that link, I will receive a small commission from the sale.
One of Amazon's Best Romances of April!
It's one hex of an attraction in this romantic comedy from New York Times bestselling author Jessica Clare.
When Reggie Johnson answers a job ad in the paper, she's astonished to find that she's not applying to work at her favorite card game, Spellcraft: The Magicking. Instead, she's applying to be an actual familiar for an actual witch. As in, real magic.
The new job has a few perks - great room and board, excellent pay, and she's apprenticing to a powerful witch. Sure, the witch is a bit eccentric. And sure, there was that issue with the black cat Reggie would prefer to forget about. The biggest problem, however, is warlock Ben Magnus, her employer's nephew and the most arrogant, insufferable, maddening man to ever cast a spell.
Reggie absolutely hates him. He's handsome, but he's also bossy and irritating and orders her around. Ben's butt might look great in a crystal ball vision, but that's as far as it goes. But when someone with a vendetta targets the household, she finds herself working with Ben to break a deadly curse. Apparently, when they're not fighting like cats and dogs, things get downright...bewitching.
---
A slow start but a very fun story.
Reggie answers an ad for a personal assistant to Drusilla Magnus.  She will be replacing Dru's long-time assistant Lisa who is going on maternity leave.   Dru seemed like a harmless eccentric who pretends that she's a witch.  Reggie has some hesitation  as it seems her family not only indulges this fantasy but actually help promote her delusions.  While Reggie has some moral dilemma in going along with and feeding Dru's fantasy, she is determined to give this job a shot if simply because the outlandish salary will get Reggie out of the financial pit her self-serving parents tossed her into.  But Dru's grouchy nephew wants to get rid of Reggie even before she starts which simply isn't fair and makes Reggie is even more determined to stay.  What Reggie doesn't know is that the ad was bespelled so that only someone with a spark of magic would even notice it.
Odd things continue to happen until even disbelieving Reggie has to admit that the only one in the house with any delusion is her.  Magic is real!  That means both Dru and Ben are witches and Reggie is so fascinated there is no way she is walking away from this job now.   Until she learns that someone keeps hexing Dru's assistants and when former assistant Lisa gets hexed, Reggie is ready to run for the hills.   Then someone takes down the  powerful Dru with hex and the only people who can do anything about it are Reggie and Ben.   Reggie might be in over her head but before she can go, she is going to help Ben break the hex on Dru.
I have to admit that the beginning is slow and at first I thought I was going to toss it aside for something more interesting.  As we begin, Reggie doesn't believe in magic so it is a bit boring as no magic means no fun.  Ben fights with Dru to get rid of the non-believing Reggie so Dru decides to toss Reggie in the deep end in a sink-or-swim maneuver.   Hoping of course that Reggie can swim, because she really did like her.   Once Reggie can no longer deny magic, the story definitely picks up and gets much more fun and interesting.
Ben is trying to get of Reggie especially since she is so sweet looking with her freckles, freckles which, for a 500 year old man, he becomes quite obsessed with.  But Ben is grouchy because he isn't much liked or accepted by his peers.  Except for his beloved Aunt Dru, Ben is a loner.  He is dark and broody so it is not surprising he is drawn to the always happy and smiling Reggie.  Once he stops trying to get rid of her, she accepts him as he is with no judgments, you can guess what comes next.  Problem is that familiars can only really be tied to one witch.  When Reggie is helping Ben and steps in as his temporary familiar to break the hex and their relationship blooms, she will have to decide who to walk away from because once she breaks the tie to either Dru or Ben, the connection cannot be rebuilt.  Ben already has a reputation among the witches and stealing another's familiar is more than frowned upon.
The author draws from old writings about Romans and magic for her inspiration so Dru is a 2,000 year old Roman witch and by this age has become very, very quirky and a lot of fun    Reggie and her roommate puts everyone in a Golden Girl category: Blanche, Sophia, Dorothy or Rose, which is especially funny since even before Reggie mentions this, I could have seen Betty White easily filling the role of quirky Dru.
We can easily see through Dru's underlying attempt to play matchmaker between Reggie and Ben almost from the beginning which makes it even funnier when Reggie and Ben fall in line with her plans without realizing it.
Overall I was glad that I gave this story a little more time to get going because it turned out to be a fun story.
---
Favorite Scene:
It's times like this I'm extremely aware of just how little money I have. I watch as someone brings a bucket with ice to one of the tables and there's bottle in it, just like in the movies. Another table has a three-tier display of what look like cookies and sandwiches. Every table has a fancy white tablecloth on it, and I don't think anyone here has ever heard the word "drive-through." "Just so you know," I murmur, "I'm absolutely going to be using the wrong fork. That's a thing, right?"
Dru titters. "It doesn't matter. I grew up without forks. It took me forever to figure them out myself."
Er, okay. I'm not going to touch that one. I bite my lip, remembering too late that I have lipstick on, and then hastily scrub at my teeth with a finger. The host (in a tuxedo, because of course) gives me an odd look and points at one of his canines helpfully. I give him a smile of gratitude and rub my teeth again. "Do you see your friends, Dru?"
"Oh, I didn't say they were my friends," Dru tells me brightly. She clutches a spangled purse to her chest and peers at the tables. "I said they were acquaintances. We are enemies, actually."
The host stares in confusion, obviously eavesdropping.
I try not to, even though I know just how he feels. "I see. So this is an enemy luncheon?"
"Rivals," she agrees. "Friends close, enemies closer, yada, yada. Oh, I see Livia! I'd recognize that dreadful mole anywhere." She raises a hand in the air, waving. "Come on, Reggie darling. Let's go introduce you!"
The host shoots me a look of pure sympathy as Dru tugs me forward into the dining room. "Enjoy your lunch, ladies."
I follow my boss inside, and sure enough, it's easy to pick out Livia. That is definitely one hell of a mole, right in the center of her forehead, like a unicorn's horn. I do my best not to stare, because it's not as if she can help it. Instead I smile brightly and avoid direct eye contact with anyone.
"Livia! Julia! I told you I'd find a new familiar," Dru crows as we approach the table. "You two bitches can suck it!"
Related Posts